LA 'Best Country/Americana' artist Alice Wallace to play at Raven Cafe
Special to Kudos
Originally Published: October 20, 2016 8:58 p.m.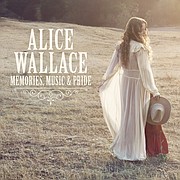 Southern California Americana artist Alice Wallace will be performing at Raven Café in downtown Prescott on Thursday, Oct. 27, at 8 p.m.
Wallace is currently touring the Southwest U.S. to promote the release of her award-winning 2015 California Country Records album "Memories, Music & Pride" on limited-edition vinyl.
Prescott is the only stop she'll be making in Arizona before moving on to Texas.
"We pretty much always make sure to stop in Prescott at some point on our Southwest tours," Wallace said. "That's just the market that we've done the best in for Arizona."
"Memories, Music & Pride," was named "Best Country/Americana Album" by the LA Music Critic Awards in 2015, as well as one of the Top 20 albums of 2015 by the OC Weekly.

The original songs on the album also earned her a spot as a semifinalist in the prestigious Songwriter Serenade competition in Moravia, Texas.
This year, the LA Music Critic Awards also named her "Best Country/Americana Artist" at its mid-year ceremony.
Wallace possesses a classic country vibe, but with a distinctive California style. She is inspired by legends like Dolly Parton, Emmylou Harris and Patsy Cline, while her style is reminiscent of Patty Griffin, Lucinda Williams and a young Linda Ronstadt. New sounds extolling timeless emotions.
All of the songs on the album were crafted during the past two years Wallace spent touring the country – most times by herself.
The leadoff track, "I Just Don't Care Anymore" is a rocking, sassy anthem about taking charge of your life in spite of your circumstances.
On other tracks, like "Leave," she delves into the personal side of life on the road and learning to balance the thrill of traveling with the inevitable loneliness that comes along with touring solo.
"A Traveling Song" was inspired by chance companions Wallace made on her first tour through Texas, while "Poor Cleopatra," inspired by a trip to Jerome, Arizona, comes from the perspective of a woman that might have lived during the copper mining town's heyday, now long past.

On the classic cover of "I Want to Be a Cowboy's Sweetheart," a 1935 hit by Patsy Montana, Wallace reflects her jewel inspiration while channeling back to the style of such earlier yodeling recording artists as Montana, Jimmie Rodgers, and Slim Whitman.
"I've never done anything in the style of Patsy Montana and I was trying to make it as true as possible to the original," Wallace said.
More like this story
SUBMIT FEEDBACK
Click Below to:
This Week's Circulars
To view money-saving ads...