The Big Sting Country Music Weekend in Mayer

By
Nanci Hutson
|
HutsonNanci
Originally Published: October 20, 2016 8:35 p.m.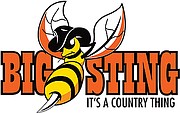 If you like country music, campfires, and good company mixed together with the bucolic peace of off-the-beaten path, 180-acre Bumble Bee Ranch at the base of the Bradshaw Mountains in Mayer, then you need to attend this weekend's second annual "Big Sting Country music Weekend."
Proceeds from the Oct. 21 to Oct. 23 festival, touted as a "mini Country Thunder" with nine musical entertainers or bands and some 500 guests, will benefit the Shadow Foundation in Flagstaff. The foundation assists those affected by life-threatening diseases with practical financial support.
"The campground will open at 9 a.m. (Friday, Oct. 21) and from there it is rock n' roll all weekend," declared Vicki Burton, the foundation's executive director and brainchild behind the festival.
This festival boasts local and national country talent, including Friday night's headliner band "Trick Pony" that combines the talents of Keith Burns & Heidi Newfield of Nashville and Saturday night's headliner Aaron Watson, a Texas singer/songwriter who made his Grand Ole Opry debut and whose style resembles that of artists such as Hank Williams, Waylon Jennings and Willie Nelson.
The other seven performers through the weekend are: Dylan Jakobsen, Tyller Gummersall, Shari Rowe, Davey Arnold, Drew Cooper, Matt Farris, and Two-Way Crossing. These artists combine traditional country with rock blues, and some have performed with such celebrity country artists as Dierks Bentley.
Burton assures this festival offers the kind of talent that regularly appears at the spring Country Thunder festival in Florence without the crowds. Country Thunder is one of the largest country music festivals in North America.
"It's an intimate setting with country music," Burton said, noting the camp can accommodate no more than 3,000 people. "It's a lot of fun. It's just what we wanted to create … the beauty of it. I didn't want a "Country Thunder."
For those who want to come for a day, or come and camp for the entire weekend – there are even trails accessible to off-road vehicles – Burton assures there will be something for everyone in a "perfect setting – it's in the middle of nowhere."
A day pass is $25 or $50 for the weekend; 25 feet x 50 feet camping spots near the main stage are $100 but Burton is offering $25 discounts for those who type in a promo code – GBC. If you get a camp site, you must also buy the concert ticket, but again, the promo code will provide guests with a $10 discount on those tickets.
For more information and directions, or an event itinerary, visit the website: www.TheBigSting.com.
More like this story
SUBMIT FEEDBACK
Click Below to: