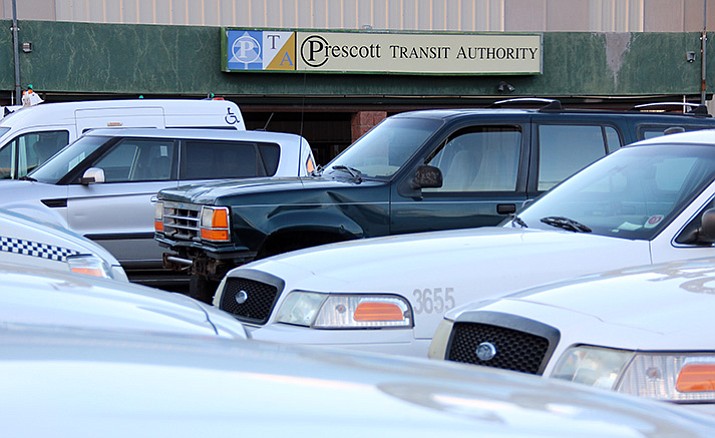 Photo by Max Efrein.

Originally Published: October 18, 2016 6:01 a.m.
Updated as of Tuesday, October 18, 2016 11:37 AM
If all goes smoothly, Prescott Transit Authority (PTA) will begin offering intercity bus line transportation between Prescott and Phoenix starting in early November.
The new shuttle service is being funded by a two-year contract of $812,000 awarded to PTA by the Arizona Department of Transportation (ADOT). The grant is through the Federal Transit Administration. Known as a 5311 Rural Public Transportation Program grant, such funding is designed to address the mobility needs of Arizona's rural population.
Steve Silvernale, owner of Prescott Transit Authority, a ground transportation provider in the Quad Cities, sought the grant on his own initiative to address a transportation gap.
"Knowing the needs we have in our communities – specifically the small communities along Highway 69, and including within Yavapai County, Black Canyon City — I saw the possibilities and potential," Silvernale said. "We've got a lot of people living along that corridor that do not have transportation. Really, the need is for affordable transportation."
The shuttle service will operate three trips a day, originating at the Prescott Transit Authority Office, 820 E. Sheldon St., Silvernale said.
There will be pick-up and drop-off stops in Prescott Valley, Dewey-Humboldt, Mayer, Spring Valley and Black Canyon City. The last stop will be at the Greyhound Terminal in Phoenix — about three miles from Sky Harbor International Airport, he said.
The buses will be full size coaches with over 50 reclining seats. They include video, Wi-Fi, USB connectors, and 110 power outlets. All buses are ADA (Americans with Disabilities Act) compatible. Package express service and small pets will also be allowed on the transport.
Fares will start at $10 for adults (12 or older) looking for transportation between cities in Yavapai County, Silvernale said. Children between 5 and 12 years old will be 50 percent of the adult fare — so $5 at first. Riders younger than 5 will ride for free.
Rides between Phoenix and Yavapai County will start at $15 per adult, but likely move to $20 soon after, Silvernale said.
"We may keep it at $15 depending on the traffic," Silvernale said. "If it's well received and we're running full buses at $15, then why wouldn't I keep it that way?"
Silvernale has met with the Central Yavapai Metropolitan Planning Organization (CYMPO) and they have reached an agreement to link his operation with the rural transportation services already functioning within the Quad Cities.

"What we're looking at is if Yavapai Regional Transit can bring people to him and he can get them down to Phoenix if they need it," said Craig Brown, CYMPO board chairman and Yavapai County Supervisor, District 4.
Yavapai Regional Transit provides a rural transportation system for quad-city area residents to utilize, but it operates only between Prescott, Prescott Valley and Chino Valley. Silvernale's operation will be able to expand the scope of that effort.
"It's a good service," Brown said. "It will help out some of the lower-income folks that we have up here that can't pay for a regular shuttle down to Phoenix."
Though PTA's buses won't connect riders directly to Sky Harbor International Airport, Valley Metro Route 13 stops in front of Greyhound's Phoenix Terminal and provides direct access to the airport, Greyhound Senior Communications Specialist Lenesha Gipson said.
Silvernale is still hammering out some of the details for the new service. He initially anticipated getting started Oct. 1, but unforeseen difficulties have delayed the project, including having the buses delivered to Prescott from San Francisco. He now hopes to have the routes running starting Nov. 1.