Overtime Thriller! Matthews scores game-winner to propel Cougars
By
Doug Cook
|
dougout_dc
Originally Published: October 18, 2016 11:41 p.m.
CHINO VALLEY — With the Chino Valley High girls' soccer team's unbeaten season hanging in the balance, freshman forward Kacey Matthews came through in the clutch.
Matthews scored the game-winning goal late in double overtime and the 2A Conference No. 1-ranked Cougars held on for a thrilling 3-2 victory over No. 3 Flagstaff Northland Prep late Tuesday afternoon, Oct. 18, at Chino's soccer field.
Photo Gallery
Chino Valley Vs Northland Prep Girls Soccer 10-18-16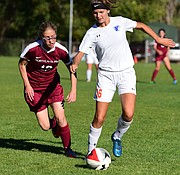 On an off-day for the Cougars' typically potent attack, Matthews provided the spark as the 2016 season winds down.
"We had trouble on our passes, our communication," Matthews said. "But we got it all figured out at the end. I'm so stoked that we're undefeated and I'm just so proud of this team."
Leading Chino's offense were Matthews, who scored two goals, and Katie Farnsworth, who tallied a goal and an assist. Do-everything midfielder Lauren Foster, who played the entire game without much rest, registered an assist.
Northland Prep was paced by Allison Budwig and Rachel Ryan, each of whom scored a goal. Juliana Berglund-Brown and Brianna Hovis had an assist apiece.
In a showdown between the top two teams in the 2A Central Region, Chino Valley sewed up the region title with one match left in the regular season.
The Cougars improved their record to 17-0-1 overall and 7-0 in region. The Spartans dropped to 10-4-1 and 5-2. Northland Prep lost to Chino for the third time this season, and it looks like the two teams could meet again in the postseason.
With just 11 teams in 2A this fall, only the top four-ranked squads will compete for the state championship. The semifinals are scheduled for 11 a.m. Saturday, Oct. 29, at Benedict Sports Complex in Tempe, as the one seed faces the four seed and the two seed battles the three seed. The championship game is slated for 1 p.m. Saturday, Nov. 5, at Campo Verde High in Gilbert.
Chino Valley, No. 2 Round Valley, Northland Prep and No. 4 Blue Ridge should reach state. Northland Prep was missing four of its roster players on Tuesday. The Spartans will get one of them back next week.
"That's a pretty good state finals right there," Chino coach Allen Foster said. "With all their players healthy, that Northland Prep team is a better team than Blue Ridge or Round Valley."
Chino, 2A's lone remaining unbeaten, had pitched nine shutouts heading into Tuesday's match. In this magical season, the best in program history, the Cougars beat four-time defending state champion Blue Ridge and defending state semifinalist Round Valley in back-to-back games Sept. 8 and 10.
Entering the week, Northland Prep had won seven straight matches since losing 4-2 to Chino in the teams' second meeting Sept. 17 at the Show Low Soccer Invitational.
On Tuesday, the Cougars grabbed a pair of one-goal leads, 1-0 and 2-1, in the first half. But scrappy, aggressive Northland Prep would answer both times to tie it at 2-2 before halftime.
"I'm very proud of how we played, how we kept it together, and how we just frustrated the [Chino] forwards the whole time," Spartans senior Abigail Downs said. "Our plan is to see them in the [state] semifinals or championship."
In the second half, after a defensive struggle in which neither team's offense scored, the squads headed to overtime.
Following a scoreless 10-minute first OT, it took 7 more minutes of the 10-minute second OT for Matthews to find the back of the net. She drilled it home on an assist from Felicity Stickrod. On a set play, Stickrod received the ball near the top of the box from Lauren Foster after a corner kick before dishing it off to Matthews for her line-drive strike.
"Credit to Felicity, because she chested the ball to me and I had a good angle, so I ripped it. And I'm so happy I did, because I was thinking I was going to pass it," Matthews said. "I'm happy I shot it and made it."
But the game wasn't over, as this was not sudden death.
Chino's exhausted defensive unit, buoyed by staunch defender China Gomez and stingy keeper Giselle Chinchilla, held on in the waning few minutes of 2OT to keep the Cougars in contention for an undefeated season. Toward the end of regulation, Chinchilla's spectacular one-armed block save diving to her left helped get it to OT.
"It was definitely just reaction – I threw my body at the last second, hoping that I would block it," Chinchilla said. "It was in the moment, and it worked out for me. It was a very close game, and any missed touch could've lost the game for us."
Chino Valley will conclude the regular season at 6 p.m. this Thursday, Oct. 20, at county rival and region foe Camp Verde.
"We're not going to take Camp Verde lightly either," coach Foster said. "But if we go out there and play like we're capable of, I think we're going to finish the regular season undefeated, and that's awesome."
Follow Doug Cook on Twitter @dougout_dc. Reach him at 928-445-3333 ext. 2039, or 928-642-7865.
More like this story
SUBMIT FEEDBACK
Click Below to:
This Week's Circulars
To view money-saving ads...