Tiny homes are cute, but zoning, regs will apply
Want to live simply, be more self-sufficient and environmentally-conscious, and travel? Perhaps a tiny home is perfect for your new lifestyle. But you must be aware of local zoning codes and regulations if you want to park it for any length of time on private property or public campgrounds.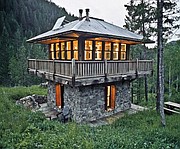 The national tiny house trend is becoming more popular locally. The county fields about three inquires a day, said Kristy Kennedy, senior planner with Development Services.
The Yavapai County Board of Supervisors and Planning and Zoning Commission met Oct. 13 to talk about what constitutes a tiny house and what, if any, regulations might apply.
Two kinds of tiny homes exist, Kennedy said, those on wheels and those that are site built. If on wheels, the owners must register it with the Department of Motor Vehicles as a vehicle. If site built, it must meet county code as a permanent building.
If it has wheels, a tiny house can be parked in certain district and campgrounds – sometimes for a limited amount of time, said Steve Mauk, director of Development Services. Yavapai County does not allow for a tiny home on wheels to become a residence on private property.
P&Z Chair Jim Stewart said two other counties, Pima and Coconino, are looking into tiny homes communities to offer homeless veterans a place to live.
Supervisor Chip Davis said this could be a blessing for some people. On the other hand, he said, the homes could pop up as vacation homes. He asked why it would be OK to pull a tiny home onto a piece of land but not a fifth-wheel.
Other questions that came up had to do with establishment of a tiny home (trailer) park. Tucson and Coconino have deleted restrictions on minimum room size standards for what constitutes a single-family residence, one commissioner said.
"We need to make decisions. We may need a whole new building code on tiny homes," said Commissioner Sandy Griffiths.
David Williams, land use manager with Development Services, said some people looking to build inexpensively are converting sheds into tiny homes. "Sheds were never intended to be habitable space," he said.
Mauk said site-built tiny homes need hookups to water, sewer and power, and therefore, would owe impact fees.
The supervisors and commissioners took no action.
Also on the agenda:
• Discussion of rainwater harvesting, French drains, and whether new development should have mandated use of rainwater harvesting or incentives.
• Update on online county licensing of dogs.
• Review and expediting of engineering plans during the permitting process.
• Bringing up to present-day code things that weren't required at the time of construction.
Watch the Courier for more details.
More like this story
SUBMIT FEEDBACK
Click Below to:
This Week's Circulars
To view money-saving ads...