3 rollovers tangle Highway 89A traffic Wednesday evening
Originally Published: October 13, 2016 6 a.m.
Updated as of Wednesday, October 12, 2016 8:49 PM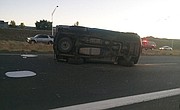 Three rollover crashes on Highway 89A kept firefighters and officers busy Wednesday evening, Oct. 12 – all within one hour.
The first, a crash resulting in a rollover at about 5 p.m., appears to have been a two-vehicle injury collision eastbound at Glassford Hill Road and Highway 89A, DPS Capt. G.R. Manera said.
About 45 minutes later, a second rollover crash, involving two vehicles happened on the Highway 89A westbound off ramp at Larry Caldwell Drive, Prescott Sgt. Art Siegel said.
The third crash, at about 6 p.m., was on 89A just short of Granite Dells Parkway, Siegel said. A vehicle traveling east swerved, rolled and ended up in westbound lanes.
One victim at the Glassford Hill Road scene was flown by medical helicopter and other victims were transported via ground ambulance, Manera said.
The second and third crashes resulted in no serious injuries, Siegel said, adding that one person from the Larry Caldwell scene was taken to the hospital.
Highway 89A traffic was tied up for hours, according to the Arizona Department of Transportation. At the Glassford Hill rollover, the eastbound off ramp was closed temporarily.
Watch the Courier and dCourier.com for details.
More like this story
SUBMIT FEEDBACK
Click Below to: