Retired Prescott fire and emergency services leader devoted to helping others

By
Nanci Hutson
|
HutsonNanci
Originally Published: October 13, 2016 6 a.m.
PRESCOTT – Proud to be known as the oldest living retired Prescott firefighter until his death on Oct. 7, Harvey S. Emery Jr. will be remembered as a selfless leader whose life revolved around doing for others.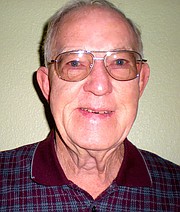 His daughter, Barbara DeWitt, said she just recently heard the perfect description of her father, a beloved man who commanded respect for his commitment, compassion and civic charity.
"He was always a very serious person, but he had a heart for the community that made him just give, and give and give," Barbara recalled of an acquaintances' remembrance.
"He was a very serious person, but he was serious about giving," said Emery's youngest son, Steve, who followed in his father's footsteps and is now retired from the Central Yavapai Fire District.
Upon Emery's first retirement in 1980 as Prescott Fire Department's assistant chief, the family said he was compelled to give back and did so as a word-of-mouth style handyman. He referred to himself as the "widow's helper."
His daughter remembers rides around town with her father – their Dalmatian often accompanied them – where he would point out Civil Defense signs and shelters. On the job, she said, he memorized the location of every fire hydrant.
In the late 1980s, Emery left retirement for a job as the Yavapai County and city of Prescott emergency services director, a position he held until 1997.
In his firefighting and emergency management career, Emery relied on his skills to help other communities start their own fire companies. He was instrumental in the Jerome and Groom Creek companies, and offered the first organized training program for the Mayer Volunteer Fire Department. He assisted in the development of Yavapai Community College' fire science program and helped with the lay-out plans for Prescott Fire Department's seven-acre fire academy complex. He developed and instructed the fire brigade for what is now the Northern Arizona Veteran Affairs Health Care System.
Emery's affinity for firefighting started back with his father who was a railroad firefighter in the family's hometown of Allentown, Pennsylvania.
As a young man, prior to moving to Prescott with his wife, Joanne, and first child, Charles, Emery was a member of the Allentown Volunteer Fire Department.
So how did the Emerys end up in Prescott?
Emery's in-laws, Charles and Marie Flickinger, were living in Prescott. They told their daughter and son-in-law the Fire Department had positions for hire.
In 1956, the Emerys opted to move and upon their arrival discovered the openings were for the volunteer Fire Department. Emery volunteered for four years before he was hired to the paid department in 1960.
To support the family that grew to three children – each seven years apart – Emery accepted a job with a local sportswear factory.
His wife admits they were not instantly enamored of Prescott.
Three months after their arrival, Emery was seriously injured in an elevator crash at the factory. Doctors predicted Emery would never walk again. Emery refused to accept such a prognosis. The couple talked about returning to Allentown after Emery's 13-month recuperation.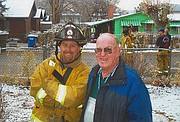 By then, the couple's oldest son, Charles, who now lives in Ohio, was starting to get settled with school and friends. They talked of a return after their children grew up, or maybe in retirement.
It never happened.
"We grew to love it here," his wife said.
In truth, Joanne Emery said the Fire Department became the second "love of his life."
She was his first.
Emery's children still smile about the story of their parents' love affair – the two were "sandbox" sweethearts who met as preschoolers and started dating in high school.
"I knew he was the one," Joanne recalled of the man she told a friend she would marry on the first – "the first chance I get."
In their 63 years of marriage – their last anniversary was on Aug. 1 – the couple were blessed to celebrate five grandchildren and six great-grandchildren. He was active with the Shepherd of the Hills Lutheran Church and was an ambassador with the Lutheran Hour Ministries. He and his wife were also active with the Lutheran Marriage Encounter.
Retired Prescott Fire Department Division Chief Darrell Willis said he was fire chief when Emery was in his role as emergency services director. He admired his passion and dedication to the job, traits he showcased as a firefighter, administrator and citizen, Willis said.
"He was a great man," Willis concluded.
A memorial service is planned for 11 a.m. on Friday, Oct. 14, at Shepherd of the Hills Lutheran Church.
More like this story
SUBMIT FEEDBACK
Click Below to:
This Week's Circulars
To view money-saving ads...