NAZ Suns' basketball tryout seeks 'diamond in the rough'
Relocated D-League team prepping for draft Oct. 30
By
Doug Cook
|
dougout_dc
Originally Published: October 12, 2016 11:36 p.m.
PRESCOTT VALLEY – For a moment, picture coach Tyrone Ellis and his staff, assistant general manager Louis Lehman and director of basketball operations Dylan DeBusk as the Northern Arizona Suns' brain trust.
They, along with general manager Bubba Burrage, are tasked with putting together the roster for the recently relocated National Basketball Association (NBA) Developmental League's pro team – an affiliate of the Phoenix Suns which will begin its inaugural 2016-17 season at Prescott Valley Event Center Nov. 12.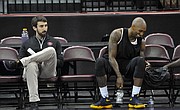 This past Saturday, Oct. 8, at the arena, part of Ellis, Lehman and DeBusk's job entailed conducting an all-day tryout with 63 players from across the U.S. They were deciding which of these guys they might want to invite to training camp next month. Per league rules, none of them were allowed to be past NBA draft picks or NCAA all-conference players in the past two years.
"They really come from everywhere. We have a couple players that came from the East Coast – Atlanta, Long Island – and a lot of them are local guys," Lehman said. "Our local guys played basketball in northern Arizona, maybe played at a local junior college. We do have some NCAA Division 1 players that have decided to come out. Guys that have played D-2, internationally overseas. In every facet, it's an open tryout to anybody over the age of 18."
Each tryout player shelled out $150 to participate, and they had to pay their way to the venue. After a morning workout session, 19 of them were cut. In the afternoon, the remaining 44 were split into teams and played scrimmage games.
Ellis watched from the far sideline as his assistants, Bret Burchard, Tyler Gatlin and Brandon Rosenthal, coached in the games. Ellis, Lehman and DeBusk were anything but bystanders, however. They chatted up the players, evaluated their strengths and weaknesses and told the guys what they wanted to see from them on the floor.
Ellis said tryout players don't have agents and that usually the "cards have been stacked against them" in the past. He would know. Fifteen years ago, Ellis found himself in a similar position. But his hard work and determination helped him forge an 11-year career as a player in the D-League and internationally, from 2001-12.
"I want to see if they can really play for this team," Ellis said. "I give these guys an opportunity – some take advantage and some don't. I'm looking for young talent to contribute on and off the court; someone who's a good teammate. It may be a minimal role in his eyes, but it's a big role to me."
Thirty-something Nick Morrell of Prescott Valley, the former Chino Valley High varsity boys' basketball coach who played NCAA Division 2 hoops at South Dakota and Nebraska-Kearney from 2004-08, was one of those who tried out. Morrell didn't advance out of the morning session, but he understood why.
"I'm old and these kids are young," said Morrell, who now works as a professional mover, from a courtside seat that afternoon. "It's been so long since I've played competitively. But I'll probably try out every year they [NAZ Suns] have it [tryout in PV]."
Morrell noted how exciting it was for him to have the opportunity to try out for a pro team in his own backyard. He expects basketball's popularity in Yavapai County to grow with the NAZ Suns' arrival.
The Oct. 8 tryout was the D-League franchise's second. On Sept. 18, a similar number of players tried out at Talking Stick Resort Arena, home of the Phoenix Suns.
Only four of approximately 120 tryout players will be invited to the NAZ Suns' training camp next month. The organization will keep a maximum of 17 players on its training camp roster. Most of them will be returning players from the Bakersfield Jam (the Phoenix Suns' former D-League team) in 2015-16. However, the NAZ Suns are allowed to retain four affiliate players who were waived during the Phoenix Suns' training camp.
A player or two could also come from the D-League draft, scheduled for a teleconference during the afternoon of Oct. 30. The NAZ Suns will draft four players and ultimately keep 10 or 11 players on the 2016-17 roster.
"We want to try to find players that fit a role and that can contribute to our team in training camp, and then, depending on what happens after that, maybe for the season," said DeBusk, 26, who was raised in Cave Creek and played at Cactus Shadows High. "This event [tryout] is a good opportunity for players to be seen; to get in front of personnel that they wouldn't normally have an opportunity to."
On Wednesday, Oct. 12, Lehman, DeBusk and the NAZ Suns' coaching staff submitted four players' names from their tryouts to the D-League office. The staff ranked those players from Nos. 1-4. Each of the league's 22 teams do this. If the NAZ Suns were the only league team to list a particular tryout player at No. 1, for example, the league would award the player to that squad.
"The league will let us know which players we get," Lehman said. "If we rank a player [No.] 4 and another team ranks a player [No.] 3, they will get that player."
By Oct. 28, the NAZ Suns should have the training camp roster mainly set, with the exception of any D-League drafted players. Lehman said that amounts to 12 or 13 guys.
"The open tryout process can be a big advantage for building a D-League team," DeBusk said. "If you can find a diamond in the rough at an open tryout, someone who can compete and that other teams don't know about, it's a very good competitive advantage."
PV tryout player Keonte Lewis, 23, of Blythewood, South Carolina, said he's spent the past 4-1/2 years working as a plumber at Holloman Air Force Base in Alamogordo, New Mexico. He was hoping to impress Ellis and his coaching staff – pursuing a dream that he had put off.
Lewis, a 6-foot-3, 186-pound guard, drove from Alamogordo to Prescott on Friday, Oct. 7, and had planned to spend two or three nights here before heading back home.
"I want to better myself as a basketball player," Lewis said. "They [NAZ Suns staff] teach you a lot of good stuff. I never played college ball, but I will give it everything I've got and keep trying."
More like this story
SUBMIT FEEDBACK
Click Below to: