Local Rundown: Yavapai College spikers win 6th straight match, drop Pima
By
Doug Cook
|
dougout_dc
Originally Published: October 12, 2016 11:33 p.m.
Photo Gallery
Yavapai vs Pima Volleyball 10-12-16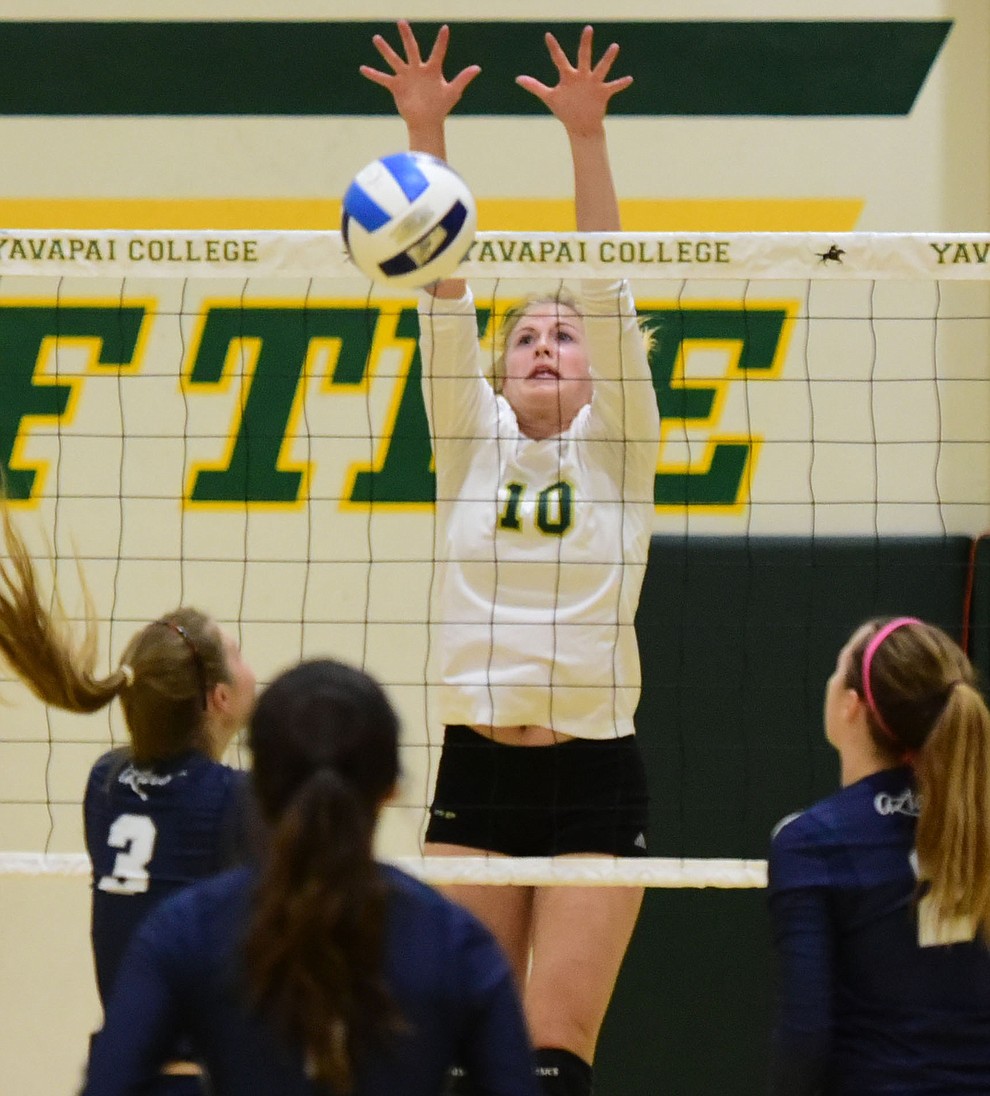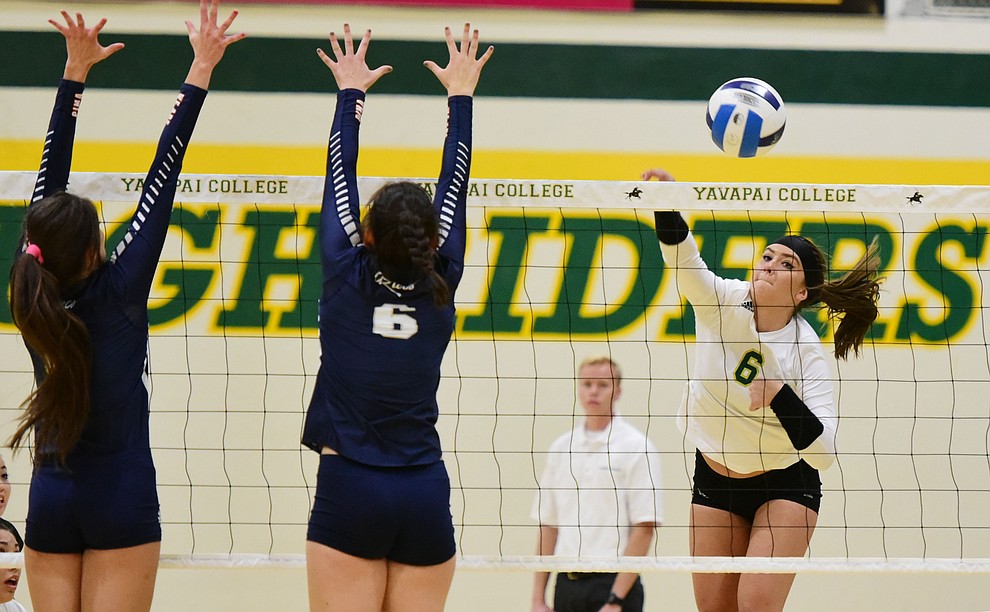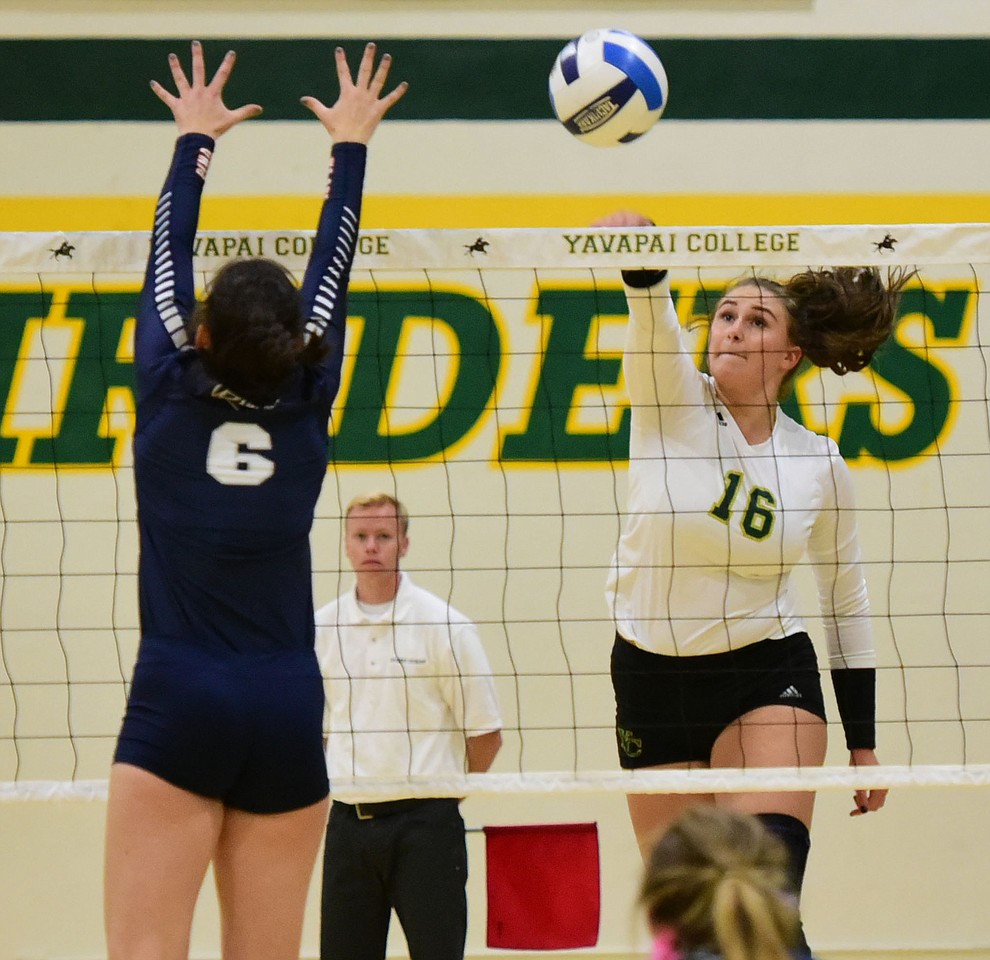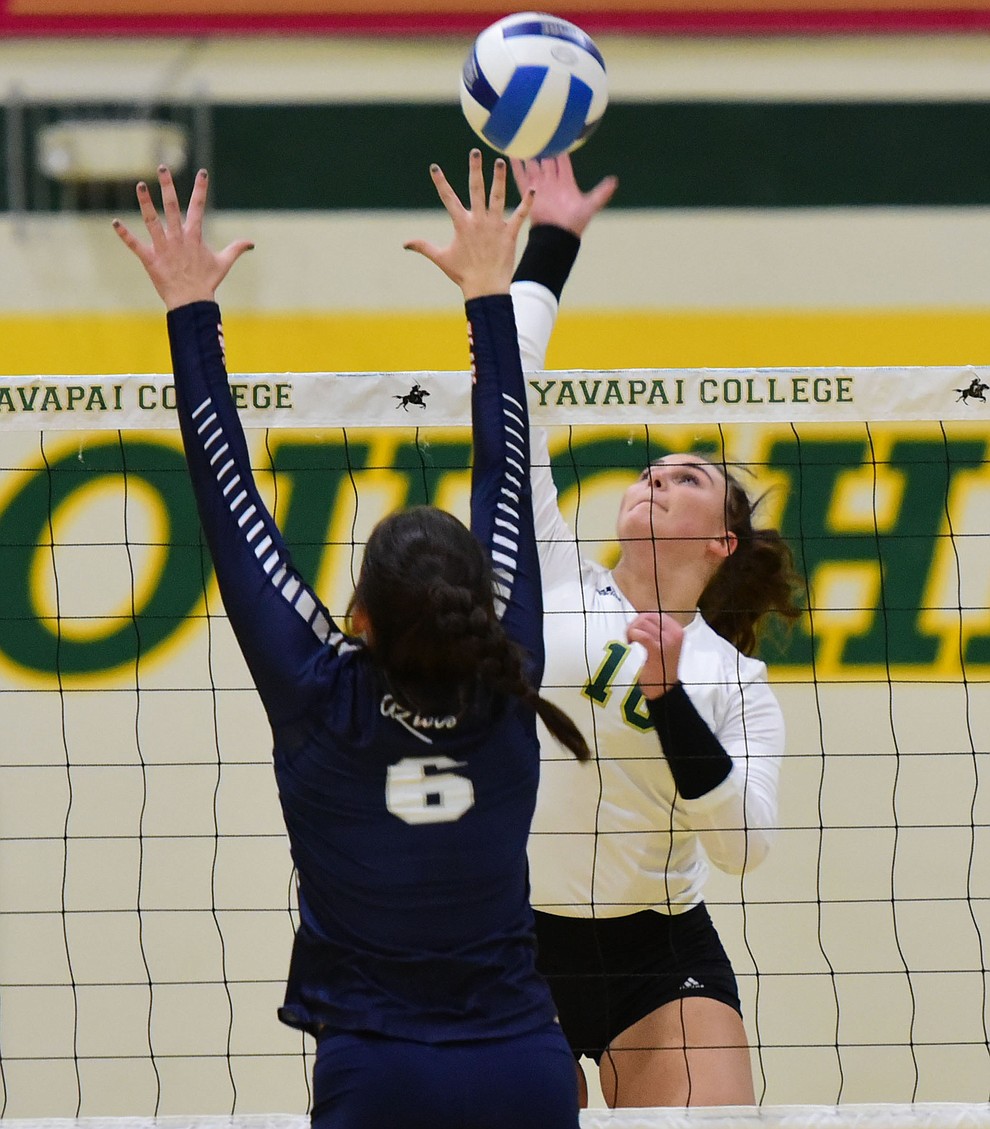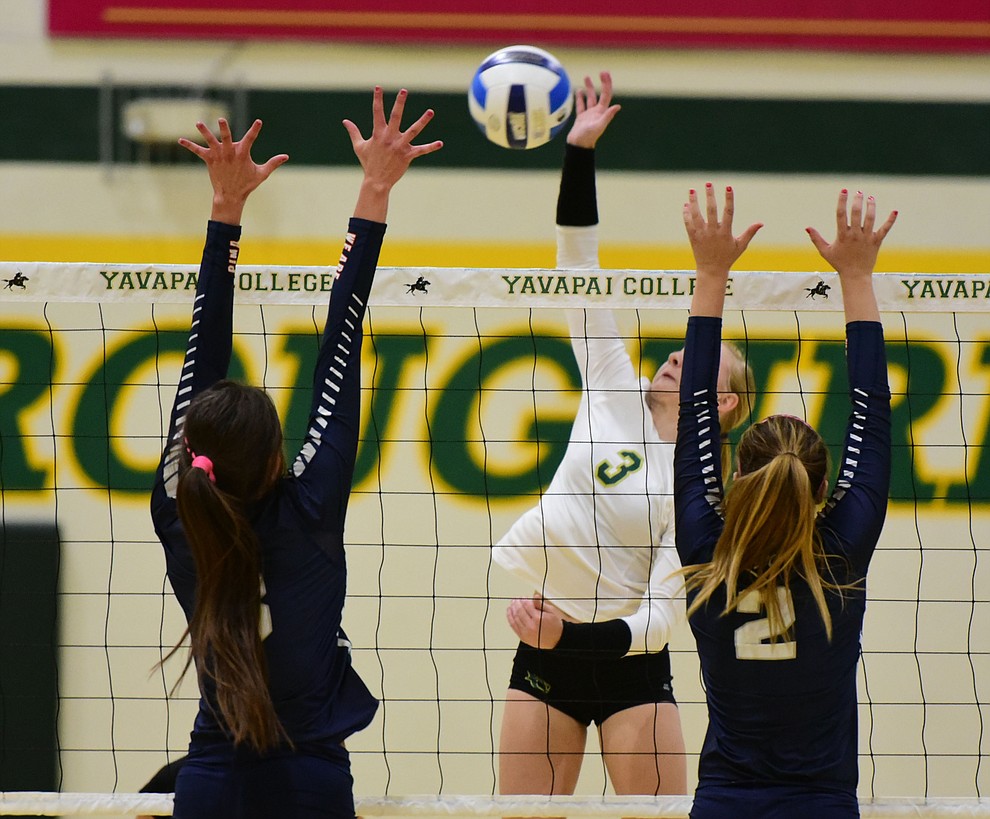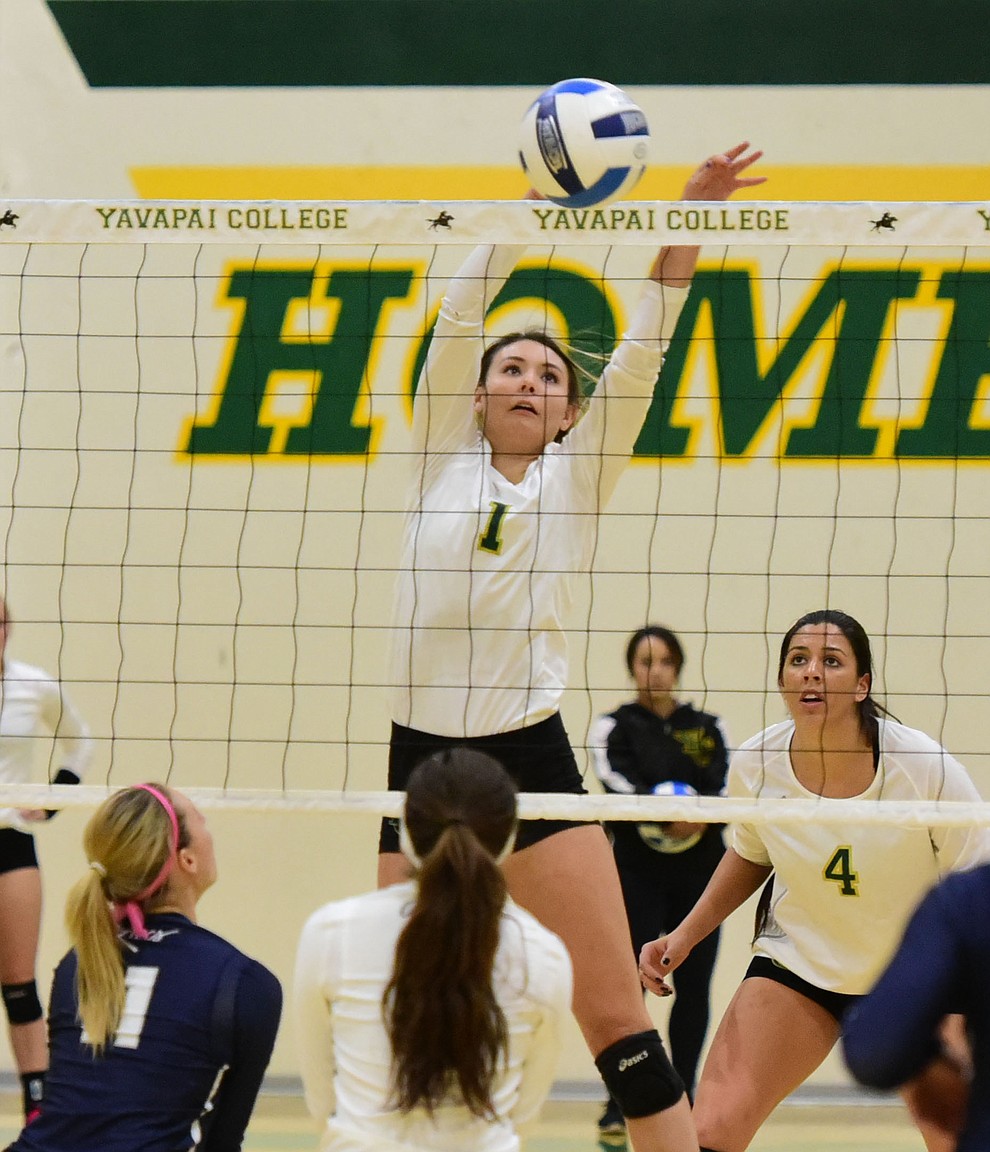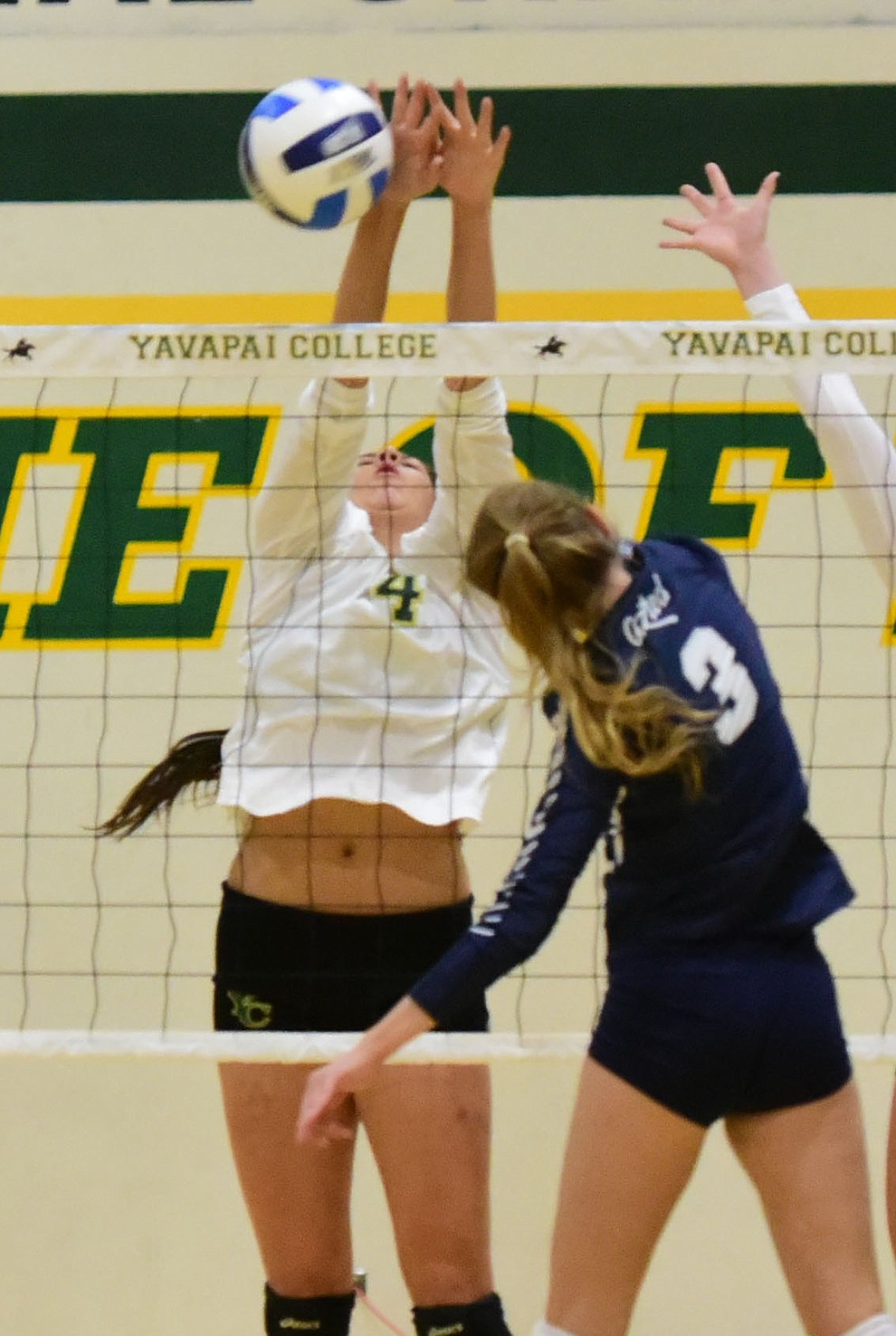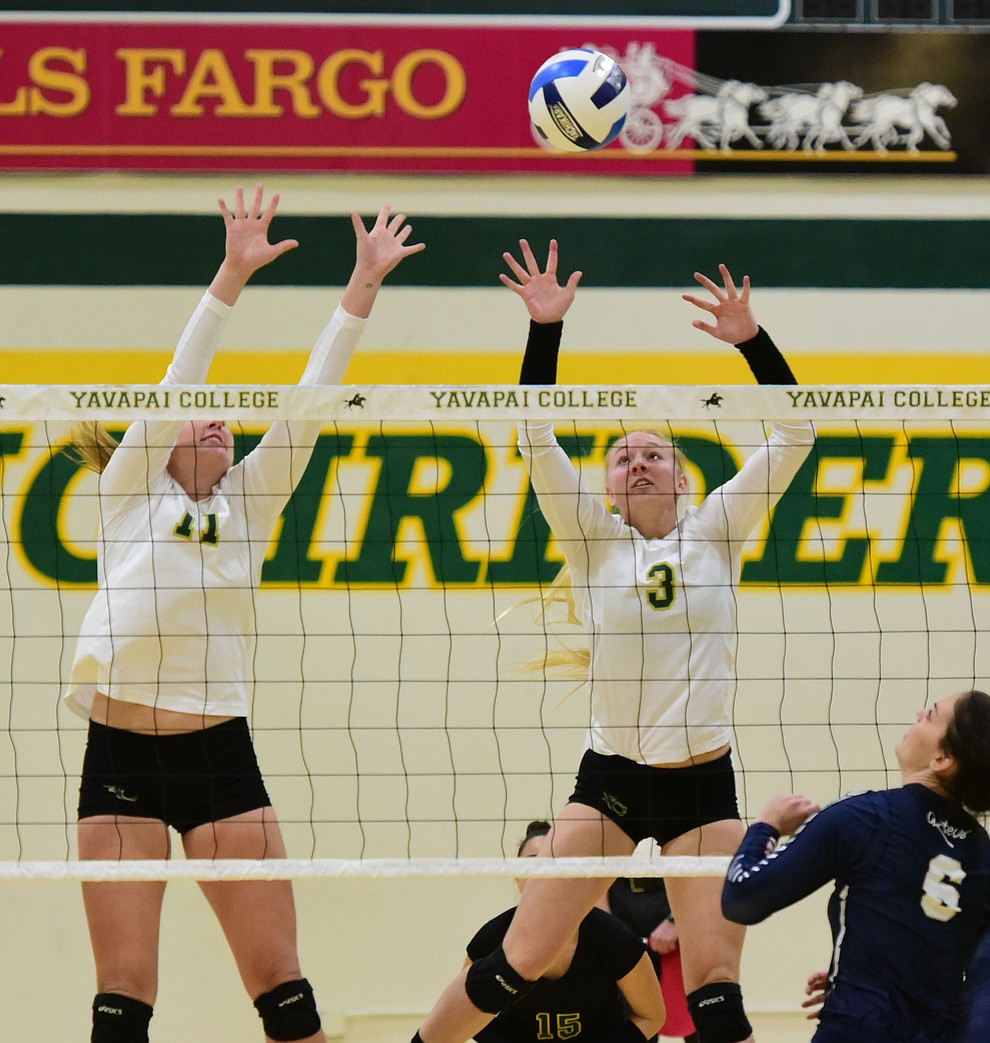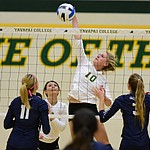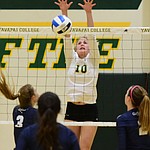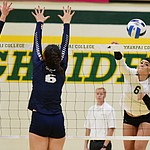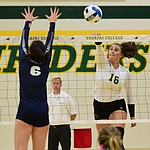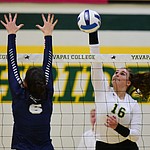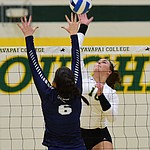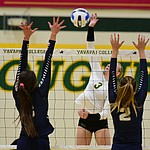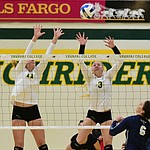 PRESCOTT – Yavapai College's volleyball team won its sixth match in a row on Wednesday night, Oct. 12, dispatching Pima in four sets of an Arizona Conference match at Walraven Gym.
With the 25-15, 25-14, 21-25, 25-18 victory, the Roughriders' record currently stands at 14-9 overall and 7-4 in conference.
The Roughriders visit South Mountain at 7 p.m. Friday, Oct. 14, in Phoenix for their next league match. After that, Yavapai will play three of its last four regular-season league matches at Walraven Gym.
PREP BADMINTON
Prescott 9, Raymond Kellis 0
GLENDALE – The Division II No. 9-ranked Prescott High badminton team swept Raymond Kellis on the road Wednesday, Oct. 12, upping its record to 9-4 overall.
The Badgers have won four consecutive matches and have one match remaining in the regular season.
In singles on Wednesday, Prescott team No. 1 Megan Raiss (7-11, 13-11, 11-3), No. 2 Abby Nelson (11-7, 11-4), No. 3 MacKenzie Schultz (11-4, 11-4), No. 4 Paige Campbell (11-5, 11-1), No. 5 Sierra Price (5-11, 11-1, 11-4) and No. 6 Heather Sands (11-0, 11-1) were all victors.
In doubles, the pairings of Nelson-Campbell (15-11, 13-15, 15-2), Raiss-Schultz (15-12, 15-4) and Price-Sands (15-0, 15-0) were winners, too.
Prescott will close out the regular season at 4 p.m. today, Oct. 13, at Cactus in Glendale.
PREP VOLLEYBALL
Prescott 3, Coconino 0 (Oct. 11)
PRESCOTT – Prescott High's 4A Conference No. 3-ranked volleyball team continues to cruise, sweeping Coconino on Tuesday, Oct. 11, improving its record to 11-1 overall and 7-1 in the Grand Canyon Region.
Abbey Smith led the Badgers with 12 kills and 12 digs. Ashlynn Uvila chipped in with six kills. Kella Wright had 13 assists and seven digs, while Erinn Marroquin registered 11 assists, four kills and four digs. Middle blocker Keiana Vicente was a force at the net, tallying six blocks.
Prescott will compete in the Barry Goldwater High Volleyball Festival at Sandra Day O'Connor High on Friday, Oct. 14, in Phoenix.
Chino Valley 3, Wickenburg 1 (Oct. 11)
WICKENBURG – Chino Valley High's volleyball team raised its 3A Classification West Region record to 3-2 and its overall mark to 8-4 after this tight 25-19, 25-27, 25-19, 26-24 victory over Wickenburg Tuesday, Oct. 11, on the road.
Leading the way for the Cougars offensively was Jacelyn Clements, who tallied 14 kills and seven service aces. Josie Cutlip (23 assists, three kills, four aces), Katryna Davis (four kills, six aces), Sophia Lopez (five kills) and Kylee Tiedeman (13 digs) aided in the effort.
Chino Valley will play host to River Valley, another region opponent, at 6 p.m. today, Oct. 13.
COLLEGE SOCCER
Embry-Riddle women move record to 7-2-2 overall (Oct. 8)
PRESCOTT – Embry Riddle Aeronautical University's NAIA No. 25-ranked women's soccer team dominated Johnson & Wales (Colorado) on Friday, Oct. 8, posting a 5-1 victory on its campus field.
Megan Currier paced the Eagles' attack with two goals scored. Breanna Larkin, Natalie Bristol and Callie Orizotti each found the back of the net once.
ERAU (2-1-0 conference) returns to Cal Pac Conference play at 1 p.m. this Saturday, Oct. 15, when the hometown squad hosts league leader Cal-Merced (8-1-3 overall, 5-0-0 conference).
PREP MTN. BIKING
Prescott High wins Sierra Vista race (Oct. 9; corrected)
SIERRA VISTA – On an unseasonably warm 86-degree fall day in southeastern Arizona, Prescott High's co-ed mountain biking team won the third race of the Arizona High School Cycling League's 2016 fall season.
Prescott's boys' and girls' cyclists found themselves in "a fast, but challenging race" at Wren Arena in Fort Huachuca, coach Wayne Fernandez said.
The team's score was based on its top-six riders' times. Prescott scored with its top-three boys and top-three girls to take first place overall. Their individual scores count towards the individual state standings, as well as the overall team standings, which Prescott currently leads.
"Points-wise, this was our closest race so far this season," Fernandez added. "We took first place by a mere 57 points. The competition from other schools is getting tougher, as they are trying to beat us. The competition is very friendly between schools, as we cheer and push each other to race harder."
Results for Prescott in Sierra Vista were as follows.
In the four-lap, 4.2-mile Varsity boys' race, Paul Fabian won in 1 hour, 7 minutes and 44 seconds. Andrew Myrick (14th, 1:19:34), Andrew Mull (15th, 1:20:10) and Connor Rosborough (17th, 1:23:40) followed.
As for the four-lap, 4.2-mile Varsity girls' race, Alex Shumaker placed fifth in 1 hour, 31 minutes and 27 seconds. Lexi Hammes (sixth, 1:36:05) and Drew Shumaker (seventh, 1:37:37) also finished in the Top 10.
In the three-lap JV boys' race, Hayden Rosborough won in 53 minutes and 8 seconds. Grayson Hughes (fourth, 56:07), Cole Bailey (16th, 1:06:42), Sam Ward (24th, 1:13:16), Kevin Martinez (25th, 1:20:27) and Nick Hight (26th, 1:20:33) followed for the Badgers.
As for the three-lap JV girls' race, McKenzie Roberts led Prescott with a sixth-place finish in 1 hour, 15 minutes and 5 seconds.
In the Freshman boys' race, Bryce Vaughn claimed fifth in 43 minutes and 7 seconds, and Zane Simmons was sixth in 43:34. In the two-lap Freshman girls' race, Zaydie Croy placed third in 50 minutes and 51 seconds. Ivy Bailey was fourth in 52:41.
"The heat definitely played a factor in the riders' performance, as they are not used to the heat like that, even though Fort Huachuca is at 5,000 feet [elevation]," Fernandez said.
Prescott's team maintains a 372-point overall lead over Cave Creek Cactus Shadows in the five-race series. The next race, the fourth in the series, will be run at McDowell Mountain Regional Park Oct. 23 at Fort McDowell near Scottsdale.
More like this story
SUBMIT FEEDBACK
Click Below to: