New Prescott City Manager promises open-door policy
Lamar takes oath of office, pledges transparency

By
Cindy Barks
|
Cindy_Barks
Originally Published: October 11, 2016 6:02 a.m.
PRESCOTT – With a pledge of "open and transparent" government, Michael Lamar officially took on the role of Prescott City Manager this week.
More than 100 city officials, employees, and community members turned out at the Prescott Public Library Monday afternoon, Oct. 10, to watch as Prescott City Clerk Dana DeLong administered the oath of office to Lamar, a public administrator with about two decades of previous city- and county-management experience.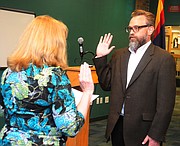 Most recently, Lamar, 44, served as county manager in Morgan County, Georgia, for 11 years. While there, he said, he conducted an open house every other Monday, at which members of the public could come and talk to him on any topic. He proposed conducting a similar standing event in Prescott.
"My door's always going to be open," Lamar told the crowd, suggesting that "maybe from 2 to 6 every other week, I'll take any and all comers that want to talk about any issue facing them."
Overall, Lamar said, "I can promise I'm going to be open and transparent and engage the folks who live here and work here, because local government is supposed to be responsive to the people that pay the salaries of the people in this building and the surrounding buildings."
While acknowledging that there likely would be "instances where the decisions I make won't thrill some of you," Lamar added that the community should know that "at the very least I'm doing it from a place that I think is in the best interests of this community."
After the swearing-in, he spent time chatting with those who lined up to meet him, including local residents, police officers, firemen, and other city employees.
During his first weeks on the job, Lamar said he plans to meet with various city departments for briefings. To help get a feel for the unique issues, he said he may work for a time from the different departments. In addition, he said, he hopes to establish an employee advisory committee to solicit input.
Before introducing Lamar, Mayor Harry Oberg acknowledged the work of outgoing City Manager Craig McConnell.
"I think it's very appropriate to thank our out-going city manager, Craig McConnell, who has worked for the city for about 16 years," Oberg said.
He added that McConnell, who was unable to attend Monday's swearing-in because of a personal issue, would be taking on the role of director of regional programs – the job McConnell held before moving into the city manager's role about five years ago. "We wish him well in that position," Oberg said.
Afterward, Oberg said he expects that McConnell will serve in the regional programs director position in "six-month increments."
"It is important for him to be here initially, because he can transfer a lot of information (to Lamar)," Oberg said of McConnell. For instance, he said McConnell would help with water and development issues.
At the end of the six-month increments, Oberg said Lamar and McConnell likely would discuss how long the arrangement should continue.
For Lamar, Oberg said the top priorities likely would include: Working on ways to pay down the city's more than $70 million in debt with the public safety pension program (PSPRS); oversight of the city's regulation of drug rehab homes; and economic development.
Lamar said he expects to come up with a menu of options for the City Council on a number of the issues within the next 90 days.
Lamar attended the swearing-in with his wife and 10-year-old daughter. "When you decide to move your family, it's a big decision, and I have absolutely no regrets," he told the crowd. "I'm excited; I can't wait to be part of this community and be your friend and neighbor."
More like this story
SUBMIT FEEDBACK
Click Below to: