By
Doug Cook
|
dougout_dc
Originally Published: October 11, 2016 11:35 p.m.
PRESCOTT VALLEY – Mingus Union High's boys' golf team shot a plus-27 to win a nine-hole, par 36 four-way tournament at Prescott Golf & Country Club near Dewey on Tuesday afternoon, Oct. 11.
Photo Gallery
BMHS vs PHS Mingus Mohave Academy Golf 101116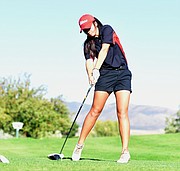 Prescott High was runner-up (plus-38), Mohave Accelerated placed third (plus-47) and host Bradshaw Mountain (plus-65) took fourth in rounding out the field.
Individually, Bradshaw's Anne Transier won, posting the day's low score of 38, even though the Bears don't count her scores at regular-season competitions so that she may try to qualify for the girls' state tournament. Bradshaw coach Dave Capka said Transier is currently ranked in the Top 10 in the Bears' division of ladies' golfers.
Also on Tuesday, Mohave Accelerated's Dakota Gillman claimed second with a 39. For Prescott, Beniam Osterloh finished tied for fourth with Mingus' Tyre Kim with a 40. Bradshaw freshman Carson Randa placed sixth with a 42.
Next up, Bradshaw Mountain will play host to Centennial, Boulder Creek and Sunrise Mountain at 3:30 p.m. Thursday, Oct. 13, at Prescott Golf & Country Club.
PREP SOCCER
Chino Valley boys 14, Leading Edge 0
CHINO VALLEY – Arturo Gomez and Elijah Desmond each registered a hat trick with three goals and Jordan Sanchez booted in two goals, pacing Chino Valley High's boys' soccer team to a blowout win over Leading Edge Academy.
The Arizona Interscholastic Association (AIA) 2A Classification's No. 2-ranked Cougars also received a goal apiece from Cesar Miguel, Johnny Beltran, Walter Soto, Jesus Guarda, Edgar Sanchez and Matthew Rios in the Central Region match.
Soto added three assists. Jordan Sanchez and Arturo Gomez had two assists each.
Central Region-leading Chino Valley (8-0 record in power-point games, 4-0 in region) will play host to region opponent Northland Prep at 3:30 p.m. Thursday, Oct. 13, followed by Payson at 6 p.m. Saturday, Oct. 15, at CVHS's football field.
Saturday is AYSO Night, an evening in which all Chino Valley AYSO soccer players will head out onto the field at halftime.
PREP MTN. BIKING
Prescott High boys 1st, girls 5th at Sierra Vista race (Oct. 9)
SIERRA VISTA – On an unseasonably warm 86-degree fall day in southeastern Arizona, Prescott High's boys' mountain biking team won the third race of the Arizona High School Cycling League's 2016 fall season.
Prescott's girls placed fifth in "a fast, but challenging race" at Wren Arena in Fort Huachuca, coach Wayne Fernandez said.
"Points-wise, this was our closest race so far this season," Fernandez added. "We [boys' team] took first place by a mere 57 points. The competition from other schools is getting tougher, as they are trying to beat us. The competition is very friendly between schools, as we cheer and push each other to race harder."
Results for Prescott in Sierra Vista were as follows.
In the four-lap, 4.2-mile Varsity boys' race, Paul Fabian won in 1 hour, 7 minutes and 44 seconds. Andrew Myrick (14th, 1:19:34), Andrew Mull (15th, 1:20:10) and Connor Rosborough (17th, 1:23:40) followed.
As for the four-lap, 4.2-mile Varsity girls' race, Alex Shumaker placed fifth in 1 hour, 31 minutes and 27 seconds. Lexi Hammes (sixth, 1:36:05) and Drew Shumaker (seventh, 1:37:37) also finished in the Top 10.
In the three-lap JV boys' race, Hayden Rosborough won in 53 minutes and 8 seconds. Grayson Hughes (fourth, 56:07), Cole Bailey (16th, 1:06:42), Sam Ward (24th, 1:13:16), Kevin Martinez (25th, 1:20:27) and Nick Hight (26th, 1:20:33) followed for the Badgers.
As for the three-lap JV girls' race, McKenzie Roberts led Prescott with a sixth-place finish in 1 hour, 15 minutes and 5 seconds.
In the Freshman boys' race, Bryce Vaughn claimed fifth in 43 minutes and 7 seconds, and Zane Simmons was sixth in 43:34. In the two-lap Freshman girls' race, Zaydie Croy placed third in 50 minutes and 51 seconds. Ivy Bailey was fourth in 52:41.
"The heat definitely played a factor in the riders' performance, as they are not used to the heat like that, even though Fort Huachuca is at 5,000 feet [elevation]," Fernandez said.
Nevertheless, Prescott maintains a 372-point overall lead over Cave Creek Cactus Shadows in the five-race series. The next race, the fourth in the series, will be run at McDowell Mountain Regional Park Oct. 23 at Fort McDowell near Scottsdale.
COLLEGE VOLLEYBALL
Yavapai setter Tilley nabs league POW honors (Oct. 10)
PRESCOTT – After leading the Yavapai College volleyball team to two road victories at Embry-Riddle Oct. 5 and at Eastern Arizona Oct. 7, sophomore setter Jordan Tilley was named Arizona Conference Division I Player of the Week for Oct. 2-8.
In a 3-1 crosstown win over ERAU, Tilley of Ashland, Oregon, tallied 40 assists, 12 digs and two service aces. In a 3-2 win over fellow D-I league foe Eastern Arizona, Tilley registered 44 assists, 13 digs, three kills and an ace.
The Roughriders (13-9 overall, 6-4 conference), who are on a five-match winning streak, will play host to Pima at 7 p.m. today, Oct. 12, at Walraven Gym in Prescott.
More like this story
SUBMIT FEEDBACK
Click Below to:
This Week's Circulars
To view money-saving ads...