Time Warp with Rocky Horror Picture Show at Elks on Saturday

By
Nanci Hutson
|
HutsonNanci
Originally Published: October 6, 2016 10:13 p.m.
Let's do the Time Warp…AGAINNNNN!"
All you 1970s lovers of the cult classic, "The Rocky Horror Picture Show," need to tune up your voices, and revive your memories of some of the infamous dialogue from this spooky, farcical comedy with its share of odd characters and costumes.
Why?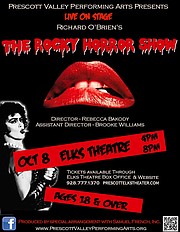 As a pre-Halloween tricky treat, Prescott Valley Performing Arts (PVPA) is reprising the musical on stage at The Elks Theatre & Performing Arts Center with two performances on Saturday, Oct. 8 – the first will be at 4 p.m. and the second will be at 8 p.m. Tickets for audiences required to be 18 and older are $18, $20 and $25 and can be purchased by calling the box office at 928-777-1370 or through the website: www.prescottelkstheater.com
"Oh, it's going to be fun," said PVPA Executive Director Clyde Neville of the show that is a parody of both science fiction and early-era horror films.
Neville admits this particular musical might not have been his first choice, but he was overruled by his staff and the cast and crew.
PVPA has actually performed the show three times at the Elks, most recently last year to a very appreciative audience of more than 350 adults. Neville said he expects this year's shows to attract as many as 600 people.
And he has no doubt this will be a musical audiences will be laughing over long after the curtain falls.
"They're just having a heck of a good time with it," Neville said of the 15-member cast that dazzle with characters that include an alien transvestite, a mad scientist and a young couple whose car breaks down outside a seemingly haunted English castle occupied by the strangest, yet engaging, group of folks in the most unusual costumes.
The show's plot evolves such that the couple are invited in to the castle headed by Frank N. Furter, the alien transvestite who creates a perfect specimen "muscle man" in his laboratory. The servants end up taking control, unleashing a unique brand of madness and mayhem able to magnetize all audiences.
The PVPA show's director is Rebecca Bakody, assisted by Brook Williams. PVPA is the only theater company in central Arizona to perform with live music. Music Director Jason Rausch will conduct a four-person orchestra who will lead the audience as they "jump to the left, or jump to the right," Neville joked.
Neville does advise that Rocky Horror aficionados are not allowed to bring any props related to the musical into this stately, restored historic theater. In its four-decade history, Rocky Horror fans have been known to pelt movie screens and stages with props that they have deemed fitting for the dialogue and characters: everything from umbrellas, newspapers, confetti, even hot dogs.
What they can do is wear their own Rocky Horror costumes, sing along to familiar lyrics, and if so inclined, dance in the aisles as the casts perform their lively numbers, the most famous of which is surely, "Let's Do the Time Warp Again!"
"Last year, we had people dancing in the aisles, hooting and hollering; all kinds of fun stuff," Neville said of the original 1975 British film that starred such well-known actors and actresses as Susan Sarandon, Tim Curry and Barry Bostwick.
"It will be a fun thing," Neville said. "I might just stay for it."
More like this story
SUBMIT FEEDBACK
Click Below to:
This Week's Circulars
To view money-saving ads...