Prescott musicians to release new CD on Saturday
Johan Glidden has been playing one instrument or another for many of his past 18 years, and has performed with several bands around Prescott since age 12. Now he's one of a three-member rock and roll band called The Faultlines, and will be performing at the Raven Café from 8 to 11 p.m. Saturday, Oct. 8. The gig kicks off the band's new CD, New Rage, which he describes as classic rock, blues rock, with hints of country.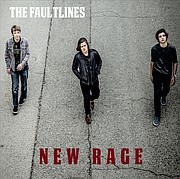 Q: How did the name The Faultlines come about?
A: I took a geology class at Yavapai when I was 16 and I thought the idea of something earthquake related would work well for a rock band. - Johan Glidden
Together with drummer, True Bohrman, and bass player, Cosimo Bohrman, they play a mix of music drawing on different influences that include Eric Clapton, Cream, and a bit of the Eagles' sound. All the songs are original compositions of either Glidden or Glidden and Cosimo. Some numbers have a "blues with a twist" sound; others in which Glidden plays background violin, have a more "ballad-y" sound, he said.
Glidden is well known in the community as a talented classical violinist, having won several Yavapai Symphony Guild Young Musician competitions. After all, he shares his name with J.S. Bach, a favorite composer. Glidden also has won awards for his creative writing from the Professional Writers of Prescott in 2012 and the Young Playwrights Festival in 2014.
At age 12, Glidden learned fiddling from Ray Gardner, who has since passed away, playing gigs with the Prescott Playboys under a nickname, Bix Glidden. Gardner was a big influence on the young boy, teaching him western swing music.
"I'm a huge lover of all kinds of music," he said. "I have my own style that goes with both bands."
He continues to play acoustic guitar in the youth band, Generation. He describes the music of that group as "more bluegrass and folk, with a little jazz and blues influence." He and the Generation members also are developing an album and "going strong."
Accepted into several colleges, Glidden said he would rather focus on music right now, with the CD release, both bands and other projects. "I'm passionate about writing and music in general right now."
Special guests Glory Glidden and Kiva Keith (from Generation) and his guitar teacher, Drew Hall, will sit in during Saturday's performance, arriving around 9:30 and 10 p.m.
"If you're looking for a good time and want to hear energetic new original music that the young people of Prescott are doing these days, come down to the Raven," Glidden said.
The Raven Café is located at 142 N. Cortez St. in Prescott.
More like this story
SUBMIT FEEDBACK
Click Below to: