Chew on This: Barbudos Dos; a larger, comparable Barbudos Mexican Grill and Cantina

By
Max Efrein
|
mefrein
Originally Published: October 6, 2016 9:34 p.m.
When Macayo's Mexican Kitchen closed its Prescott Gateway Mall location nearly two years ago, the owners of Barbudos Mexican Grill and Cantina in Prescott thought they were going to fill the space with a second Prescott location almost immediately.
"They (Macayo's) were going to leave Thanksgiving Day and we were going to come in on Black Friday," said Rex Edwards, primary owner of Barbudos. "There were leases drawn up and everything."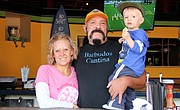 ESSENTIALS
Who: Barbudos Dos
Where: Prescott Gateway Mall, 3280 Gateway Blvd., Prescott
Contact: 928-445-3133
However, issues suddenly cropped up and the deal fell through.
Fast forward about a year-and-a-half: The mall had long been struggling to fill vacant spaces and the property's owner, Tabani Group, decided to take over all of the marketing and leasing in-house.
Soon after, an inspector from the City of Prescott was combing through the property with representative of Tabani Group and suggested that they reach out to the owners of Barbudos again to give the deal another try.

"That's when they called us," Edwards said.
The mall took care of the issues that caused the arrangement to fall through in the first place and offered Edwards a steal of a deal on the lease agreement.
"I got to say, they (the mall ownership) did a standup job for us," Edwards said.
Once the deal was struck, it didn't take long for Edwards to get the new restaurant, Barbudos Dos, open.
The mall had purchased all of the equipment from Macayao's when it left, so the framework for a restaurant — tables, chairs, commercial kitchen, etc. — was already in place.

"There were some growing pains," Edwards said.
Namely hiring and managing 22 new employees that had never worked together before and getting all of the neglected equipment to work again.
Now four months into their operation, Edwards and his colleagues feel pretty settled with their new situation.
The 7,000-square-foot space has an occupancy maximum of 257 people. Inside there are three sections of the restaurant to dine in and a full bar area with bar and regular seating. Outside there are two dining areas featuring heating from both a fireplace and overhead electric heaters.
On weekends, the owners hire bands to play outside — sometimes even expanding their premises for a day with the city's approval to have additional band and seating space.
Given its size, the restaurant often hosts large parties.
Though there typically isn't a seating issue, Edwards asks that parties of 15 or larger call ahead so he and his team can prep accordingly.
Groups of six to 15 people can even request that a Barbudos van shuttle them to and from the restaurant from their home for free as long as they give the restaurant a day or so notice.
The menu features all of the classic Mexican dishes, including burritos, tacos and combo plates. For those who have been to the Barbudos location in the Safeway shopping center off of Willow Creek Road in Prescott, they'll notice the menu is exactly the same.
Regular customer David Sutherland works at the Wildflower Bread Company right next door. He comes in at least two or three times a week to grab a beer, eat nachos and watch football from the bar's four large televisions.
"I like the owner and the two bartenders," Sutherland said.
He doesn't often order food items, but when he does he said it's tasty.
"I got to eat the carne asada fries and oh my God, them things are good," he exclaimed.
More like this story
SUBMIT FEEDBACK
Click Below to: