By
Doug Cook
|
dougout_dc
Originally Published: October 4, 2016 10:50 p.m.
BUCKEYE – Prescott High's volleyball team took a brief break from 4A Conference Grand Canyon Region play on Tuesday, Oct. 4, defeating Youngker, 3-2, on the road.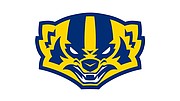 Ashlynn Uvila led the Badgers with 18 kills and four service aces. She added seven digs.
Alex Koehler (10 kills, six digs), Karlee Holliday (nine kills, 16 digs), Dani Dreher (seven kills, three digs), Kella Wright (25 assists, five digs, three aces), Grace Hendricks (25 digs, three aces) and Erinn Marroquin (five aces) also posted fine evenings for the visitors.
The Badgers improved their record to 9-1 overall and will return to region action when they host Mohave at 6 p.m. Thursday, Oct. 6. Prescott is 5-1 in the region and trails only Flagstaff (6-0) in the standings.
Chino Valley 3, Kingman 0
CHINO VALLEY – Chino Valley High's volleyball squad swept Kingman Tuesday, Oct. 4, at home, upping its overall record to 7-3 and its 3A Conference West Region mark at 2-1.
In the 25-7, 25-9, 25-13 win, the Cougars' Jacelyn Clements paced the offense with 13 kills and eight service aces. Josie Cutlip (22 assists, ace), Taelor Winegar (three kills, five aces), Jadyn Clawson (kill, four aces) and Kylee Tiedeman (10 digs) were strong as well.
Chino Valley will visit West Region-leading Northwest Christian (9-1 overall, 3-0 region) at 6 p.m. Thursday, Oct. 6, in Phoenix.
Mohave 3, Bradshaw Mtn. 2
PRESCOTT VALLEY – Bradshaw Mountain High's spikers lost their eighth straight power-point match on Tuesday, Oct. 4, falling at home in five games to 4A Conference Grand Canyon Region foe Mohave.
The Bears (3-8 overall, 1-6 region) will visit Metro Tech High for a non-region match at 6 p.m. today, Oct. 5. They will then travel to Desert Ridge High for the Jaguar Invite on Friday, Oct. 7, in Mesa.
PREP SOCCER
Chino Valley boys 8, Phoenix Country Day 2
PHOENIX – The 2A Conference No. 2-ranked Chino Valley High boys' soccer team routed Phoenix Country Day in a Central Region clash Tuesday, Oct. 4, on the road and currently owns a 13-1 overall record.
Arturo Gomez scored three goals, Jordan Sanchez and Elijah Desmond scored two apiece, and Walter Soto added one to pace the Cougars' potent attack. Sanchez and Soto notched two assists each, while Cesar Miguel and Desmond dished one helper apiece.
The Cougars (2-0 region), who compiled a 3-1 record at the Old Pueblo Classic in Tucson this past weekend and suffered their first loss to No. 1-ranked Blue Ridge, visit Ash Fork at 3 p.m. Thursday, Oct. 6, for another region match.
Chino Valley girls 5, Camp Verde 0
CHINO VALLEY – Chino Valley High's 2A Conference No. 1-ranked girls' soccer team remained unbeaten at 7-0 overall and 4-0 in the Central Region with this shutout victory over No. 5 Camp Verde at home.
The Cougars will play host to Payson for another region match at 6 p.m. Thursday, Oct. 6, at the CVHS football stadium.
PREP BADMINTON
Prescott 5, Goldwater 4
PRESCOTT – On Senior Night Tuesday, Oct. 4, Prescott High's badminton team won four singles matches and one doubles match to narrowly beat Goldwater in Division II Northwest Section play.
In singles for the D-II No. 9-ranked Badgers, Mackenzie Schultz, Paige Campbell, Sierra Price and Zoey Frazier were winners in the team's Nos. 3 through 6 positions, respectively. In doubles, the No. 3 pairing of Price-Frazier was victorious.
Second-place Prescott (7-4 overall, 5-1 region) visits North Canyon for its section finale at 4 p.m. Thursday, Oct. 6.
PREP X-COUNTRY
Prescott boys place 4th in Championship Division at Twilight Meet (Sept. 30)
CASA GRANDE – Prescott High's boys' cross-country team placed fourth and its girls' squad finished 10th in the varsity Championship Division's 5,000-meter races at the Nike Desert Twilight Meet on Friday night, Sept. 30.
On the 28-team boys' side, the Badgers were 20 points short of winning the meet, only a year after they finished 21st.
Leading the way for Prescott was Matt Bradley, who took 29th in 16 minutes and 47 seconds. John McMahon (31st, 16:48), freshman Luke Fredrick (45th, 17:03), Bryan Evans (57th, 17:10) and Garrett Ward (85th, 17:31) rounded out the Badgers' top five.
On the 25-team girls' side, the Badgers improved five spots after taking 15th in 2015. Individually, Makennah Mills placed eighth in 19:20 and was Prescott's only medalist, coach Cylinda Bray said.
Freshmen Kenna Bray (28th, 20:16) and Kaity Kasun (32nd, 20:23) stood out, as did Carrissa Evans (64th, 21:21). Carly Davis (163rd, 24:21) rounded out Prescott's top five finishers.
"I was very pleased with the progress we have seen the last two weeks and how well the teams are coming together to work towards better placements," coach Bray said.
The Badgers will run again this Saturday, Oct. 8, at the Sandra Day O'Connor Invite in Phoenix.
In the girls' 5,000m Small Schools' varsity race, Chino Valley claimed ninth place and Bradshaw Mountain finished 28th out of 46 teams.
For the Cougars' girls, Becca Tupper ran a personal-best time of 21:09 and was 34th out of 327 runners. Rosio Aguiar (69th, 22:12), Lizzy Tupper (72nd, 22:15) and Mya Pullins (88th, 22:39) followed.
For the Bears' girls, Anna Zea claimed 36th in 21:12. Caitlynn Neal (78th, 22:31) also fared well.
On Tuesday, Oct. 4, Chino Valley had a nice showing at the Northwest Christian Invitational in Phoenix.
For the girls, Becca Tupper placed first, leading the Cougars to a team victory. She was in second for most of the race, but had a strong finish to win the race in a time of 22:18.
Rosio Aguiar placed fourth with a time of 23:13 and Lizzy Tupper was close behind, placing fifth in 23:25. Mya Pullins placed seventh (23:48), Magali Gomez placed ninth (24:49), Elizabeth Rangel placed 10th (24:50) and Tabatha Bowers placed 20th (26:59). The girls won the meet with 26 points.
"I was impressed with the girls' performance today," Chino coach Marc Metz said. "Becca had a great race with a nice kick to win. I was also happy and pleasantly surprised that we had six runners in the top 10."
For the boys, Brenden Tupper placed fourth in 18:09. David Gehman placed sixth (18:35), Alex Daniels was 14th (20:21), Austin Crowder took 15th (20:25), Phoenix Swiacki claimed 16th (20:30), Austen Davis crossed the line in 26th (22:04) and Chris Neff was 27th (22:28).
The Cougars' boys placed 3rd with 55 points, behind Sierra Linda and Northwest Christian.
Chino next competes at the Bell Gardens Invitational in Cerritos, California, on Oct. 15.
PREP SOCCER
Bradshaw girls' program earns NSCAA Academic Award
PRESCOTT VALLEY – Bradshaw Mountain High's girls' soccer team on Sept. 29 was named one of 251 varsity girls' programs from across the U.S. that were awarded the NSCAA Team Academic Award for exemplary performance during the 2015-16 academic year.
To qualify for the National Soccer Coaches Association of America (NSCAA) award, each team had to post a minimum grade point average of 3.25 for the entire academic year. The team GPA is determined by adding each player's GPA and dividing by the number of players. Bradshaw Mountain's GPA was 3.32.
More like this story
SUBMIT FEEDBACK
Click Below to:
This Week's Circulars
To view money-saving ads...