Richard and Pat Unkenholz celebrate 65 years of marriage
Originally Published: October 2, 2016 5:59 a.m.
The Rev. Dr. Richard and Pat Unkenholz celebrated their 65th wedding anniversary on Aug. 3, 2016. They were married in the Methodist Church in Velva, North Dakota, in 1951 and have resided in Prescott since 2002.
Dick has served as an ordained pastor for 42 years in Methodist parishes in Indiana and North Dakota. Pat has had a long career in church music as an organist, choir director, handbell leader and teacher. She represented the Malmark Handbell Company throughout the upper Midwest.
The couple have four children, seven grandchildren and three great-grandchildren. A family gathering was held in Prescott during Fourth of July weekend.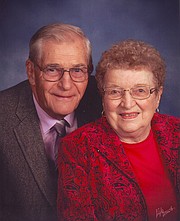 SUBMIT FEEDBACK
Click Below to:
More like this story