Gray records triple double, NAZ Suns drop defending D-League champs
Coach Ellis: 'Josh Gray grew tonight'

Originally Published: November 28, 2016 6:02 a.m.
PRESCOTT VALLEY — Recording the first triple double in Northern Arizona Suns history, Josh Gray led the charge with 24 points, 13 rebounds and 11 assists in a 98-89 win over defending NBA D-League champion Sioux Falls on Sunday afternoon.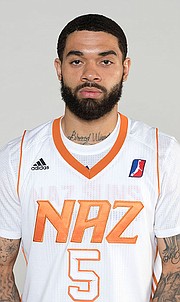 Gray, a 6-foot-1 guard out of LSU, was 10 of 19 from the field and 4 of 5 from the free-throw line, played a season-high 46 minutes after point guard Askia Booker was a late scratch from the starting lineup.
"I was going on my own pace, getting guys involved early and I knew mine was going to come because I was going to play so many minutes," Gray said, adding the Skyforce came into Sunday's contest with "a lot of swag."
"They didn't think we were going to punch them first because Askia Booker was out. They felt like the game was over with," Gray said. "I just felt like it was my priority to show them with any guy out, we are still a great team."
Northern Arizona head coach Tyrone Ellis said Gray "grew tonight."
"It was unbelievable. … He has to be a point guard, not just a point guard that can score and tonight he had double-digit assists," Ellis said.
First-year Sioux Falls head coach Nevada Smith said the Suns did a nice job defensively taking them out of their game.
"[They] made us a little uncomfortable. We didn't handle it well, we have to be better," Smith said. "We didn't generate the shots we have to generate."
Offensively, the Suns (5-1) were just 4 of 21 from the field in the first quarter and were tied 37-37 at halftime, but a 33-point outburst in the third quarter, including a 16-6 run capped by a Johnny O'Bryant lay-in at the 6:01 mark, propelled Northern Arizona and they never trailed again.
"I think we just found the bottom of the net," Ellis said. "I really didn't care about the points we scored tonight, because they didn't score points. Offense comes and goes, but if we can bring that energy on the defensive end every single night, that gives us a chance to win."
O'Bryant finished with a double-double, scoring 20 points on 8 of 18 shooting, and grabbed 10 rebounds for the Suns, which are 4-0 at the Prescott Valley Event Center this season.
A key contributor off the bench for Northern Arizona was Asaad Woods, a local tryout from Mesa Mountain View High School. Woods scored just six points, hitting a 3-pointer in the first quarter, but his energy helped lift the Suns.
"When I'm called, my job is to be ready," Woods said. "I just so happened to get a couple looks tonight and they went down."
Northern Arizona shot 42.2 percent as a team (38-90), and were just 3 of 14 from beyond the arc, but converted 19 of 27 from the charity stripe.
For Sioux Falls (4-2), Marcus Posley scored 22 points off the bench on 8 of 20 shooting, including six 3-pointers, while Gabriel Trawick added 14 points and six rebounds in 27 minutes.
INJURY REPORT
Originally in the starting lineup, Booker was a late scratch Sunday with a groin injury, which he suffered during the 142-135 double-overtime loss to Los Angeles on Nov. 23.
Booker, a former Colorado standout, played through the injury in the win against Reno on Nov. 25, but Ellis thought it was best to rest him against the Skyforce.
"He's doing good now, we won. He has a small injury, and we'll monitor it," Ellis said. "Hopefully he'll be ready for [Salt Lake City], but if not, we're [a] deep [team]."
NEXT UP
Tied for first place in the Pacific Division, Northern Arizona travels to Utah to play the Salt Lake City Stars, a club it has beaten twice already this season. Tipoff is scheduled for 7 p.m.
Brian M. Bergner Jr. is a sports writer and columnist for The Daily Courier. Follow him on Twitter, Instagram, Periscope and SoundCloud at @SportsWriter52, or on Facebook at @SportsAboveTheFold. Reach him by phone at 928-445-3333, ext. 1106.
More like this story
SUBMIT FEEDBACK
Click Below to:
This Week's Circulars
To view money-saving ads...