A humble hero: Vietnam War distinguished medal recipient is a patriot devoted to serving others

By
Nanci Hutson
|
HutsonNanci
Originally Published: November 27, 2016 6:03 a.m.
PRESCOTT – Memories flow as local lawyer Dave Lange flips through a faded blue scrapbook of his military days, including a year of combat in Vietnam during a pivotal time in the war.
On the pages are photographs of Lange as a young United States Army company commander and many pictures of soldiers he directed as part of Company D, First Airborne Battalion, 506th Infantry, 101st Airborne Division. There are news clippings of various operations, and official documentation related to Lange's distinguished service, as well as a now-faded Department of Army certificate that details his selection for the U.S. military's third highest honors for valor: the Silver Star Medal.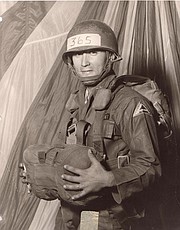 On Feb. 18, 1968, Capt. Lange "distinguished himself by extraordinary heroism while serving as company commander" during a search and destroy mission in Song Be. On patrol through the battle-torn streets, Lange's company was "suddenly and viciously taken under a withering barrage of automatic weapons and small arms fire from a numerically superior Viet Cong force, which was firing from heavily fortified positions," the citation reads.
Understanding his company's peril, the 1960 Prescott High School valedictorian and University of Arizona ROTC graduate brought his company into position for a massive ground assault.
"Captain Lange gallantly exposed himself to the murderous hail of enemy fire, insuring that his company moved at peak proficiency while attacking the entrenched insurgent force," the citation reads.
Lange was able to strategically deploy gunships and artillery fire, and keep his company on the move with direct orders and encouragement. On numerous occasions, he risked his safety to rescue wounded soldiers, "completely oblivious to the wall of enemy fire now being directed at him."
That mission defeated the enemy forces, but at a price, one Lange never forgets. Six men were killed and 30 wounded.
A humble man who suggests he was simply doing his duty, Lange's award refers to him as a true hero, a man whose "devotion to duty are in keeping with the highest traditions of the military service and reflect great credit upon himself, his unit and the United States Army."
Lange did not enlist in the Army until he graduated from college in 1964. Married to his high school sweetheart, Georgia, Lange opted to go into the Army as he had decided to "give the military a try." He was commissioned as a second lieutenant.
He first served 18 months in Germany with an armor division, and then was promoted to company commander of an airborne division with training at Fort Benning, Georgia. The couple was there for about a year and then they were sent to Fort Campbell, Kentucky, where Lange trained until his company, part of the Third Brigade of the 101st Airborne Division, was deployed to Vietnam in August 1967. At that time, the then 27-year-old was a married father of one son, David, with his wife expecting the second of the couple's seven children.
Talking about his service, Lange speaks less of sacrifice and loss then he does of patriotism and determination to do the best for the young men he was responsible for in battle. And his desire to stay safe so he could return to his beloved wife – the couple were married for 51 years until her death of pancreatic cancer two years ago – and their growing family.
"I never took a political stand on the war," said Lange, a man of faith who served five years as a volunteer bishop for The Church of Latter-Day Saints and remains active in church activities. "I was patriotic …a gung ho combat soldier … and felt it was my duty to serve. I thought we were doing good, and we were fighting for a good cause."
What he now believe is that politics interfered with military strategy that then crippled forces on the ground to succeed in their mission.
"Any soldier who has been there, and saw comrades killed and wounded, who lost friends, might ask whether it was worthwhile," admits Lange, who beyond the Silver Star medal, also won two Bronze Star medals for valor. "I was disappointed we couldn't have shown a better end result."
He has no regrets over his decision to go, but has no doubt Vietnam veterans were mistreated by those who opposed the war effort. He laments that the emotional wounds of many veterans were overlooked.
"We weren't loved; we weren't treated with a lot of respect," Lange said, noting he is glad today's troops are much more honored with heightened sensitivity to helping them adjust to civilian life. "The atrocities of battle were just as grim then as they are now."
Upon his return from Vietnam, Lange knew he no longer wanted to make the military a career. He left the service in 1970 and was accepted into the Arizona State University law school.
He has not yet retired from his civil law practice, but he is no longer taking new clients. Prior to his wife's illness, the couple had hoped to do a church mission trip, and he still hopes to invest himself in church and community mission work, he just has not decided what that might be since, as a widower, he is in a different phase of life. His family is the center of his life; he has 36 grandchildren with five of his seven children still living within a two-hour drive. Two live in Colorado.
Friend and client Keith Bunker said Lange has always been a man of principle, someone with a strong moral fiber who, though, quiet, is one who "knows what's right and wrong, and doesn't deviate from that."
Of his military service, Bunker said he was unaware of Lange's honors, but is not surprised.
"Obviously, he is a patriot who wanted to serve his country," Bunker said. "He's always been a good man."
More like this story
SUBMIT FEEDBACK
Click Below to:
This Week's Circulars
To view money-saving ads...