Driver arrested, charged with manslaughter in fatal Cornville crash
Originally Published: November 25, 2016 10:15 a.m.
Updated as of Friday, November 25, 2016 12:22 PM
CONRVILLE—A driver who authorities said was intoxicated when he crossed the double-yellow line on Cornville Road, on Nov. 23, striking a van and killing his own passenger, was arrested and charged with manslaughter and other offenses, Yavapai County Sheriff's spokesman Dwight D'Evelyn said.
Cody Bright, 31, of Cottonwood, was behind the wheel at 4:30 p.m., headed west, when he began to pass slower vehicles by going into the oncoming traffic lane, D'Evelyn said, but there were four other vehicles going eastbound in that lane.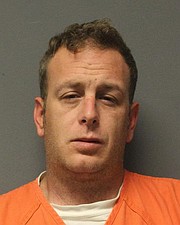 Three were able to swerve and miss a head-on crash, but the fourth, the van, was not.
That van was driven by a 62-year-old woman who was seriously injured and flown to Flagstaff Medical Center.
Bright had two men in the car with him: Justin A. Goemaere, 31, from Cottonwood in the front passenger seat, was killed, and a 20-year-old man in the back seat. Both Bright and that man sustained minor injuries, D'Evelyn said. Another driver had minor injuries caused by having to drive off the road to avoid Bright's car.
Despite witness accounts and evidence contradicting him, Bright told deputies that the man who was killed had been driving, D'Evelyn said. Bright was determined to be intoxicated.
He was charged with manslaughter, aggravated DUI, extreme DUI, DUI, four counts of endangerment, aggravated assault, and two counts of criminal damage.
Bright was booked into the Camp Verde jail and is being held on a $250,000 bond.
More like this story
SUBMIT FEEDBACK
Click Below to: