Residents in Wilhoit appreciate the two water companies on either side of Highway 89 that keep their taps flowing. Both companies, however, are operating in the red and neither one appears to know how to rectify matters.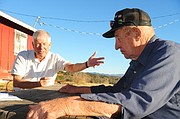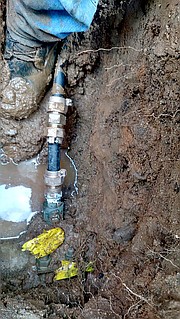 Many residents in this small community of about 860 residents that is located about 15 miles, or 30 minutes' drive, southwest from Prescott appear not to know what is happening between the two companies. As long as they get their water, they have no concerns.
One company is supplying water to the other company, and both are not able to cover their operating costs, according to the latest 2015 annual report to the Arizona Corporation Commission.
On the west side of Highway 89, Walden Meadows Community Co-op's wells are producing enough water for its customers – 296 average customers/meters – as well as for Thunderbird Meadows on the east side of the highway – 125 customers/meters – owned by ACME Water Company.
In fact, the Co-op has been doing so since 1984 when Walden Meadows agreed to sell 200,000 gallons per month to ACME's predecessor, Wilhoit Water Company. Two years later, the amount increased to 400,000 gallons, with an emergency clause that would allow more if Walden Meadows still was able to meet its own customers' demands.
In 2008, the two companies agreed to a larger purchase of water, and Walden Meadows increased its production by drilling an additional well. By 2012, when ACME took over Wilhoit Water Company, it was buying 5 million gallons per year.
Hard freeze
A severe freeze in early 2013 broke pipes and meters for both companies. The Co-op was able to complete repairs within six weeks, but some of ACME's leaks continued unnoticed. The Co-op provided 18 million gallons that year, probably due to the leaks in ACME's system.
"ACME has been trying to catch up with this significant water loss ever since," said Jim West, owner of Acme Water Company, adding that the leaks caused water to permeate underground because of the geological makeup of the soil and the presence of granite. These leaks weren't as easily detectable as water that pools on top the ground.
Two months ago he hired two workers who also did repair work for the Co-op, and he has been pleased with the results.
"They know what they're doing and they don't overcharge. We're in the process of getting a handle on the water loss," West said.
In 2015, ACME purchased more than 11.5 million gallons – between 627,000 to 1,228,100 gallons per month. It pumped zero gallons from its own wells, according to the annual report.
West said he is unable to tap into the Bill Williams reservoir which runs south of town. He has plans to put one well back into service which will not produce enough for residents, but will reduce the amount of water he purchases from Walden. Four of his six wells are capped, and one doesn't pump enough water to be a viable option.
Minimum payments
A 2013 contract between the two companies arranged for ACME Water Company to purchase its water from the Co-op as long as there were sufficient amounts, and to make minimum payments of $2,500 per month to the Co-op. It has been doing so without fail, West said.
The minimum payments, however, aren't covering the costs to the Co-op, and the Co-op is now operating at a loss. The 2015 Water Utility Comparative Statement of Income and Expense filed with the Corporation Commission portrays a loss of $6,610. The same report for ACME states a loss of $20,930 for the entire company. West, however, said he is about $100,000 in the hole to Walden Meadows.
The Co-op's board of directors has three new members as of Nov. 8, including Luke Lucas, a 20-year resident of Wilhoit, elected as new board president. As far as he knows, the water company is still in good shape.
Lucas and West sat outside the general store this past Friday afternoon. Both commiserated on the regulations and lengthy timeframes for changes to come to pass through the Corporation Commission. And both agreed that residents pay under the market price for water delivery.
Newly-elected board member, Roger Ward, said he was hopeful that everything could be worked out between the companies, and said the Co-op is in "tiptop shape."
Walden Meadows needs to install water lines for about 32 customers who currently receive their water by truck, Ward said. And ACME just needs to get their infrastructure repaired and up and running. Then ACME will pay what it owes to the Co-op and everything will be fine.
"He's got to quit procrastinating and get it done," Ward said.
West said he, too, is optimistic that both sides can put together a financial game plan that makes sense and doesn't penalize people. He wants to make larger payments, but he can't and still take care of the needed repairs.
"I think there are ways of doing it. It's just working together, not in an adversarial way," West said, adding that he thinks it may take a year or two.
"Part of the problem that Walden Meadows has and that I have, is these are relatively low income residents, and a rate increase that would provide the revenue to replace distribution and service lines would be onerous on the company and customers. It would be very difficult for these folks."
ACME has taken out four loans through Water Infrastructure Finance Authority of Arizona (WIFA), all in 2010, to pay for storage tanks and arsenic treatment, with $411,574 still outstanding. Its records filed in May 2016 with the Corporation Commission state a liability of $370,670 and assets of $524,409.
ACME owns four rural water districts: Blue Hills (two wells with 57 metered customers) in Dewey, Yavapai Estates (two wells, 96 customers) in Yavapai County, Dells (two wells, 53 customers) in Prescott, and Thunderbird Meadows in Wilhoit (four wells, 125 customers). Thunderbird Meadows purchased 11.5 million gallons in 2015, and sold 6.3 million, the report states.
Corporation Commission records also indicate Walden Meadows' assets are $349,203, and its net loss is $6,610 for 2015.
Possible answer
Co-op member Julie Smith came up with a solution – integrate the two companies as one.
"First, every customer in Wilhoit could receive water at the same price per gallon," she wrote in a Sept. 20 letter to the Co-op board. This means ACME customers would not be subject to successive rate increases. Secondly, she stated, the Co-op would see immediate financial growth and end the cumulative expenses.
"Third, if Mr. West is willing to dissolve ACME LLC, and in turn relinquish all his customers along with his water assets, he could clear his debt with (the Co-op)," Smith wrote.
West said combining the companies, "makes all the sense in the world to me." He wasn't sure if Walden Meadows was open to it, nor how the new board felt.
"I don't have a clue from their perspective. If they were willing to take it over, I would sign it over tomorrow," he said.
Former 14-year Co-op board member, Sam duBois, said he knows West well.
"We both struggle to keep things going forward, to make sure the people have their water. In the desert, if you don't have water, you have a serious problem," deBois said.
If a merger does take place, not only would the debt to the Co-op need to be negotiated, but also the debt ACME is carrying on the WIFA loans. In addition, the Corporation Commission would be involved.
Residents speak
Meanwhile, in this community of No Trespassing signs and a desire for anonymity, the Courier spoke to a few residents, none of whom were willing to give their names. One couple on the ACME side weren't aware of any water issues but felt assured, if their water was shut off, Big Government would step in to take care of them.
"It's not something I'm going to worry about," the husband said.
Another shrugged and said he just pays his bills.
On the Co-op side, a small group of family and friends cooking outside said, as long as they have water, they don't get involved in the politics of the water companies. One had heard ACME was having trouble, but he lives on the other side of the highway and, "I don't worry about it."
Other Co-op members either refused to speak to the Courier or did not return calls.
More like this story
SUBMIT FEEDBACK
Click Below to:
This Week's Circulars
To view money-saving ads...