Originally Published: November 23, 2016 6:37 p.m.
Updated as of Sunday, November 27, 2016 6:25 AM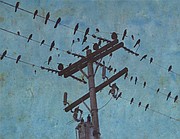 Art2 (Art Squared), 120 W. Gurley St. mezzanine, Prescott, 928-499-4428. On Facebook at Art2Prescott. (formerly That New Gallery at the mall). Artists open house at Art on 6th Street, 697 6th Street, suites 106, 108, 302, Nov. 26, from 10 a.m. to 4 p.m., follow the signs.
Arts Prescott Gallery on Whiskey Row, 134 S. Montezuma St., 928-776-7717, www.artsprescott.com.
Bronzesmith Fine Art Gallery and Foundry, 7331 E. Second St., Prescott Valley, 928-772-2378. Foundry tours are available.
Gallery at the Prescott Center for the Arts, 208 Marina St. (entrance on Willis), 928-445-3286, www.pca-az.net. Open 7 days a week (open Friday, Nov. 25). "Holiday Wrap" exhibit, through Dec. 18. The Gallery has been transformed into a winter wonderland of gift-giving – jewelry, ceramics, stuffed toys, infant-wear, scarves, wooden items, ornaments, soaps, mixed media, and more.
Krieger-Marcusen Gallery, 110 S. Montezuma St., Suite F, Hotel St. Michael's Alley, 928-778-4900. Clay, paintings, jewelry and wood by local artists Heath Krieger, Cathy Krieger and Richard Marcusen. Works by Steve Smith (wood) and plein air oil paintings by Bill Anton.
Gallery Beyond Words, 204 N. McCormick St., featuring fine art installation by Susanne Korte.
Jerome Artists' Cooperative Gallery, 502 Main St., Jerome, www.jeromecoop.com. "Signatures: Let-tering Art by Sid Freeman," featured artist show by Sid Freeman of Prescott Valley. Show runs through Nov. 30.
Mountain Artists Guild & Gallery, 228 N. Alarcon St., 928-776-4009, gal-lery@mountainartistsguild.org. www.mountainartistsguild.org. Come support local artists and get one-of-a-kind gifts Black Friday and Small Business Saturday. The annual "holiday gift show" and "The Minia-tures Show" in the Main Gallery. Limited tickets available for the annual Scholarship Auction hosted at Capital Canyon Club – purchase online or in the gallery.
Mountain Spirit Gallery, 140 S. Montezuma St., 928-445-2886, msgprescott.com. Western art featur-ing Bill Nebeker, Susan Kliewer, Kathy Quick Anderson, Paul Wenzel, K.L. Powers and 20 other local art-ists.
Newman Gallery, 106-A S. Montezuma St., 928-442-9167, www.newmangallery.net.
Phippen Museum, 4701 Highway 89 North, 928-778-1385, www.phippenartmuseum.org. Through Feb. 19, is "The People Speak," an amazing exhibition showcasing a wide variety of outstanding Native American artwork.
Prescott Valley Art Guild, 3380 N. Windsong Drive, www.prescottvalleyartguild.org.
Sean Gote Gallery, 702 W. Gurley St. 928-445-2233 (formerly Hart's Art & Decor). Open Thursdays, Fridays and Saturdays. Many unusual items for sale. Visit our outdoor garden. Friday Art Walk, Nov. 25, 5 to 8 p.m.
Smoki Museum, 147 N. Arizona Ave., 928-445-1230, smokimuseum.org. Open Monday through Sat-urday, 10 a.m. to 4 p.m.; and Sundays, 1-4 p.m. On Saturday and Sunday, Nov. 26-27, is the Christmas Indian Art Market. Artists, such as Ramson Lomatewama, Dorothy Ami, Joe Calabaza, Debra Vaughan, Rueben Richards, MJ Silver, Lyle Balenqua, Carliss Sinquah, Santianna Begay, and more, will be selling their arts and crafts to the public. Great prices to get everyone ready for the holidays by shopping local, and out of the hustle and bustle of the stores! Plus a food truck will be available for munchies!
The Raven Café, 142 N. Cortez St. 928-717-0009, ravencafe.com. "Encore" exhibit runs through Sunday, Jan. 8. The opening reception will be Wednesday, Nov. 30, from 5 to 7 p.m. Featuring the work of 30 artists that have exhibited at The Raven over the past 18 months, a wide variety of media will be shown: digital art, photography, oil, mixed media and assemblages. Featured artists include Stephanie Brown, who uses the digital camera to capture the beauty, humor, amazement or telling gesture of the world around us; and Mary Lou Wills, a multi-media artist, known for her exuberant multi-media prints that feature birds and wildlife, among other subjects. Her website is www.marylouwills.com.
'Tis Art Center and Gallery, 105 S. Cortez St. Prescott, www.tisartgallery.com. In the Mezzanine Gal-lery, "Handmade from the Heart" clothing, jewelry and surprises by the Laughin' Giraffe and Friends, through Dec. 30. In the Main Gallery, "Contemporary Eclecticism," new works in various media by Pres-cott-area artists Nov. 25 through Dec. 20. Art Walk reception Friday, Nov. 25, 5 to 7 p.m. Small Business Saturday at 'Tis, Nov. 26, from 10 a.m. to 5 p.m.
Van Gogh's Ear, 156 S. Montezuma St., 928-776-1080, www.vgegallery.com. Open daily from 10 a.m. to 6 p.m., fine contemporary art and crafts by more than 60 local and nationally known artists.
Yavapai College Art Gallery, 1100 E. Sheldon St. 928-776-2031, www.yc.edu/artgallery. Yavapai Col-lege Art Professor Laura Bloomenstein is the featured artist for an exhibition, titled "Infinite Holes," an enriching exhibition of digital images on the walls and porcelain tea bowls on the pedestals. Bloomen-stein's artwork is inspired by organic objects, structure and space. Continues through Dec. 19.
More like this story
SUBMIT FEEDBACK
Click Below to:
This Week's Circulars
To view money-saving ads...