Vet's patriotism alive long after injury ended military duty
By
Nanci Hutson
|
HutsonNanci
Originally Published: November 19, 2016 6:01 a.m.
PRESCOTT – On Veterans Day, Lester Quitney was surrounded by love – from his family, from fellow veterans, and from community neighbors happy to salute a man who volunteered to serve this nation.
The Quitneys' only son, Mark, the executive chef for the Sheraton Hotel in New Orleans and father of the Quitneys' twin granddaughters, took a redeye flight to Prescott to be with his father and mother, Nancy, and their Yorkiepoo, Charlie, for the city's annual Veterans Day Parade ceremonies and celebration. They were able to get a spot right up close to the parade participants.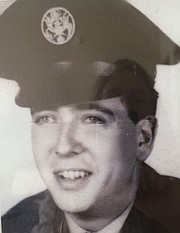 "It was beautiful. They did such a good job," Quitney said of being with thousands of patriotic community members eager to pay tribute to this nation's heroes of yesteryear and today. The parade's theme this year was "Women in the Military — Past, Present and Future." "Charlie didn't like the drums."
A New York City son of Russian Jewish immigrants, the now 85-year-old Las Fuentes Assisted Living resident recalls with clarity how he ended up enlisting in the United States Air Force — all because he had flat feet.
It was May 1951. The United States military was embroiled in the Korean War, and many of Quitney's friends had already been shipped overseas. He decided he was ready to do his duty.
So he went to the United States Navy recruiter. One look at his feet and he heard, "Sorry, son." Next in the row was the U.S. Marines — "I'm not that crazy," Quitney said. He had similar sentiment for the U.S. Army. That left him at the door of the U.S. Air Force.
With a thought it might take a few weeks, Quitney went in, and they gave him some paperwork and a blood test. He passed. And they told him to report the next morning. Before he nearly had time to blink, Quitney was on a bus headed for the now-closed Sampson Air Force Base near Seneca Lake, N.Y.
"It's cold as heck in the winter," Quitney recalled.
His first memory of his arrival at Sampson had nothing to do with weather, but rather the reception of his military officers. He had only just walked into his barracks when he was informed by a sergeant that his bed needed to be made so tight a dime could bounce right back off. On his tries, Quitney was unable to meet the test.
"Hit the deck," he recalls the sergeant shouting in his ear as he was forced to do multiple push-ups.
"What the heck am I doing here?" Quitney said of the question he then asked himself.
From there, more military reality ... pre-dawn calisthenics.
"And I'm dying for a cup of coffee," Quitney said.
Then he got to the kitchen, and coffee seemed not quite so appealing. He wrinkles his nose in memory.
"The only good thing they had in that mess hall was boiled eggs," Quitney said.
Eager to get an overseas assignment, Quitney instead was assigned to be a jet engine mechanic and was shipped off to the McConnell Air Force base in Wichita Falls, Kansas. It didn't seem to matter to anyone there that he hadn't picked up a tool in six months, and knew next to nothing about airplane engines. He was a fast learner.
He was sent to a specialty school in Illinois, and earned a certificate as a hydraulic specialist. He returned to Wichita Falls, with some stops in the Southwest before he eventually was shipped to San Bernardino, California. There, he was assigned to preflight inspections for jets pilots were to fly into battle.
One such inspection went awry.
An oxygen tank one of the other civilian workers was preparing to install in the jet exploded next to Quitney, one he described as "like the Fourth of July." The good fortune was the explosion did not reach any of the other nearby planes "or we all would have been killed."
Quitney suffered five compound fractures in his right hand as well as second and third-degree burns across his upper torso – he said he still has some shrapnel from the tank embedded in his left arm.
"I never did get to Korea – three years, eight months and six days," said Quitney who ended up spending 20 months back at the Sampson Air Force Base, the closest to his home. "They lost money on me."
Once Quitney recovered, he used the GI bill to earn a college degree. He ended up at the University of Arizona, where he earned an accounting degree in 1959.
In his college years, Quitney also met and married his wife, Nancy, a red-headed native of the Bronx. Quitney launched a career working for various government agencies between New York, California and Arizona. He retired in 1986.
Until ill health forced Quitney to slow his pace, the couple traveled the country in a motor home; Nancy danced and performed in theatrical productions with her husband a sideline fan; both were avid bowlers.
The couple also have a year-old great-granddaughter, Abigail.
"We've had some adventures," Quitney said.
More like this story
SUBMIT FEEDBACK
Click Below to:
This Week's Circulars
To view money-saving ads...