Now Showing: Week of Nov. 18
Originally Published: November 17, 2016 9:33 p.m.
Movies playing at Harkins Theatres, 7202 Pav Way, Prescott Valley (Highway 69 between Glassford Hill and Lake Valley roads). 928-775-7444; www.harkins.com.
(NEW) BLEED FOR THIS – The incredible true story of one of the most inspiring and unlikely comebacks in sports history. Miles Teller ("Whiplash," "Divergent") stars as Vinny "The Pazmanian Devil" Pazienza, a local Providence boxer who shot to stardom after winning two world title fights. After a near-fatal car accident leaves Vinny with a broken neck, he is told he may never walk again. Against all odds and doctor's orders, renowned trainer Kevin Rooney (Aaron Eckhart) agrees to help Vinny return to the ring just a year after the accident for what could be the last fight of his life. Rate R for language, sexuality/nudity and some accident images. Drama, Sports & Fitness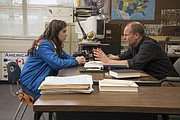 (NEW) THE EDGE OF SEVENTEEN – A coming-of-age movie in the vein of "Sixteen Candles" and "The Breakfast Club" - an honest, candid, often hilarious look at what it's like to grow up as a young woman in today's modern world. Everyone knows that growing up is hard, and life is no easier for high school junior Nadine (Hailee Steinfeld), who is already at peak awkwardness when her all-star older brother Darian (Blake Jenner) starts dating her best friend Krista (Haley Lu Richardson). All at once, Nadine feels more alone than ever, until the unexpected friendship of a thoughtful boy (Hayden Szeto) gives her a glimmer of hope that things just might not be so terrible after all. The film also stars Kyra Sedgwick as Nadine's well-meaning but completely ineffective mother, and Woody Harrelson as Nadine's History teacher, mentor and reluctant sounding board. "The Edge of Seventeen" is produced by Academy Award winner James L. Brooks - the filmmaker behind big-screen, character-driven classics such as "Terms of Endearment," "Broadcast News," "Big," "Say Anything," "The Simpsons," "Jerry Maguire" and "As Good as It Gets." Rated R for sexual content, language and some drinking - all involving teens. Comedy , Drama
(NEW) FANTASTIC BEASTS AND WHERE TO FIND THEM – The magic of Harry Potter lives on in this Warner Bros. spin-off penned by J.K. Rowling, and intended as the first chapter in a whole new fantasy film franchise. The adventures of writer Newt Scamander in New York's secret community of witches and wizards 70 years before Harry Potter reads his book in school. PG-13 for some fantasy action violence. Action & Adventure, Kids & Family, Science Fiction & Fantasy
(NEW) BILLY LYNN'S LONG HALFTIME WALK – The film is told from the point of view of 19-year-old private Billy Lynn, who, along with his fellow soldiers in Bravo Squad, has been hailed as a hero and brought home for a victory tour after a harrowing Iraq battle. Through flashbacks, culminating at the spectacular halftime show of the Thanksgiving Day football game, the film reveals what really happened to the squad - contrasting the realities of the Iraq conflict with America's celebration back home. Rated R for language throughout, some war violence, sexual content, and brief drug use. Drama
Also showing:
THE ACCOUNTANT – Christian Wolff (Ben Affleck) is a math savant with more affinity for numbers than people. Behind the cover of a small-town CPA office, he works as a freelance accountant for some of the world's most dangerous criminal organizations. With the Treasury Department's Crime Enforcement Division, run by Ray King (J.K. Simmons), starting to close in, Christian takes on a legitimate client: a state-of-the-art robotics company where an accounting clerk (Anna Kendrick) has discovered a discrepancy involving millions of dollars. But as Christian uncooks the books and gets closer to the truth, it is the body count that starts to rise. Rated R for strong violence and language throughout. Drama
ALMOST CHRISTMAS - A new comedy from writer/director David E. Talbert (Baggage Claim) and producer Will Packer (Ride Along, Think Like a Man series, This Christmas), Almost Christmas tells the festive story of a beloved patriarch who asks his family for one gift this holiday season: to get along. If they can honor that wish and spend five days under the same roof without killing one another, it will be a Christmas miracle. Rated: PG-13 for suggestive material, drug content and language. Comedy
ARRIVAL - When mysterious spacecraft touch down across the globe, an elite team - led by expert linguist Louise Banks (Amy Adams) - are brought together to investigate. As mankind teeters on the verge of global war, Banks and the team race against time for answers--and to find them, she will take a chance that could threaten her life, and quite possibly humanity. Rated: PG-13 for brief strong language. Drama, Mystery & Suspense, Science Fiction & Fantasy
DOCTOR STRANGE - A disgraced former surgeon named Stephen Strange (Benedict Cumberbatch) becomes a powerful sorcerer under the tutelage of a mystic known as the Ancient One (Tilda Swinton). Rachel McAdams, Mads Mikkelsen, and Chiwetel Ejiofor co-star in this entry in the Marvel Cinematic Universe. Directed by Scott Derrickson (Sinister). Rated: PG-13 for sci-fi violence and action throughout, and an intense crash sequence. Genre: Action & Adventure, Science Fiction & Fantasy
HACKSAW RIDGE - The extraordinary true story of Desmond Doss [Andrew Garfield] who, in Okinawa during the bloodiest battle of WW II, saved 75 men without firing or carrying a gun. He was the only American soldier in WWII to fight on the front lines without a weapon, as he believed that while the war was justified, killing was nevertheless wrong. As an army medic, he single-handedly evacuated the wounded from behind enemy lines, braved fire while tending to soldiers and was wounded by a grenade and hit by snipers. Doss was the first conscientious objector to ever earn the Congressional Medal of Honor. Rated: R for intense prolonged realistically graphic sequences of war violence including grisly bloody images. Genre: Action & Adventure, Drama
INFERNO – In the heart of Italy, Harvard professor of symbology Robert Langdon is drawn into a harrowing world centered on one of history's most enduring and mysterious literary masterpieces: Dante's Inferno. When he wakes up in an Italian hospital with amnesia, he teams up with Sienna Brooks, a doctor he hopes will help him recover his memories. Against this backdrop, Langdon battles a chilling adversary and grapples with an ingenious riddle that pulls him into a landscape of classic art, secret passageways, and futuristic science. Rated PG-13 for sequences of action and violence, disturbing images, some language, thematic elements and brief sensuality. Action/adventure, Drama, Mystery & Suspense
JACK REACHER: NEVER GO BACK – Tom Cruise returns as Jack Reacher in this sequel based on Lee Child's bestselling novel "Never Go Back." When Army Major Susan Turner, who heads Reacher's old investigative unit, is arrested for Treason, Reacher will stop at nothing to prove her innocence and to uncover the truth behind a major government conspiracy involving soldiers who are being killed. Rated: PG-13 for sequences of violence and action, some bloody images, language and thematic elements. Action & Adventure, Drama
MISS PEREGRINE'S HOME FOR PECULIAR CHILDREN – From visionary director Tim Burton, and based upon the best-selling novel, comes an unforgettable motion picture experience. When Jake discovers clues to a mystery that spans different worlds and times, he finds a magical place known as Miss Peregrine's Home for Peculiar Children. But the mystery and danger deepen as he gets to know the residents and learns about their special powers ... and their powerful enemies. Ultimately, Jake discovers that only his own special "peculiarity" can save his new friends. Rated PG-13 for intense sequences of fantasy action/violence and peril. Kids & Family, Science Fiction & Fantasy
TROLLS - DreamWorks Animation's "Trolls" is an irreverent comedy extravaganza with incredible music! From the genius creators of "Shrek," "Trolls" stars Anna Kendrick as Poppy, the optimistic leader of the Trolls, and her polar opposite, Branch, played by Justin Timberlake. Together, this unlikely pair of Trolls must embark on an adventure that takes them far beyond the only world they've ever known. Rated PG for some mild rude humor. Genre: Animation, Kids & Family
SHUT-IN – "Shut-In" is a heart-pounding thriller starring Naomi Watts as a widowed child psychologist who lives an isolated existence in rural New England. When a young boy Mary (Watts) is treating goes missing, and is presumed dead, she becomes convinced that his ghost is haunting her and her bedridden son. Rated: PG-13 for terror and some violence/bloody images, nudity, thematic elements and brief strong language. Mystery & Suspense
More like this story
SUBMIT FEEDBACK
Click Below to:
This Week's Circulars
To view money-saving ads...