Prescott Unified School District celebrates addition of new-vintage, green buses to its fleet (VIDEO)

By
Nanci Hutson
|
HutsonNanci
Originally Published: November 15, 2016 6:01 a.m.
PRESCOTT – For 14 years, Jim Dick has been getting up well before dawn to drive Prescott Unified School District students back and forth to their schools on big yellow, flat-front diesel-fueled buses.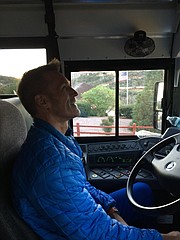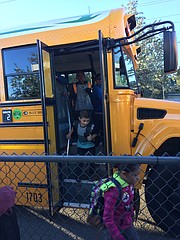 It's a job he and his colleagues take very seriously.
They are well aware hundreds of families depend on them to maneuver the hilly back roads and cope with heavy traffic to get their kindergarteners through seniors to school and home safe each and every day of the academic year.
District officials share a similar philosophy, one that prompted a push last spring for bond funds to include a $1.45 million purchase of 10 Bluebird school buses that begins a periodic overhaul of its aging, 35-bus fleet. Until last week, the youngest buses in the fleet were a decade old; the eldest is a 1992 model. The average bus has traveled more than 250,000 miles.
On Monday, Dick was the proud driver of one of the new 2017 propane-fueled buses sporting a vintage, front-engine hood style appearance that includes mega front and side mirrors. Of the 10 new regular student transport buses, eight will run on propane, a cleaner gas that demands less maintenance than diesel. The two new diesel-fueled buses will be designated for out-of-town field trips.
These buses are similar in length to what has become known as a typical school bus, but they have a lower capacity – 77 rather than 84 students – that better reflect demand. The interior is equipped with extra audio and visual security cameras, bright LED lighting from the front to the back, and the gray padded seats are slightly higher for safety protection. All of these new buses are air-conditioned.
As a driver, Dick appreciates that these buses offer a quieter ride and the exhaust is water vapor rather than puffs of thick black smoke, something neighborhoods and fellow motorists likely appreciate. The windshield has better screening than the older buses, and are easier to maneuver on tight turns.
A particular favorite new feature for the winter is tire chains that swirl around the rear tires with the push of button rather than requiring manual labor to put into place. His route through Diamond Valley traverses some hilly, narrow roads, and the bus was more than up to the task. A couple students noted that these buses seem to ride smoother on bumpy terrain.
Of course, as with any new vehicle, Dick said there were a few things he needed to learn, such as the emergency brake in this bus is on the dash not on the floor. The light panel is on his right, not his upper left.
On the first day with the new bus, Dick went to turn on the heat and he got a blast of cold air. He thought maybe the heat wasn't working, but it turned out he needed to push a lever below the steering wheel. The windshield wipers also proved a tad illusive.
Student reaction: "It's a new toy for them," Dick related.
The aisles in the new buses are not yet scuffed from thousands of shoes, and the seat backs do not bear the magic-marker printing of student initials, or puncture holes poked by mischievous students.
In his morning greeting, Dick and fellow drivers advise students to treat this property with respect because it is to their benefit, and those of fellow students, that it lasts for many years.
"This is not my bus, this is our bus, and we need to take care of it," Dick said.
More like this story
SUBMIT FEEDBACK
Click Below to: