PUSD Student of the Week: Janie Waara
Originally Published: November 14, 2016 6 a.m.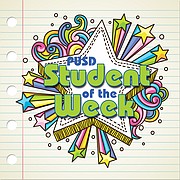 Janie Waara is the PUSD Student of the Week. Janie is an incredibly sweet, helpful girl. She always strives to do her best in the classroom. Janie says her favorite subject is math and that she always does her math homework first. She excels in reading, writing and math.
Janie and her mom and brothers stayed after school to help her teachers clean the first-grade classrooms at Taylor Hicks Elementary before Fall Break. She is also the first one to remind us each Monday to "change jobs" and hand out "Bobcat Paws." Our "Paws" are a school-wide incentive program and she earns them daily in her reading and math classrooms because of her outstanding behavior. Janie loves to play soccer and is very outgoing. She also loves horses and turtles. Janie is an amazing girl and we are so proud to have her in first grade this year!
Source: Prescott Unified School District
More like this story
SUBMIT FEEDBACK
Click Below to: