Sultans AIA 1A 8-Man Football champs
Bagdad caps unbeaten season by winning state title for 2nd time in 4 years
By
Doug Cook
|
dougout_dc
Originally Published: November 13, 2016 11:19 p.m.
MARICOPA – Bagdad High School is back on top in the Arizona Interscholastic Association's (AIA) Class 1A eight-man football ranks.
On Saturday night, Nov. 12, at Maricopa High south of Phoenix, 1A's top-seeded and No. 1-ranked Sultans defeated No. 3 Williams, 60-6, to capture their second state championship in four years under coach Dalton Mills.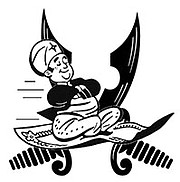 Bagdad, a small school some 65 miles west of Prescott, finished the campaign undefeated at 11-0. In the title game, they rushed for 197 total yards, which, along with their stout defense, played a significant role in the victory. Bagdad led 30-6 at halftime and cruised from there.
Quarterback Israel Loveall led the way on the ground with nine carries for 51 yards, a touchdown and two 2-point conversions.
Connor Pacheco followed with seven carries for 33 yards and a TD, while Benj Loveall chimed in with two carries for 69 yards, including a 64-yard TD run and a 2-point conversion. Devin Nelson contributed 10 rushes for 44 yards and a 2-point conversion.
In the passing game, Israel Loveall completed 17-of-23 passes for 412 yards and five TDs to go along with three interceptions. He also threw for three 2-point conversions.
Thanks to those 412 yards, Israel ended the 2016 season with 3,091 passing yards, breaking the former 1A single-season record of 3,020 yards recorded by former Scottsdale Prep star Aiden Wright.
Bagdad's Benj Loveall paced the receiving corps versus Williams, nabbing four balls for 164 yards, including a 90-yard TD catch. Jorden O'Neill followed, hauling in six receptions for 108 yards, two TDs and a conversion catch.
Scott Finnerty (three catches for 36 yards), Michael Mendez (three grabs for 60 yards) and Rio Delgado (44-yard TD reception; lone TD catch of the year) contributed as well.
"I am really proud of these kids and our program," Mills said. "We are No. 1 in Arizona eight-man football, and MaxPreps has us ranked as the No. 10 eight-man team in the nation!"
In 2015, Bagdad lost to eventual state champion Pima in the semifinals. But 1A stalwart Pima moved up to the higher-enrollment 2A in the off-season, which, to some extent, paved the way for the Sultans this fall.
Bagdad last won the state championship in 2013 when the Sultans beat Mogollon. In 2014, the Sultans succumbed to Mogollon in a title-game rematch.
On Saturday, Mills congratulated his seven seniors, who have pieced together an incredible run from 2013-16, capping their prep careers as unbeaten state champs.
"They have accomplished a lot in four years – they were the scout team for the 2013 championship team," Mills added. "They took some beating to help that team win a state title."
Bagdad's seniors finished with an overall record of 38-3. In 2016, the Sultans set a 1A single-season record for points scored with 730, eclipsing the previous record of 654 points set by the 2006 Mayer High Wildcats' title team. (Mayer High is in Spring Valley, 33 miles southeast of Prescott.)
The 2016 Sultans also averaged 66.4 points per game, another 1A record that Scottsdale Prep had previously held with 63.8 points per game.
In addition, Israel Loveall broke his own 1A record for TD passes in a season with 59, surpassing the 50 he had last year. He broke the 1A career record for TD passes, too. Israel has thrown 109 TDs, surpassing former Tucson Christian standout Brian Chason's 94 TDs.
The 2016 season was indeed magical for the Sultans, and the immediate future is looking bright for Mills' program, too.
For example, the Bagdad Youth Football program's Mighty Mites team defeated the Cottonwood Lobos 26-7 Nov. 5 at Bradshaw Mountain High School to claim the squad's second straight Northern Arizona Youth Football Championship.
Bagdad's Mighty Mites are currently riding a 20-game winning streak dating back to the 2015 season and they own a 37-5 record over the past four seasons.
Perhaps one day they, too, will achieve their state-championship dreams under Mills at Bagdad High School.
More like this story
SUBMIT FEEDBACK
Click Below to:
This Week's Circulars
To view money-saving ads...