NAZ Suns start inaugural season strong, drop Energy, 122-107
By
Doug Cook
|
dougout_dc
Originally Published: November 13, 2016 6:02 a.m.
PRESCOTT VALLEY – The Northern Arizona Suns' inaugural season here began with a bang on Saturday night, Nov. 12, as 2,345 fans watched the NBA Development League team defeat the Iowa Energy, 122-107, at Prescott Valley Event Center.
Photo Gallery
NAZ Suns vs Iowa Energy 111216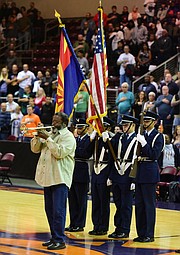 In the NAZ Suns' 2016-17 D-League opener, the Western Conference Pacific Division Suns were led by starting guard Shaquille Harrison's 22 points. Five other Suns scored in double figures, including Eli Millsap (20 points), Derrick Jones Jr. (19 points), Johnny O'Bryant (16 points), Askia Booker (14 points) and Josh Gray (13 points).
NAZ, the Phoenix Suns' minor league affiliate that relocated to Prescott Valley from Bakersfield, California, in the off-season, joined D-League expansion teams in Charlotte, Chicago and Brooklyn as the newbies on the 22-team block this season.
"I give all the credit to the players – they bought into what we asked of them and they went out there and executed," NAZ Suns coach Ty Ellis said after the inaugural contest.
On Saturday, the Energy, the NBA affiliate of the Memphis Grizzlies which plays in the Western Conference's Southwest Division, were coming off a 127-98 season-opening loss at the L.A. D-fenders on Friday night.
Iowa (0-2 overall record), a 10th-year franchise in the 16-year-old D-League, struggled in the second half against a Northern Arizona offense that started clicking both on the perimeter and in the paint.
"We started to trust each other more, trust the process, and be more disciplined," Ellis said of his team's second-half performance.
Millsap said he and his teammates wanted "to come out with high energy and put on a show" for the fans. To start the game, the Suns admitted that they had some jitters.
"We came out with a lot of adrenaline, so it was tough for us to execute," Millsap said. "We got more into an offensive flow in the second half. It was comfortable."
The Energy's Quinton Chievous, who scored a team-high 18 points Friday, was limited to eight points Saturday. Matt Costello, who tallied a double-double with 14 points and 13 boards at L.A., finished with 15 points versus the Suns. Like NAZ, Iowa also had six players in double figures, led by Kalin Lucas' 18 points. Mardracus Wade (17 points) and Wayne Selden Jr. (16 points) were other standouts.
With the Suns leading 61-53 at halftime, they began to pull away in the third quarter, going up by as many as 17 points. Up 93-79 to start the fourth quarter, Jones Jr. registered three monster dunks in less than 2 minutes for a 102-79 Suns advantage.
"Coach just told us to go out and get on the floor and run," Jones Jr. said. "And that's what we did and it worked out."
Suns point guard Askia Booker said the team's jolt offensively started with its defense.
"I think at one point we had seven stops in a row, and once we get out in transition, we have phenomenal athletes," Booker added. "There's a lot of guys that can play above the rim and can attack very strong. Our guys found the right guys in transition. Once those jitters go away, guys play comfortable."
The game started with both teams jockeying back and forth in a close one.
Tied at 28-28 at the end of the first quarter, the Suns were buoyed by back-to-back 3-pointers from Harrison to go up 38-30 with 10 minutes left until halftime. NAZ would increase the lead to 60-50 with 43 seconds remaining in the period after Derek Cooke Jr. converted underneath and Harrison drained 1-of-2 free throws after being fouled by Costello on a dunk attempt.
Just before the buzzer sounded, however, Iowa's Cartier Martin (10 points) drilled a trey near the top of the arc to cut it to 61-53.
After the game, Suns players said they know they need to play tighter defense, as evidenced by the 107 points they allowed.
NAZ will get another opportunity to show its defensive prowess when it plays a Pacific Division home-and-home series versus the Salt Lake City Stars at 7 p.m. this Friday, Nov. 18, in Utah, and Saturday, Nov. 19, in Prescott Valley.
More like this story
SUBMIT FEEDBACK
Click Below to: