Yavapai College presents a poetry pairing that will electrify the audience

Originally Published: November 10, 2016 9:24 p.m.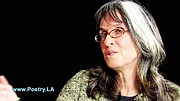 Coordinating the Literary Southwest Series at Yavapai College requires an in-depth knowledge of contemporary poets and authors. Director Jim Natal uses his familiarity with nationally known authors when he schedules their appearances in order to keep the events "balanced."
Two poets, Ron Koertge and Marsha de la O, will read from their works at 7 p.m. Friday, Nov. 18, at Yavapai College in the Community Room, Building 19. The event is free, so there is no excuse not to come enjoy an evening with these high-level, high-quality writers, Natal said. "And they're entertaining. They know how to read. People will enjoy them."
Koertge's work was published and known in the niche world of literary poetry before he shifted into the Young Adult (YA) genre and published the hugely successful novel, Stoner and Spaz, with sequel Stoner and Spaz II. The American Library Association picked The Arizona Kid as one of the ten funniest books of the year. He has not forsaken poetry, however.
Coaltown Jesus, Koertge's most recent book, is a novel-in-verse. His YA fiction is not all lollipops and roses, Natal said.
"He really deals with issues that are very important to young people," he said, adding that Koertge has a wicked sense of humor. "In poetry, he has this very odd take on contemporary culture. He writes from, or uses as a springboard, cultural touchpoints such as fairy tales or real cliché movie scenes. He's just all over the place. His poems are very approachable."
De la O's work is a perfect counterbalance to Koertge, Natal said. "She electrifies the room when she reads. Her poetry is just intense – in a wonderful way. I know a lot of poets who hear her read and go, 'Why do I even bother?'"
Also from Southern California, de la O is fluent in Spanish and taught in low-income school districts. She sometimes works the stories of her students into her poems. Her two books have won major awards.
"The last book, Antidote for Night, is just spectacular. She writes this serious, dense poetry. I find her just fascinating. I wish I could write like her, but I can't," Natal said.
Although poetry may appear to have limited appeal, in Prescott, authors like these draw crowds that average about 100 people. Natal, who directs author events in Southern California, said he would kill for 100 people at author readings in Los Angeles.
"One reason for the success in Prescott is we're the only game in town, the only game in terms of a high-quality, regularly scheduled literary program," he said, also praising the Peregrine Book Company, which staffs the book sales at the back of the room. "We've had some of the most highly regarded poets in America right now. Some are always reading in New York and up for awards. And we bring them to Prescott."
More like this story
SUBMIT FEEDBACK
Click Below to: