Prescott Center for the Arts presents 'Dancing at Lughnasa'
Play is an Irish tale with soul, sass and sadness

By
Nanci Hutson
|
HutsonNanci
Originally Published: November 10, 2016 10:13 p.m.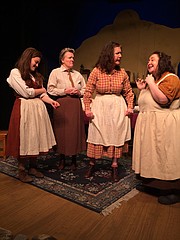 Theatre veteran Jim Pyduck first saw a performance of the Irish tale "Dancing at Lughnasa" when he splurged on Broadway tickets for he and a mentor back in 1992.
The impact of Irish playwright Brian Friel's complex story that revolves around five unmarried sisters and their exploration of family, identity, and the ties that both bind and fray, left Pyduck eager to one day direct such a production.
At one moment in this play rooted in practicality, with fanciful moments of romantic longing for something more, these sisters erupt into a frenetic Irish dance, a spirited, almost desperate effort to rise above their dire circumstances. Pyduck said that scene – he portrays it with the use of dark blue lighting – left him in awe.
"It was a pure theatric moment that couldn't be captured by any other medium," Pyduck said.
So it was with great delight that Pyduck convinced PCA to present the play with him as its director. From the start, Pyduck said he was blessed with a near perfect ensemble cast who embody the essence of these sisters who share a home yet have strikingly different personalities, abilities and desires. This is the second PCA show he has directed, although Pyduck has a long theatrical pedigree with roles on stage, in film and on TV including performances in several
PCA productions. He directed the musical "Little Shop of Horrors" for the PCA Teen Summer Stock Ensemble.
"I am just in love with this play," Pyduck said.
The show opens on Thursday, Nov. 10 and goes through Nov. 20. On Nov. 10, 11, 12, 17, 18 and 19 the shows are at 7:30 p.m. with tickets priced at $20. On Nov. 13, 19 and 20 there will be shows at 2 p.m. with tickets at $18. To buy tickets, call the box office at 928-445-3286 or purchase them online at www.pca-az.net
From watching the preview, his eight-member cast has equally embraced a play that is not one with tidy, happy endings but rather explores how the past influences the future, and the way familial roles dictate the course of individual lives.
"Dancing at Lughnasa is itself an Irish dance to the exciting, fleeting melody of the past, yet is also a dance against the harsh, progressive beat of the present," reads a promotional flier.
For those eager to escape the non-stop parade of political pandering that has characterized recent months, this play might just be the perfect antidote.
The cast is composed of theater professionals and PCA regulars who have breathed life into these characters in a rich and endearing performance that will leave the audience rooting for each character to find their own "dance." Once the curtain drops, the audience will be left to reckon with their lives, to view how familial roles and mores have shaped their yesterdays, todays, and possibly, tomorrows.
Sister Rosie, written as a developmentally disabled young woman, is a character that brings depth to this play, her innocence and romantic spirit is infectious. PCA actress Ananda Bliss Streetman is the perfect choice for this role that will leave the audience cheering for her success against all odds.
Indeed, all the sisters – Kate ( Marnie Devereux), Maggie (Janelle Devin), Agnes (Candi Snow) and Christine (Rebekah Zito)– and brother Jack, a Catholic chaplain and missionary to lepers in Africa depicted by actor Paul Enoch, offer standing ovation-worthy performances. Their roles are complemented by narrator Jonathan "JP" Perpich, who is the voice of the unseen "love child" of Christine, Michael, and Michael's rogue father, and dreamer, Gerry Evans, played by Ryan Musselman.
The set and costumes fit the characters, as well as the time and place, with each cast member adapting a believable Irish brogue that gives the show a sense of authenticity.
"It is poetry," Pyduck declared.
More like this story
SUBMIT FEEDBACK
Click Below to:
This Week's Circulars
To view money-saving ads...