New business profile: Raven Sound Studio

By
Max Efrein
|
mefrein
Originally Published: November 9, 2016 8:03 p.m.
Professional sound studios are a rare sight in Prescott these days.
Drew Hall, band member of The Cheektones and guitarist in the Drew Hall & Anton Teschner Acoustic Duo, have been in the Prescott music scene a long time and have used several commercial sound studios in the area over the years.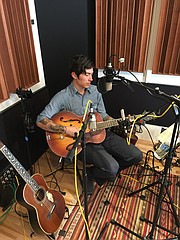 However, Hall only knows of one left standing in town at the moment, the recently established Raven Sound Studio. Earlier this year, he and Anton used the space for the first time to produce their latest album.
"I thought it was a good fit for the type of thing we wanted to do and it turned out really well," Hall said.
Once considered a part of Milagro Arts Center, a nonprofit center for the arts and the environment that ceased operation Oct. 4, Raven Sound Studio is now its own entity and remains open despite being attached to the shuttered facility.
"We realized pretty quickly that this should stand on its own considering the way things were going with Milagro," said Dylan Ludwig, who runs the studio on his own.
A brainchild of Ty Fitzmorris, a local entrepreneur who owns the Milagro Arts Center building, the sound studio was an extension of his drive to encourage the growth of arts and culture in the area.
Ludwig is a longtime musician who has known and worked for Fitzmorris for many years. After Ludwig helped manage one of Fitzmorris's Prescott businesses, Gray Dog Guitars, Fitzmorris gave Ludwig the opportunity to open and manage Raven Sound Studio about a year ago.
"I've always wanted this to be my career," Ludwig said. "I just consider myself extremely lucky to basically have my dream job just offered to me in the town that I didn't really want to leave."
Being a local musician himself, he knows it can be difficult having any sort of music career in this area. He hopes that this studio and his efforts will alleviate some of those difficulties.
"I want to provide a space where artists can come, be creative, and realize their vision," Ludwig said.
Ludwig has been gradually investing in more and more equipment and says he can handle pretty much any bands equipment and recording needs for both analogue and digital.
He's also recently been given permission to use Milagro's indoor stage for live recordings and may eventually organize live music shows for the public to attend.
More like this story
SUBMIT FEEDBACK
Click Below to: