Prescott considers outsourcing its economic development work

By
Cindy Barks
|
Cindy_Barks
Originally Published: November 4, 2016 6:02 a.m.
PRESCOTT – In the wake of the recent resignation of Prescott Economic Initiatives Director Jeff Burt, the City of Prescott could be looking at a new model for its economic development efforts.
Both Mayor Harry Oberg and City Manager Michael Lamar said this week that the city is considering the possibility of contracting out its economic development work to a consultant.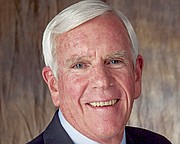 While noting that "economic development is very important to Prescott," Oberg said the city might be able to better accomplish its goals through a contract position.
Lamar said he and Oberg had broached the possibility of contracting out the position, and would likely take the matter to the full City Council at a future meeting.
"It's not the kind of position or unmet need that you would want to have vacant for too long," Lamar said, adding, "In the next few weeks, we will getting with the rest of the City Council and talking about the best way to deliver the service."
Either model can be effective, Lamar said, and is largely dependent on the people involved. "I've seen models where it works the way we have it, and I've seen models where it works where you have a third-party provider," he said.
One advantage of having a consultant do the job, Lamar said, is that private-sector business owners sometimes prefer to work with a private consultant rather than a government official. Contracting out the work could also be less expensive for the city, he added, because a consultant would not get city benefits.
Still, Lamar said the city would have more to consider than just replacing the economic development director. Several other city employees also work in the economic development department, Lamar noted, and "if you were going to switch the paradigm to something that's more outsourced," the city would need to consider how to handle the rest of the department.
Oberg says one of his priorities would an increased focus on working with Embry-Riddle Aeronautical University for development of an "incubator" – an effort that would help to nurture and find funding for good business ideas that emerge.
Lamar agreed. "I think there's some unique opportunities here, in terms of partnering with the college, focusing on high-tech," he said. "I'd like to see that as a focus. I think those are areas we need to do some outreach."
Lamar informed the City Council over the weekend that Burt had resigned Friday, Oct. 28, citing a desire to relocate.
More like this story
SUBMIT FEEDBACK
Click Below to:
This Week's Circulars
To view money-saving ads...