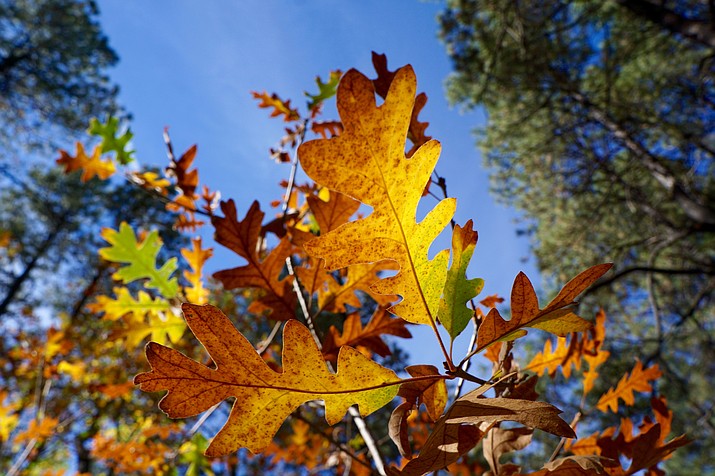 Originally Published: November 3, 2016 8:31 p.m.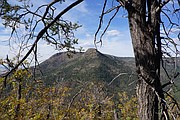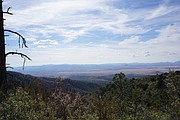 From the leafy riparian bottom, to the cacti-strewn volcanic-rock ridgeline, to the stately oak trees across the plateau, a hike along Mingus Mountain's Yeager Canyon offers a stunning contrast in forest terrain.
Add to that the sweeping views of the Prescott Valley area, and – in the autumn – the vibrant yellows and oranges of the oak leaves, and the six-mile loop trail showcases some of the best qualities of the Prescott National Forest.
The Forest Service's website notes that the canyon also "is an excellent area for watching wildlife," including deer, elk, and a variety of birds, adding, "Black bears make their home here as well."
The loop, which can be done either clockwise or counter-clockwise, is actually three trails strung together. Regardless of the direction, though, the hike is fairly strenuous, climbing more than 1,200 feet in elevation.
From Prescott, the easiest way to access the trail is via Highway 89 north, and then onto 89A northeast about 10 miles to an unmarked dirt turnoff on the right side of the road. The Forest Service describes the turnout as: 1.5 miles east of the twin power transmission lines crossing the highway just inside the western Prescott National Forest boundary. (http://www.fs.usda.gov/recarea/prescott/recreation/recarea/?recid=67349&actid=50).
From the highway turnout, the trail heads slightly downhill and across a cattle guard. There, hikers can either take a sharp left, or keep going straight across a wash.
By turning left, hikers are routed along Trail 28 through a thick riparian area, running parallel with the highway for a short distance, before heading straight up the mountain along a number of steep, rocky switchbacks.
The plant life soon transitions to alligator junipers and pinon pines, along with an array of cacti. Trail 28 packs most of the elevation gain into just less than two miles, before heading right along a forested plateau.
At a three-way intersection at the two-mile mark, the loop continues onto Trail 111 (Yeager Cabin Trail) to the right, before dropping down through a beautiful stretch of ponderosa pines and oak trees. In late October, a blanket of orange/yellow leaves and pine needles covered the trail.
Trail 111 continues for nearly two miles before reaching Allen Springs Road. Hikers should continue on the road for about a quarter-mile, before heading right toward the Little Yeager Canyon Trail (Trail 533), where the loop veers steeply downward and back toward the highway and the trailhead.
By doing the loop in a counter-clockwise direction, hikers and horseback riders will have a longer, but more gradual climb up to the plateau, followed by a steep and quick descent on Trail 28.
More like this story