Electric Swamp Poets Duo releases new album, revive record label

By
Max Efrein
|
mefrein
Originally Published: November 3, 2016 9:15 p.m.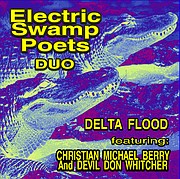 A couple local musicians, Christian Michael Berry and Don Whitcher, have recently released some hard-hitting Americana, swamp soul music and have a lot planned for the coming months as they try to share it with the world.
Going by the name Electric Swamp Poets Duo, Berry and Whitcher released their new album, Delta Flood, in mid-October.
The 15-track disc is being sponsored this year by the Northern Arizona Blues Alliance (NAZBA) as their entry into the International Blues Competition held by The American Blues Foundation in Memphis, Tennessee, in early February for Best Independent Blues Album of the Year.
Berry, 63, first entered the professional music scene in 1969. Whitcher, 49, started playing as much as he could as early as his mid-teens.
Both went on to have relatively successful music careers and eventually wound up in northern Arizona. Berry lives in Chino Valley and Whitcher in Cottonwood.
The two started playing in a larger band together in the mid-to-late 2000s and about two and a half years ago decided to start doing some work just between the two of them.
For most of the past year the duo, for the most part, has eschewed playing in bars, opting instead to perform at wineries and live concert settings and venues.
"Though we still occasionally — but rarely — play in bars, we prefer the theater and concert venue settings," Berry said.
By taking this route, the shows are usually shorter (one and a half hours as opposed to three to four hours) and it allows them to engage with the audience, who tend to pay more attention than they would in a bar, Berry explained.
"And as part of our act we get to talk about the songs and the inspiration behind them as well as tell behind the scenes anecdotes," Berry said.
When Berry returned to music in 2005 after a few-year hiatus, he started and ran a record label called Retrofit Records. Shortly after the release of his last solo album it lay dormant for a number of years even though he had a worldwide distribution agreement as a record label through CD Baby, which encompasses nearly every digital media distribution group out there including Amazon, iTunes and Spotify.
When he and Whitcher released Delta Flood, they decided to reactivate the label. They now have a release schedule that will begin around February and continue bi-monthly thereafter.
The next release scheduled is a double disc set by the Electric Swamp Poets full band, then Don Whitcher's solo album and a remixed and remastered rerelease of Berry's last solo album, The Emerald River Project.
"Needless to say, we're off to a whirlwind start, and I think it's pretty interesting that at my age of 63, my musical career is having a resurgence or renaissance of sorts," Berry said. "I just hope I can keep up the pace. Some pretty heady stuff going on."
On Thursday, Nov. 24, the duo will be throwing their record release party at Far From Folsom. The event will feature a full Thanksgiving dinner with all of the trimmings.
A few other events coming up that people can see them at:
• Thursday, Nov. 17, as featured artists at SKY Daddy's Outlaw Country Jam held at Far From Folsom.
• Friday, Nov. 18, at the Prescott Winery in Prescott.
• Friday, Nov. 25, at Superstition Meadery in Prescott.
• Tuesday, Nov 29, The Last Tuesday Bluesday Jam Session at Far From Folsom in Prescott.
• Friday, Dec 23, at Superstition Meadery.
More like this story
SUBMIT FEEDBACK
Click Below to:
This Week's Circulars
To view money-saving ads...