Chew on This: Prescott Athletic Club's CourtSide Café open to public

By
Max Efrein
|
mefrein
Originally Published: November 3, 2016 8:17 p.m.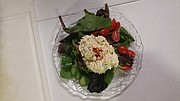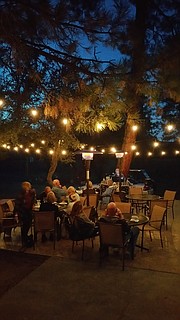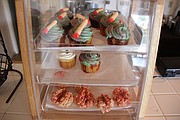 Essentials
What: CourtSide Café
Where: 1 Kingswood Drive, Prescott
Contact: 928-227-3417
More often than not, private clubs that offer a dining service reserve that service strictly for their members. That's not the case for Prescott Athletic Club.
Formerly the Prescott Racquet Club, the business has always maintained some form of café, and though all of the club's other amenities are for members only, the café has been a way for the general public to enjoy the venue.
Nestled within the Kingswood pines of Prescott, the 4.5-acre club recently changed hands. Previous owners Steve and Kimberly Waples finalized the sale of the property and business to four new owners in late September.
The new owners came into the property with an aggressive renovation plan and have begun executing on it.
Their first step was to freshen up the café, which they've renamed CourtSide Café from its former name of Tortoise Shell Café.
This included new furniture, patio heaters, outside table umbrellas, stringed lighting, outside games like corn hole and badminton for kids to play and a significant amount of landscaping to open up the views of surrounding hills and Granite Mountain.
They've also revamped the menu. Because it is a fitness facility, the owners have geared the food and drink offerings toward supporting a healthy lifestyle.
This means no fried foods and an emphasis on simple ingredients.
"One of our partners, Jennifer James, is getting her masters in nutrition right now, so she feels really strongly about people knowing what they're putting in their bodies, making sure that we're peanut-free, and that we have gluten-free options," said Amber Blanchard, co-owner and club manager.

A couple of these options are a fresh-made chicken salad on a bed of greens with tomatoes and cucumbers ($6.50) and a turkey pesto tomato melt ($7.50).
The café also offers a variety of wine and beer — a few on tap — that can be purchased to go for those who don't wish to make a separate trip to a grocery or liquor store.
To make the café more than just a pit stop, the owners have been hiring live entertainment to play every Thursday and for special events for the past couple of months. For example, this last Thursday, Nov. 3, the popular local acoustic guitar duo Drew Hall and Anton Teschner played from 5 to 8 p.m.
Next Thursday, Nov. 10, and the following Thursday, Nov. 17, Ed Cornet will be playing music for diners between similar times.
The café can also be rented by anyone to host mixers or parties.
"It's just a really family-friendly atmosphere," said co-owner and facility manager Kevin Blanchard. "That's our whole thing: A place to relax and there's space for everybody. Just make it feel like you're going over to a friend's house."
SUBMIT FEEDBACK
Click Below to:
More like this story