Weems takes no-no into 7th, Roughriders advance in JuCo World Series
Yavapai plays Cisco on Wednesday
By
Doug Cook
|
dougout_dc
Originally Published: May 31, 2016 10:28 p.m.
Updated as of Tuesday, May 31, 2016 10:43 PM
GRAND JUNCTION, Colo. — Freshman southpaw pitcher Avery Weems was the hero for the Yavapai College baseball team on Tuesday, May 31, carrying a no-hitter into the seventh inning and leading the Roughriders to victory in an elimination game at the JUCO World Series.
Weems of Flagstaff allowed two runs, both unearned, on two hits, striking out six and walking four in seven frames en route to knocking out Cowley County (Kansas), 6-2, at Suplizio Field. A single broke up his no-hit bid.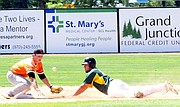 Weems' last outing came in the Western District tournament against Miles Community College on May 19, in Trinidad, Colorado. He had a no-decision, allowing three runs in the first inning before settling in and not allowing any more runs in the six frames he threw of an 8-5 YC win.
"When I knew I was going to start up here [in nationals in] one of these games, as soon as I got the ball I just had to do my job and keep my team in the ballgame," Weems said. "I knew they would support me with runs. I also said to myself, 'I need to prove myself here and now and pitch like I was expected to pitch the whole season.' "
Weems threw two pitches for strikes, including a fastball in the 88-90 mph range. Yavapai coach Ryan Cougill said Weems (4-1 record, 3.90 ERA) had one of his best outings of the season.
"I always expect him to be effective because he's got the stuff to be effective," Cougill said. "But I did not expect him to go six no-hit innings today."
Sophomore reliever Nicko Ortega garnered the save, fanning three and surrendering one hit, against only seven batters.
The win came less than 24 hours after Yavapai's gut-wrenching 10-8 setback to Cisco (Texas) in the winners' bracket on Monday (see below).
National Junior College Athletic Association (NJCAA) Division I No. 14-ranked Yavapai moves on to face Cisco for the second time. Cisco lost to San Jacinto-North Tuesday evening, 13-9. Wednesday's game will begin at 2 p.m. Arizona time. The loser will be eliminated from the 2016 NJCAA World Series.
The Roughriders (46-20 overall record) need two more wins in the double-elimination tournament to advance to their first national championship game appearance since 2006. They would have to win twice in the title round to hoist the trophy. Yavapai finished as the national runner-up 10 years ago.
Cougill said he wasn't sure about which of his pitchers to start today, although he has a handful of guys who haven't yet thrown at nationals. One of them is Chase Beal (10-3, 4.28 ERA), an effective starter in 2016 who hasn't pitched since May 12 after a difficult start in the Region I, Division I finals. Cougill's hesitant to start ace JoJo Romero on three days' rest.
"If we can squeeze one out [Wednesday], it'll be all-hands-on-deck pitching wise," Cougill said. "We're kind of right in between guys getting some rest. It's a little quick to be turning some of those guys who started earlier in the week. If we could just get to the point where we can flip our pitching again, then it's anybody's race."
As the designated home team versus Cowley, the Roughriders rolled to a 2-0 lead in the first inning on an RBI double from Nate Easley and an RBI single from Brock Ephan. Yavapai would double the lead to 4-0 in the third.
"Offensively, we did a better job of putting pressure on Cowley," Cougill said. "If we would have put that kind of pressure on Cisco, than maybe it's a different story."
Ephan (3-for-4, RBI) helped extend the third-inning rally with a hopper over Cowley third baseman Connor Litton that put runners on the corners. A sacrifice fly scored Ramsey Romano. Later, with two outs, Dylan Enwiller (3-for-4, RBI, run scored) had an RBI bunt single to plate Christian Maggi.
As Weems cruised to that point, thanks in part to three double plays, catcher Gavin Johns hit a solo homer for a 5-0 YC edge in the fifth. Weems fed off the run support. In the sixth, he registered consecutive strikeouts to end the inning.
"The run support made me feel comfortable, although I always feel like I'm pitching in a one-run ballgame – that's something that helps me, personally," Weems said. "I like pressure. I always want the biggest game. I want the best team. That's just my mentality, and it seems to work for me."
WINNERS' BRACKET
Cisco (Texas) 10, Yavapai 8 (Mon.)
The Roughriders saw their nine-game winning streak end, losing a heartbreaker to Cisco (Texas) in the second round of the JUCO World Series winners' bracket on Monday, May 30, dropping them into the losers' bracket.
Trailing 5-2 at a windy Suplizio Field, Yavapai came from behind in the eighth inning to take the lead after surrendering three solo homers in the third.
A three-run homer by Roughriders shortstop Ramsey Romano ultimately handed Yavapai a 7-5 edge. However, the Roughriders couldn't overcome a nightmarish end to the eighth, one which was marred by miscues.
YC coach Ryan Cougill said if the Roughriders generate more timely hits and play better with their gloves, they'll still have a shot at surviving to the end of the national tournament.
"The combination of not being able to put pressure on them offensively, not getting timely hits, as well as some defensive mistakes, is what hurt us," Cougill added.
Yavapai was shut out through three innings by Cisco pitcher Trae Patterson (three runs, 10 hits, eight Ks in seven innings), who kept Yavapai hitters guessing with a wicked curveball.
Roughriders southpaw Hayden Durkiewicz started for Yavapai, allowing five runs on seven hits, striking out seven and walking one in seven innings.
His only major hiccup came in the third when he surrendered back-to-back-to-back homers to Cisco's Calvin Hernandez, Wesley Phillips and Dalon Farkas on three straight pitches with no outs.
To open the eighth, Patterson stayed in at pitcher. But after Yavapai's Brock Ephan (2-for-5, two runs, RBI) lined a leadoff single to left, the Roughriders' 10th of 16 hits on the afternoon, Patterson was pulled for reliever J.T. Newton.
An infield throwing error allowed Turtle Kuhaulua to reach. Later, pinch hitter Caden Goldby (2-for-3, three RBIs) hit a two-run single through the left side to cut the Cisco lead to 5-4.
Newton didn't last long, as Cole Carter relieved him, inheriting two runners with one out. Nikko Delgado struck out before Romano drilled his three-run homer to right for the lead. Yavapai had five runs on five hits in the frame.
And yet the celebration was short-lived for the Roughriders.
Yavapai side-armed righty Andrew Gross relieved Durkiewicz, who hadn't allowed a base runner after the third inning, in the eighth.
Cisco's five-run eighth began with a hard-hit double lined off the third-base bag. Later, with runners on the corners and no outs, Grant Reuben hit a grounder to second baseman Dylan Enwiller, who committed a throwing error that scored a run and made it 7-6.
With runners at second and third and no outs, Ryan Nelson hit a grounder to Enwiller, who committed another throwing error to knot it at 7-7.
Then Ephan couldn't make a tag on a bunt down the first-base line that loaded the bases. A suicide-squeeze bunt scored Reuben to regain the lead for Cisco, 8-7.
Cisco capped the inning with a two-run single by Phillips to put the Wranglers up 10-7.
In the ninth, Gavin Johns hit a one-out double down the right-field line. Kuhaulua followed with an RBI single to cut it to 10-8.
But the game ended with a whimper, as Enwiller and pinch hitter Ryan Oberg flied out.
News of Yavapai College's success Tuesday was first reported on dCourier.com Tuesday afternoon. This update was posted at 10:30 p.m. Tuesday.
More like this story
SUBMIT FEEDBACK
Click Below to: