Folk concert series to offer tributes to legends, give bow to 'hottest new acts'

By
Nanci Hutson
|
HutsonNanci
Originally Published: May 26, 2016 10 p.m.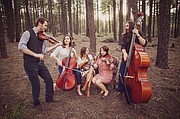 Essentials
Where: The Highlands Center for Natural History
When: Saturday, May 28, at 7 p.m.
Tickets: $20 at the door or online
Online: www.FolkSessions.com
Nostalgia and nature will mingle together at The Highlands Center for Natural History on Saturday, May 28, when a Phoenix trio performs a tribute concert to legendary 1960s folk singers.
Peter, Paul and Mary Remembered will be the featured opening concert for the center's ninth Folk Sessions Season, also featuring Folk Sessions' performers Tom and Christina Agostino, beginning at 7 p.m. Tickets are $20 and can be purchased either at the center office or online at www.folksessions.com
In tribute to the famous Peter, Paul and Mary, the three musicians who compose Peter, Paul and Mary Remembered – Marty Province, Dave Dumas and Sharron Owen – will bring the folk culture that became synonymous with those three singers to life again, performing such group classics as "If I Had a Hammer," "Blowin in the Wind," and "Leaving on a Jet Plane," according to a Folk Sessions news release. The legacy of the Peter Yarrow, Paul Stuckey and Mary Travers is of musicians who enlightened generations with songs that touched chords related to human justice and political issues of the day.
This Arizona band is part of a growing group of Baby Boomers who yearn to pay homage to music that is timeless, tunes as likely to speak to guests who have never heard them before as they are to those who can sing the lyrics and refrains by memory.
A few nights later, Thursday, June 2, at 7 p.m., The Highlands Center will treat local audiences to another evening of stirring music under the night sky.
Touted as one of Arizona's "hottest young acts," the Tucson group Run Boy Run will bring their blend of country, bluegrass, Celtic and folk to the bucolic setting of the center, offering attenders a vocal peek into traditional American music performed on various string instruments, according to the Folk Sessions release.
This group that was a winner at the Telluride Bluegrass Festival Band Contest and appeared on Garrison Keillor's "Prairie Home Companion" radio variety show offers a unique sound that will captivate its listeners.
The five-piece modern family orchestra that includes three female vocals brings together "bluegrass, folk and old time American vernacular with touches of classical and turn of the century details," the release states. The performers are Matt Rolland on the fiddle and guitar; Grace Rolland on vocals, cello, octave mandolin and guitar; Bekah Sandoval Rolland on vocals, fiddle and guitar; Jen Sandoval on vocals, mandolin and octave mandolin and Jesse Allen on bass.
"Existing in the tension between tradition and frontier … Run Boy Run truly exceeds the sum of its parts as touches of classical, jazz, and folk express themselves through the old-time core of the band's unique sound," the release said.
Tickets for that performance are also $20 and can be purchased through the center or online.
More like this story
SUBMIT FEEDBACK
Click Below to: