Chew On This: Addictions Bar and Grill

By
Max Efrein
|
mefrein
Originally Published: May 26, 2016 9:22 p.m.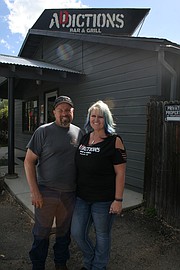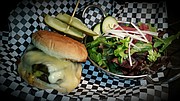 JaLene "J" Gathman has a lot of addictions.
"I have a Harley, so I'm addicted to wind therapy," Gathman said. "I'm addicted to Cardinals football; hot wings and beer; nachos; my son playing football; my daughter playing volleyball; animals; and that adrenaline rush you get when a customer comes in and has a smile on their face when they're leaving."
These "addictions" are a few of her favorite things in life. And some — especially the latter — play directly into her new business, Addictions Bar and Grill, at 1590 Swenson St. in Prescott.
She and her husband, Craig, took over the space previously occupied by Eric Marichal's Black Hole Beer Company a few months ago and officially opened the doors in mid-April.
The full-service restaurant and bar has 16 beers on tap and a two-page menu.
Peter Padilla stayed on as the establishment's chef when the restaurant shifted hands, so the menu at the moment is similar to what it was.
"Our flavors here are a little mixed, but they fall in line," Padilla said. "We do a little Mediterranean; we do barbecue; and we do a lot of southwestern."
For starters, one fan favorite is the Frankin' Fries, Padilla said. These house-cut russets go for $8 and are covered in fresh garlic, parmesan, a fresh herb blend, sea salt and truffle oil. They're served with poblano ranch and tarragon ketchup.
An entrée to look at might be the newly added Sante Fe Buger for $9.75. It's a one-third-pound patty of ground chopped chuck with manchego, cheddar, roasted poblano, jalapeno, and poblano ranch on a grilled bun. All sandwiches come with a choice of kettle chips, house salad, or cucumber vinaigrette slaw.

There is also a small selection of specialty hot dogs, a kids' menu and six flatbread sandwiches to choose from.
As the restaurant develops, Padilla hopes to incorporate a few vegetarian items and in-house smoked meats.
"We're not going to be nailed down on anything," Padilla said.
Gathman is still in the swings of toying with the layout of the restaurant, but said she is expanding pretty much everything Black Hole had to offer.
"We've opened it up, we've added more seating inside, we're opening the fence out and moving the stage out," Gathman said. "We've opened up for different styles of music now, so it's not just kind of café brewery types of music. We've got some jazz bands coming in."
The live entertainment starts around 7 p.m. every Friday and Saturday night through the summer, she said.
Gathman has received some flak on social media for the name she chose for the business, but believes that the word addiction can be taken in different ways, many of which are positive. Additionally, she believes it rings true to how passionately she lives her life and the quality of the product she is offering.
"If people just open their hearts up to us and give us a try, I'm sure we'll be their new addiction," she said.
More like this story
SUBMIT FEEDBACK
Click Below to: