Need 2 Know: Pine Cone sets grand opening, issues chess challenge; Raven Cafe to celebrate 10th anniversary; Six Zero Five salon brings on Larry Thomas; more

By
Max Efrein
|
mefrein
Originally Published: May 23, 2016 4:01 a.m.
The Pine Cone grand opening, chess challenge
The new owners of The Pine Cone, 1245 White Spar Road, a fine-dining restaurant formerly known as The Pine Cone Inn, are hosting a grand opening on Thursday, May 26, at 4 p.m.
This comes after an extensive renovation to bring the classic building back to its original glory.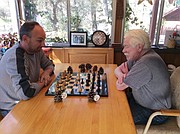 In addition, the owners, Dr. Tony Ebarb and Jeff Hardin, have extended a chess challenge to the public.
They will have a chess set at the ready in the Gold Room of the restaurant for all comers. If a guest can win a blitz game (5 minutes per side on the clock) against either one of them, that guest's dinner and (non-alcoholic) drink are on the house.
Fair warning: Ebarb is the reigning Over-70 Arizona Chess Champion and Jeff was the Captain of the U.S. National Chess Championship High School Team. 
"So put your thinking caps on, and guard your King!" Hardin said.
Raven Café to mark 10th anniversary
The Raven Café, 142 N. Cortez St., opened its doors in 2006 and is planning a party for June 17 to celebrate the milestone. "We are proud to look back at the 10 years and see all that has been accomplished."
The restaurant's fete will include drink and food specials. For info, visit ravencafe.com.
Six Zero Five salon brings on Larry Thomas
Six Zero Five has added the well-known Prescott-based stylist and salon magnate Larry Thomas to their team. 
Thomas has brought with him his assistant Jessie Stiles, a 10-year veteran of the industry who graduated from Paul Mitchell the School - Costa Mesa (California).
Larry specializes in dimensional color and long, smooth hair.
"Having Larry join the team has been like getting an amazing anniversary gift," said Andie Lazzell, owner and stylist at Six Zero Five Hair Salon, which celebrated one year in business this past February. 
Six Zero Five, a Paul Mitchell Focus Salon, is located at 605 Miller Valley Road in Prescott.
New Life CPR expands services
New Life CPR is now offering American Red Cross training classes.  
This is in addition to its training classes for certifications with American Heart Association, American Safety & Health Institute, and Medic First Aid.
Lesa West, co-owner of New Life CPR, 1555 Iron Springs Road, explained that all such organizations offer basic CPR and first aid. The difference between them lies in the additional offerings that come with each certification.

The American Heart Association certification, for example, comes with training in advanced cardiac life support (ACLS) and pediatric advanced life support (PALS).
American Red Cross, on the other hand, offers insight into wilderness first aid and pet CPR/first aid.
For information, visit www.NewLifeCPR.org.
Painter voted Best Acupuncturist
For the fourth consecutive year, Jean Painter, DpOM, CH, Ac., L.Ac of Harmony Integrative Medicine has been voted Best Acupuncturist in the tri-city area through Market Surveys of America. 
Practicing in Prescott since 2004, Painter is a board-certified diplomat of oriental medicine.

She specializes in treating patients with problems ranging from pain relief to neurological, digestive and chronic respiratory illnesses.
In addition to acupuncture and medicinal herb therapies, Painter also offers Nambudripad's Allergy Elimination Technique (NAET), Chinese clinical nutrition and non-needle acupuncture.
Her office is located at 1745 Rustic Timbers Lane. For information, visit HarmonyIntegrativeMedicine.com.
New hires in Prescott area
Premier Development AZ, a group of homebuilding and real estate companies in Prescott, has a new Senior Project Manager.
His name is Michael Grannis and he brings 11 years of experience to the group.
"We are fortunate he has elected to join us and we look forward to his many future contributions," said Ron Owsley, Premier Development AZ co-founder.
Talking Rock Ranch in Prescott has added a new agent to its real estate team.  
Kathy Grimes is a certified residential specialist who also happens to be a new Talking Rock Ranch resident.
Grimes joins the team as Talking Rock introduces its new Signature Series homes by Mandalay Homes.
To submit items for the Courier's Need2Know, email twieds@prescottaz.com; for legal advertisements, email tbryant@prescottaz.com.
More like this story
SUBMIT FEEDBACK
Click Below to:
This Week's Circulars
To view money-saving ads...