91-year-old Prescott man finally gets diploma
Celebrates high school commencement with twin granddaughters

By
Nanci Hutson
|
HutsonNanci
Originally Published: May 22, 2016 6:01 a.m.
At 91, Fred Souther of Prescott figured his chance to don a cap and gown and participate in a high school commencement ceremony, complete with collecting a diploma bearing his name, had come and gone.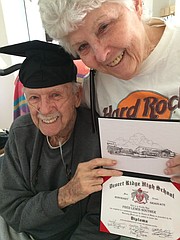 Thanks to his twin granddaughters, seniors at Desert Ridge High School in Mesa, Souther not only got to savor the pomp and circumstance of high school graduation as a "student," but also was introduced as a hero, the Desert Ridge High's honorary graduate and celebrated guest.
"I finally got a cap and gown," said Souther, who is recuperating from two knee replacement operations and relies on oxygen because of a lung ailment. "It was kind of surprising. Everyone stood up in the auditorium and clapped. I guess I'm kind of proud."
Wheeling their grandfather through a tunnel of sabers, Katelyn and Taylor Lawson were privy to the full military honors bestowed upon this World War II Navy veteran who didn't get to attend his June 1943 graduation from Hoover High School in San Diego, California. He had been shipped off six months earlier to New Caledonia, an archipelago in the southwest Pacific Ocean.
"I thought it was really amazing. Super awesome," described Taylor Lawson of the moment her grandfather was introduced to a crowded auditorium of graduates and their families. "He just looked SO happy!"
She and her sister said it was heartwarming to stand with their grandfather, who notes he was present at their births, and know he was not just a proud observer but actually graduating alongside them.
"None of our classmates knew it was going to happen," said Katelyn, who with her sister worked with the school's administrator to arrange the ceremony first conceived of after their grandfather last year participated in the Honor Flight program that takes World War II veterans free-of-charge for a three-day adventure to Washington, D.C., to visit the war memorials. "It added that extra special touch to the ceremony."
The twins agreed that the cheers and military honors are something they and their classmates will never forget.
Neither will their grandmother, Dorothy, who watched in amazement as her husband finally got to enjoy a rite of passage that the war denied him all those years ago.
Souther says he believes his actual diploma is in the house somewhere; his wife argues that in their 45 years of marriage she has never come across it so doubts it ever made it from his mother to him.
"I was crying," Dorothy admitted. "I was just overjoyed; to hear people applauding and whistling."
Beyond getting his honorary diploma, and a chance to march at graduation, Dorothy appreciated the opportunity to honor a man who fought for this nation's freedom. Souther served active duty both in World War II and Korea, surviving Japanese Kamikaze bombers. Between active and reserve duty, Souther has 23 years of military service.
An electrician by trade, Souther worked on oil rig platforms in such faraway places as Indonesia.
A modest man, Dorothy said her husband is not one to boast of his time in the military, but in recent years has shared some stories with the family to put history in context. His biggest hope is one shared by many such veterans: to see the end of all war.
In recent months, Souther has been challenged with health issues.
The graduation ceremony buoyed his spirits, and recognized his role in history.
"It was a nice treat," he said.
More like this story
SUBMIT FEEDBACK
Click Below to: