Sports Briefly: Prescott Storm state champions
Originally Published: May 21, 2016 7 p.m.
MEN'S FASTPITCH SOFTBALL
SIX MEN'S FASTPITCH SOFTBALL TEAMS FROM AROUND ARIZONA will compete in the 2nd annual John Hanna Memorial Invitational NAFA wooden bat tournament Saturday, May 28, and Sunday, May 29, in Prescott. Teams will include the Prescott Patriots, Prescott Regulators, Barros Roofing, Prescott Ghost Riders, Young Guns Peoria AZ and Brewer's Window Rock AZ. Games start at 9 a.m. Saturday and continue through Sunday, with the championship game scheduled for 5 p.m. Sunday. All games will be played at Ken Lindley Field, 702 E. Gurley St. Admission is free. For more information, call tournament director Sharon Mitchell at 928-925-0395 or email her at: blackvehicle@cableone.net.
PRESCOTT RESIDENT Manny Barros is putting together a competitive Men's 50-plus Amateur Softball Association (ASA) fastpitch team. An exhibition doubleheader will take place June 4 at Ken Lindley Field in Prescott, and he invites the public to head out to the park and watch. The games are a precursor to the ASA Men's Seniors 50 & Over Fastpitch Nationals July 22-24 at Lindley and Prescott High School. Barros' squad will serve as the host team for nationals. For more information, email Barros at: mannybarros33@gmail.com.
LOCAL GOLF RESULTS
THE ANTELOPE HILLS MEN'S Golf Club played its May 16 tournament on the South Course at Antelope Hills in Prescott. The format was '4-Man 3-2-1 Scoring,' one in which the total lowest gross and net score(s) count for the par 3s, 4s and 5s. In the first flight, the team of Gary McLargin, Dick Senior, Jerry Emery and Jim Sygitowicz took low gross. Low net went to Rick Davis, Andy Ozols, Jerry Shayne and Chuck Elsberry. Hank Beck, Gene Howell, Richard Rust and John Kock shot a low gross in the second flight, with Tom Collins, Allen Durfee, Mike Elia and Gene Parrino coming in with low net. In the third flight, Jack Owen, Ted Arey, Ray Tanner and Wayne Glasscock captured low gross, followed by Bill Bailey, Mike Sherman, Larry Thompson and Bill Rathbun with low net. The Antelope Hills Men's Club is having its membership drive. To join, visit ahmgc.com or call 928-499-7788.
THE FORMAT AT QUAILWOOD GREENS Men's Club on May 18 was 'Skins-Flighted.' In the 'A' Flight, the winners were: Nick Proefrock, John Decker, Cliff Hallam and Dave Janz. In the 'B' Flight, the winners were: Dave Cortez, Frank Knowles, Paul Wienkes, Ken Lincks, Barry Gilchrist and Ed Laing. In the closest to the pin competition, the winners were Darryll Walton (hole No. 2), Decker (Nos. 3 and 7), Knowles (No. 5), Stan Skura (No. 11), Janz (No. 13) and Jack Lambert (No. 16).
PRESCOTT BRINGS HOME 2 TEAM INLINE HOCKEY STATE TITLES
THE INLINE HOCKEY ASSOCIATION OF ARIZONA conducted its 16th annual Arizona Youth State Championships May 6-8 at the Barney Family Sports Complex in Queen Creek. The Prescott Storm inline hockey travel program qualified six teams for the state event and was one of only two programs to emerge with two team state championship titles.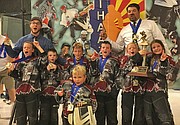 The 8U Prescott Storm lost its round-robin game to the Knighthawks of Anthem, 7-4, and had to climb its way back into the competition by defeating the Yuma Blaze in the semifinals. The Knighthawks earned the No. 1 seed and faced the Prescott Storm once again in the championship finale. Once again, the Knighthawks scored first and it appeared that they had the Storm on the ropes in the first period. However, Prescott's Peyton Hobson scored a goal and assisted on all-state teammate Landon Fetty's score to keep Prescott close. In the second period Prescott's other all-state player, Charlie D'Antonio, scored to tie the game. Peyton Hobson then scored the go-ahead goal late in the second period and all-state goalie Reece Curry made 15 critical saves to give the 8U Prescott Storm a thrilling 4-3 state championship win.
The 10u Prescott Storm breezed through its round-robin games with little trouble and faced a very tough Junior Wildcat team from Tucson in the championship finale. The Junior Wildcat team came in with a very stingy defense and a balanced offense that could beat any team on any day. However, the Prescott Storm had its scoring ace, all-state forward Wesley Amos, who provided a lethal scoring threat, as well as a stellar defense and an excellent goalie in Dallin McShane. After three quick scores from Amos, former all-state goalie Carter Robinson and Eric Mayhan in the first period, the Wildcats simply did not have an answer for the Storm's offensive onslaught. After two more scores from Robinson and a goal from Amos in the second period, the game was all but decided as the Prescott Storm brought home the division state trophy, topping the Junior Wildcats, 6-2.
PRESCOTT GOLF & COUNTRY CLUB'S Men's Club played 'Individual Nassau' May 11 on the golf course near Dewey. In Flight A, winners were Chuck Chinberg on the front nine with a 9 handicap and a 31 net score; Darrell King on the back nine with a 14 handicap and a 33 net score; and Randy Haynes overall with an 18 handicap and a 63 net score. In Flight B, winners were Chuck Martin on the front nine with a 25 handicap and a 33 net score; Al Cotterall (21 handicap, 34 net score) and John Varhol (22 handicap, 34 net score) on the back nine; and Jim Klise overall with a 20 handicap and a 60 net score.
CENTRAL AZ HORSESHOE CLUB
ON MAY 21, THE CENTRAL ARIZONA HORSESHOE CLUB played host to the Mayflower Open. The winds made the tournament especially memorable. It's hard to believe that a horseshoe weighing up to 2 pounds, 10 ounces can be affected by the wind. But witnessing many of the shoes pitched Saturday shows it most certainly can. With pitchers from the immediate area and several cities within the State, the fellowship was great. Results are follows. Class A: 1st – Herb Baggett (Prescott Valley); 2nd – Forest Miller (Payson); 3rd – John Nay (Prescott Valley). Class B: 1st – Ron Davis (Cordes Lakes); 2nd – Doug Strong (Phoenix); 3rd – Cody Williams (Prescott). Saturday's tournament was held at the Central Arizona Horseshoe Club pits, which are located in the American Legion Park. The park is located on Bob Street, just off of Navajo in Prescott Valley. It's a great family sport; stop by and check us out. For more information, call John Nay at 928-379-1922.
TRINITY CHRISTIAN GOLF CLASSIC
THE TRINITY CHRISTIAN SCHOOL GOLF CLASSIC tournament will take place at the Capital Canyon Club Golf Course (formerly Hassayampa) at 9 a.m. Tuesday, June 21, in Prescott. Registration is at 8 a.m., with lunch scheduled for 1 p.m. Opportunities to become a sponsor are still available. A hole sponsorship costs $200. There will also be a silent auction and raffle prizes. Early-bird registration to play in the tournament is $125 per golfer, and lasts until June 1. Regular registration is available after June 1, and the fee is $135 per golfer. The cost covers 18 holes of golf and a cart, continental breakfast, lunch, contests and prizes, and the silent auction and raffle. Golfers may invite a guest for lunch at $25 a head. For more information, contact Anna Pauly via email at: anna.pauly@trinitychristianaz.com or call her at 928-445-6306.
PRESCOTT PGA JUNIOR LEAGUE GOLF
ON MAY 15 AT ANTELOPE HILLS GOLF COURSE in Prescott, the Prescott PGA Junior Golf League conducted its grand opening for its 2016 season of games. The festivities began with a variety of golf shots and trick shots from PGA pro John Gunby of Prescott Lakes. More than 50 players, parents and friends were entertained by Gunby's skills and humor, along with his dog Ingrid, a golden retriever and his constant companion. Lunch was served on the Manzanita Grill outdoor patio, followed by team photos and a short practice round on the South Course. Ron Lavoie, the new general manager at Antelope Hills, attended with interest and support. The 2016 PGA Junior Golf Leagues from Flagstaff and Phoenix have shown interest in playing the league from Prescott. Prescott league representatives would like to give a special thanks to all of their parents, players, staff and golf facility personnel for their dedicated support to the establishment of the first PGA Junior Golf League of Prescott.
EMBRY-RIDDLE SOCCER YOUTH DAY CAMPS
THE EMBRY-RIDDLE EAGLES SOCCER Youth Day Camps are scheduled for 9 a.m.-noon June 13-16 at the ERAU soccer field in Prescott. They are designed for boys and girls who will be entering grades 1-6 this fall. The camps cater to the recreational player, maintaining a focus on learning and developing a love for the game of soccer in a fun environment. The Eagles Soccer Youth Day Camps are led by the current ERAU staff and will feature instruction and demonstration from the Embry-Riddle coaches and players. A games-centered curriculum provides the day campers a chance to sharpen their current technical skills while learning new skills that they can carry with them when they return to their teams. Day campers will be introduced to all positions on the field, including goalkeeping. They will also learn about developing and enhancing their first touch; the different surfaces used for passing and shooting; dribbling; and 1-on-1 defending. Agility and footwork will be introduced to help develop coordination, balance and explosiveness. Cost is $115 per camper. The camp staff will include Embry-Riddle men's soccer coach Adam Pearce, ERAU assistant men's soccer coach Clint Long, Yavapai College associate men's soccer coach Hugh Bell, and current Embry-Riddle men's and women's soccer players. All campers will receive an official soccer camp T-shirt.
All registration is completed online at: www.eraumenssoccercamps.com.
SACRED HEART GOLF FUNDRAISER
THE 22ND ANNUAL SACRED HEART SCHOOL Golf Fundraiser will be played at Antelope Hills' South Course in Prescott on Saturday, Aug. 29, with an 8 a.m. shotgun start. Players will be flighted and the scoring format is a team gross scramble. There will be food, prizes, a chance for a new Chevrolet Malibu on a hole-in-one sponsored by Lamb Chevrolet (amateurs only as defined by the USGA Rules of Golf), golf ball drawings, and more. All net proceeds will directly go to help educate the school children in need. For more information, call Michael/Lynne Peters at: judgeuno@aol.com or by phone at 928-717-0111. Or contact the Sacred Heart Parrish office at 928-445-3141 and ask for Beverly Aviles. Also, you can visit the website at sacredheartprescott.com and download the registration form. Fee is $80 per person and participation is limited, so early registration is encouraged.
GOLF LESSONS
ED COMPTON, a PGA life member with 29 years' experience, is offering on-course golf lessons for players in the quad-city area of Prescott, Prescott Valley, Chino Valley and Dewey-Humboldt. Learn while playing nine holes with a cart, followed by a post-round review. Two-plus hours. For more information, call Compton at 928-533-8638.
ANTELOPE HILLS JUNIOR GOLF CLASSES
ANTELOPE HILLS GOLF COURSE in Prescott will be offering Junior golf classes this summer for boys and girls between ages 8 and 16. There are still openings for the first session, which starts May 30. The program will feature classes in age groups. It will include not only the fundamentals of playing golf, but also involve proper golf etiquette as well as how to play with courtesy and sportsmanship. "We will focus on the golf fundamentals as well as how to behave on the golf course so that everyone will learn how to play safe, fast and courteous," said Mack McCarley, PGA Teaching Professional at Antelope Hills. The instruction staff will include McCarley and other members of the Antelope Hills staff. Class sizes will be limited to 10 students, which will emphasize individual instruction. Junior golf classes will run through August. Information packages that include dates and cost are available at the Antelope Hills golf shop. For more information, call Mack McCarley at 801-915-8391.
EMBRY-RIDDLE WOMEN'S BASKETBALL CAMP
THE INAUGURAL EMBRY-RIDDLE AERONAUTICAL UNIVERSITY Women's Basketball Summer Camp will run June 13-16. On those days, times will go from 9-11:30 a.m. for elementary and middle school players and from 12:30-3 p.m. for high school players entering the ninth grade. Fee is $95 per camper. For more information, email coach Becky Burke at: burker10@erau.edu or register online at: secure.touchnet.net/C20722_ustores/web/store_main.jsp?STORED=59&SINGLESTORE=tru.
MILE HIGH HORSESHOE CLUB
THE MILE HIGH HORSESHOE CLUB, which began summer league play May 5 at Watson Lake Horseshoe Complex in Prescott, is inviting pitchers to join in on the fun. Matches start at 6 p.m. every Thursday. Each pitcher will toss three 40-shoe games on match nights and will be assigned to a team each week. Ringer percentage will be accumulated to determine handicap each week. All ability levels are welcome to play. Fees are $2 per week, with monies going toward prize awards after the eight-week session. Shoes are available at the courts. Club dues are $20 per year. For more information, call Cal Cordes at 928-533-6519, Sherri Ochoa at 928-710-1472 or Max Teto at 928-407-4953.
GLASSFORD SUMMIT TRAIL 5K MAY 28
THE INAUGURAL GLASSFORD SUMMIT TRAIL 5K Fun Run, Hike or Walk starts at 7 a.m. Saturday, May 28, at the Glassford Hill Middle School parking lot, 6901 E. Panther Trail in Prescott Valley. Cost is $20 apiece for those ages 13 and older, and $15 for those ages 12 and younger. Pre-registration is required. Registration closes May 24. The event, sponsored by the Prescott Valley Parks and Recreation Department, will mark the official opening of the Glassford Summit Trail. It will also be conducted in partnership with 'Honor and Remember,' which recognizes the sacrifices of fallen military members and their families. Participants will be registered in waves consisting of runners (7 a.m. start), joggers and hikers (7:45 a.m.), and walkers (8:45 a.m.). Due to the steep, natural terrain and for the benefit of all participants, dogs will not be allowed on the course/trail during the event. The one-way Fun Run/Walk will begin at Glassford Hill Middle School and finish atop Glassford Hill. Parking will be available at Glassford Hill M.S., with shuttle service from the trailhead back to the parking lot. Shuttle service will begin at 7:30 a.m. and run every 10 minutes until noon. For more details on this event, visit www.pvaz.net or call 928-759-3090.
MILE HIGH BASEBALL CAMPS
AT THE MILE HIGH BASEBALL SCHOOL DAY CAMP from June 6-8 in Prescott, players ages 5-12 will learn skills from a new perspective with a fresh, dynamic approach to teaching baseball. They will receive quality instruction in baseball skill and technical work, tactics, strategy and games. They will be placed in a group matching age and ability to maximize their learning experience. Instructors will monitor individual needs and develop skills and initiative so that players may grow from the learning experience. The camp will include instruction on hitting, pitching, fielding and base running. It will also feature a division of age groups throughout the program. The fee for the camp is $75, with an additional $10 charge for late registration. The fee includes professional instruction, evaluation, medical and dental insurance, as well as a camp T-shirt. The camp is limited to 150 campers. For more information, call Yavapai College assistant baseball coach Kyle Wise at 928-776-2292 or email him at: kyle.wise@yc.edu. Prospective campers may also visit the Yavapai College Athletics Summer Camp Website at: goroughriders.com/summercamps/.
AT THE MILE HIGH BASEBALL SCHOOL OVERNIGHT CAMP July 17-20 in Prescott, campers ages 10-18 will learn skills from a new perspective with a fresh, dynamic approach to teaching baseball. They will receive quality instruction in baseball skill and technical work, tactics, strategy and games. They will be placed in a group which matches age and ability to maximize the learning experience. Instructors will closely monitor individual needs and develop skills and initiative so that campers may grow from the learning experience. The camp will include instruction on hitting, pitching, fielding and base running. Specialty areas will include speed, strength, conditioning and mental skills. Campers have the option of overnight stay in Yavapai College housing. Meals and activities will be included in the camp fee. Campers will be under adult supervision at all times. The fee for campers who will be commuting to camp is $175. The fee for campers staying overnight is $400. An additional $10 will be added to the fee for late registration. The camp capacity is limited to 150 campers. For more information, call Yavapai College assistant baseball coach Kyle Wise at 928-776-2292 or email him at: kyle.wise@yc.edu. Or visit the Yavapai College Athletics Summer Camp website at: goroughriders.com/summercamps/.
More like this story
SUBMIT FEEDBACK
Click Below to:
This Week's Circulars
To view money-saving ads...