Porsches 2 Prescott car show on Saturday on east side of courthouse plaza

By
Nanci Hutson
|
HutsonNanci
Originally Published: May 19, 2016 9:08 p.m.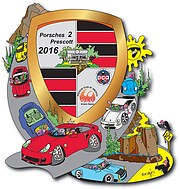 Robert Frith drives a sporty, 1993 white Porsche.
The license plate – "Ms Tris" – is one Frith's wife, Linda, says accurately reflects his more than 45-year passion. He bought his first Porsche, a first-production, two-door, rear-engine 1962 luxury sports model 356, in 1970.
Co-chairman of Porsches 2 Prescott, Frith will be putting his well-kept beauty on public display as part of the fourth annual, more than 60- to 70-car classic Porsche show at the Courthouse Plaza on Saturday, May 21, between 10 a.m. and 2 p.m. Classic car lovers, and Porsche-owner-wannabes, aren't going to want to miss viewing the cars that will include all types from the earliest production of these fancy, European sports cars to the current models that include a family-style model SUV. The car show will be set up on Cortez Street between Goodwin and Gurley streets.
Market price for today's models can range from $58,000 upward to more than $115,000, depending on amenities.
The Porsche owners will be coming to the show from cities throughout Arizona, New Mexico, California, Nevada and other neighboring states.
There is no cost for people to come and view the cars, and talk with the proud owners. Porsches 2 Prescott is asking people to bring canned and other nonperishable food items that it will be donating to the Yavapai Food Bank as part of its charitable give-back.
Though this is the major public event, Porsches 2 Prescott is also a chance for Porsche owners and drivers to experience a bit of Prescott along some of its most scenic roads.
"We have a beautiful city and countryside, and many scenic roads," Frith said of the event that offers drivers a chance to come and share their hobby and learn about the different models as well as savor some of this region's picturesque landscape.
Frith is one of just over 25 other Prescott Porsche owners are members of the Porsche Club of America; there are some 800 members in Arizona. His co-chairman is Donny Blackburn, who designed this year's colorful and fanciful logo.
After the car show, the Porsche club members will enjoy a private banquet and silent auction at the Prescott Resort & Conference Center. Proceeds will be donated to the Yavapai Food Bank.
More like this story
SUBMIT FEEDBACK
Click Below to: