Popular Summer Concert Series opens on courthouse plaza June 2

By
Cindy Barks
|
Cindy_Barks
Originally Published: May 19, 2016 11:34 p.m.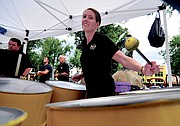 From jazz to rock to karaoke, music will once again waft through the leafy trees of the Yavapai County Courthouse Plaza this summer.
The 2016 Summer Concert Series is scheduled to kick off in downtown Prescott June 2, with a return of the ever-popular Prescott Idol competition.
Then, on 36 more nights throughout June, July and August, the series will continue with music three nights a week. Most events begin at 6:30 p.m., except for the Central Arizona Concert Band, which starts at 7 p.m.
"It runs from Memorial Day to Labor Day," Kendall Jaspers, director of the Prescott Downtown Partnership, explains. The schedule includes: jazz on Tuesdays; Prescott Idol and the Central Arizona Concert Band (every third Thursday) alternating on Thursdays; and a variety of bands playing everything from classic rock to blues on Fridays.
This year launches a new era for the concert series, because the City of Prescott is no longer organizing the event. After the city eliminated its special events manager position in budget cuts earlier this year, it contracted with the PDP to take on the planning and operation of the series.
"We talked it over, and decided we could save most of this," Jasper said. Although the series no longer includes Wednesday or Saturday events, it does preserve some of the most popular features.
And that all goes toward what Jaspers called "place-making" in Prescott's center. "It makes downtown more of a gathering place," he said.
Music on the courthouse plaza has deep roots, said Jaspers, who grew up in Prescott, and remembers bands playing for teenagers on Saturday nights. "It was very exciting," he recalls, adding that square-dancing also occurred for years on the plaza.
The concert series regularly brings in large crowds. Melissa Byrne, regional manager for Grenax Broadcasting (Kolt Country, The Wolf, Rewind, The Big Talker) estimates that anywhere from 750 to 2,000 people pack the plaza on Thursdays for Prescott Idol.
The broadcasting company has been the organizer of the Idol competition for the past seven years, and Byrne said, "Every year, it gets bigger."
Over the past seven years, Byrne says more than 700 singers have competed in the Idol competition. The top two from each night move on to the finale.
Between 15 and 20 singers perform at each weekly Idol competition, Byrne said. "Everyone gets a shot, as long as we have a space," she said, adding that aspiring karaoke singers should "sign up for your chance to sing."
Anyone interested can sign up online at www.koltcountry.com, or www.rewindmymusic.com.
The series is free to the public, and Jaspers noted that the bands play in the series for free. "I think it's wonderful there's this many musical groups in town who are willing to volunteer their time," he said.
More like this story
SUBMIT FEEDBACK
Click Below to: