Deputies arrest 3, seize 2 pounds of meth with help from K9
Originally Published: May 17, 2016 5:54 p.m.
ASH FORK – Yavapai County Sheriff's deputies seized two pounds of methamphetamine, along with three guns, and arrested three men after they stopped a car on Interstate 40 on Monday, May 16, YCSO spokesman Dwight D'Evelyn said.
About 4:45 p.m., a deputy stopped a car headed east for several moving violations, D'Evelyn said, and, while he was talking with the three occupants, the deputy noticed that they appeared nervous, seemed to be deceptive in their answers, and could not answer basic questions about where they were going.
"The deputy's suspicions were raised even further when he detected the odor of marijuana coming from the vehicle interior. The K9 deputy requested consent to search and was denied," D'Evelyn said.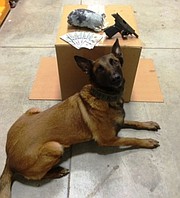 The deputy then had his K9 partner, Miley, sniff the exterior of the car, and the dog alerted on the trunk.
When deputies searched it, they found two rifles and noticed that the spare tire seemed to have been altered. When they cut it open, they saw a two-pound package of meth inside.
They also located a handgun in the front center console of the car and learned that it had been stolen.
Arrested were: Logan Young, 22, from Kentucky, Joseph Cruzan, 38, from Tennessee, and David Champion, 21, from Kentucky.
The three were booked on charges including possession or transportation of a dangerous drug for sale, possession of dangerous drugs, possession of drug paraphernalia, possession of a firearm during a drug offense, and possession of a stolen firearm.
More like this story
SUBMIT FEEDBACK
Click Below to: