Bradshaw Mountain High School celebrates year-end success
Quad-City Schools
Special to Prescott Newspapers
Originally Published: May 16, 2016 6 a.m.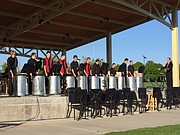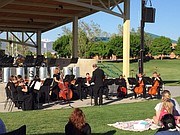 When it comes to celebrating successes, Bradshaw Mountain High School is a fantastic place to start.
From academics to athletics to fine arts performances, the Bears once again had a stellar spring. May 13 culminated two weeks of Advanced Placement (AP) testing in which 250 students took tests in 14 subjects such as statistics, chemistry, English, history, psychology and art. With some students taking more than one test, the Bears ended with 372 tests taken. If students earn a high enough score, colleges and universities award credit to these academic achievers. Add in more than 200 students in dual enrollment courses with Yavapai College, and the number grows. Many of Bradshaw's finest students will graduate with college credit in courses such as English, pre-calculus, nursing, and computer networking.
On the field, Bradshaw enjoyed watching their athletes at state competitions in track, tennis, softball, and baseball. With almost 200 athletes competing on these teams, Bradshaw had much to celebrate as fans cheered their teams on to victory.
This spring also provided a stage for Bradshaw's incredible fine and performing arts department. Whether sitting in the audience at a performance of Shakespeare's "A Midsummer Night's Dream," listening to the band on the lawn at the Civic Center, enjoying some of Disney's finest music at the Pops choral concert, or viewing art at Youth Arts Month displays, Bradshaw's artists demonstrated that the arts are alive and well.
At the school year draws to an end, Bradshaw Mountain's seniors are certainly leaving their mark. To date, the Class of 2016 has earned more than $7 million in scholarships to some of the nation's finest universities. Schools such as University of Notre Dame, Embry-Riddle Aeronautical University, Oregon State, University of Minnesota, and Penn State will welcome some of Bradshaw's best and brightest in the fall of 2016. The staff of BMHS proudly announces an evening of scholarship celebration on Tuesday, May 17, beginning at 7 p.m. in the Glassford Hill auditorium. All are invited to attend!
Finally, the staff of Bradshaw Mountain High School and the Humboldt Unified School District (HUSD) look forward to the most-anticipated event of the year – the commencement ceremonies. On Thursday, May 19, beginning at 7 p.m., at the Prescott Valley Event Center, the Class of 2016 will celebrate all their achievements as they become graduates of BMHS. In addition to an incredible year of scholarship, this year's class boasts more than 350 graduates, with more than 50 students earning a grade point average (GPA) of 4.0 or higher.
Finally, Bradshaw Mountain High School recognizes the incredible support this community provides for its students and staff. We wish to thank all of our families and community members for helping us shape the young hearts and minds that walk our halls every day. So much of what our students accomplish is due to the care and attention you give to kids. Thank you for helping us positively influence their futures.
More like this story
SUBMIT FEEDBACK
Click Below to: