Editorial: 'Unprecedented' failures at airport do not instill trust

Originally Published: May 14, 2016 6 a.m.
It's every traveler's nightmare: the airline loses your bag(s) or they are delayed reaching you.
Seriously, I've been blessed to not be without my luggage and can only imagine what it's like having to buy a toothbrush – and everything else – while on a trip.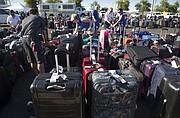 Luggage being delayed is more common, the industry reports, meaning you went to Denver and your checked bag went to Orlando. It can take hours or days for your bags to catch up to you. That falls under the most common reasons bags are lost or delayed:
• The routing label gets damaged;
• The attendant types in the wrong destination code; or
• Your bag is loaded onto the wrong plane.
A fourth reason is that you forget to pick up your luggage after landing. Of course, no one would be so distracted that they'd forget their bags!
So, let's picture a fifth reason, brought to light this week in Phoenix – a computer glitch in Sky Harbor's baggage screening system Thursday, forcing thousands of checked bags to miss their flights.
Thousands? Try enough to fill the special events parking lot next to the airport. "Significant, unprecedented" technical issues with a computer server led to more than 3,000 checked bags being left behind at Phoenix Sky Harbor International Airport, the TSA spokesman said.
Screening systems were working normally as of mid-day Friday, during a busy travel season (think: graduations and early summer trips because kids are getting out of school). But – here's a kicker – tests "were continuing because it was not clear what caused the malfunction."
Apparently, according to the Associated Press, a network switch failed and caused the software system that scans luggage for explosives to go into a continual reboot cycle. (Wow, that's comforting!)
Oh, and a failure also hit a similar system for screening checked bags in one of the five terminals at Dallas-Fort Worth International Airport on Thursday night. The Phoenix breakdown affected all three of its terminals.
And, get this (sorry, can you visualize me shaking my head with amazement?), Southwest was significantly affected and the airline decided to send more than 1,000 bags to the Las Vegas airport for screening, "since it wasn't clear when the system would be fixed," its spokesman said.
To their credit, that is certainly a creative solution. (Yet, you'd have to fly the questionable bags there anyway, right?)
Throw in the anecdotal comment from Greg Puriski, president of TWU Local 555 which represents 11,000 airport ground crew workers employed by Southwest. He could not recall an equipment breakdown that caused a delay of such magnitude. "It seems like there is no plan B," he said.
Oh, and the explanation of how the system is supposed to work is not very comforting:
Major airports such as Sky Harbor use an in-line screening process. After being placed on a conveyor belt, checked luggage goes through a high-tech scanning machine programmed to look for explosives or other prohibited items. An alarm sounds if a suspicious object is detected. That sends the luggage to a conveyor belt that leads to TSA agents for manual inspection.
When everything is working properly, TSA officers hand search only about 10 percent of all checked bags.
Technology – or its failure – will be society's our downfall, folks. Carry-on bags are the answer.
More like this story
SUBMIT FEEDBACK
Click Below to:
This Week's Circulars
To view money-saving ads...