Memoir about Yarnell fire honors 'lost brothers': lone survivor has messages for readers, will sign books Saturday

By
Cindy Barks
|
Cindy_Barks
Originally Published: May 13, 2016 6:01 a.m.
PRESCOTT – Brendan McDonough writes movingly in his memoir about his struggle to deal with the memories, the guilt, and the notoriety he faced after he survived a wildfire that claimed the lives of his 19 fellow Granite Mountain Hotshots.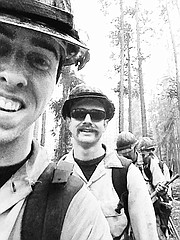 His battle with PTSD (post-traumatic stress disorder), as well as his progress in working through the condition during counseling, are among the main messages that McDonough hopes readers will take from the book, "My Lost Brothers."
"That's what I want people to get out of this book – what public-safety people go through," he said in a recent interview. "I want to try to put a face to those people."
While emphasizing that he is "always going to have this; always going to live with it," McDonough says, "Through my healing process, through grieving, through counseling, I've turned that around."
McDonough plans to talk about the book at an event at the Peregrine Book Company in Prescott this weekend. The 2 p.m. Saturday, May 14, book signing will include a reading by McDonough and a question-and-answer session.
In honor of fallen 'brothers'
Interwoven into his own story are the stories of the fallen Hotshots – McDonough's "lost brothers."
The book emphasizes over and over again how much McDonough gained from his time on the Granite Mountain Hotshot crew.
In fact, he says his fellow Hotshots were his main motivation for writing the book. "If it was just for me, I'd have never done it," he said. "But it's for my brothers – it's to honor them. I needed to put that out there, so people could understand what they did for me."
In the book's epilogue, McDonough writes about a recent visit to the Pioneer' Home Cemetery, to "the graves of my brothers, the Yarnell nineteen."
While his visits there are painful – "more than I can describe," – McDonough writes, "But I love the place, in a way. I've told my family I want to be buried there. That was an easy call."
Book-writing process
Although McDonough initially questioned whether he could write the book at all, he says the process turned out to be cathartic, in combination with the counseling.
"The process of writing the book was tough," McDonough said. "At first, I thought, 'this is probably going to wreck me.' But about a month or two in – I thought 'this was the best thing I could have done.' In writing the book, if something came up, I could deal with that in counseling."
As it turned out, the 276-page book is McDonough's story – from his childhood, through the Hotshot tragedy, and on to his current life as a dad to 5-year-old daughter Michaela.
"People are surprised that it wasn't a book about Yarnell," McDonough said. He stresses that he did not want the book to be a re-investigation into the fire and the tragedy. Rather, it is an account of what he heard, what he experienced.
And he declines to speculate on a key remaining question: What prompted the Hotshot crew to leave the relative safety of the burned out area "in the black," and venture into the brush of the box canyon, where they would die fighting the Yarnell Hills fire?
"It's not my job to sit here and analyze and critique," McDonough said. "I'm not an investigator."
In the book, he writes of questioning whether he had been emphatic enough in telling the Hotshots that the fire was turning.
But, he wrote, "To say, 'Eric, this thing is moving fast, stay in the black' never even occurred to me; it would have been a waste of my breath. Eric was our leader. He knew what he was doing. If I'd had specific information he lacked, I would have transmitted it immediately. But we were seeing the same things. And I didn't know half as much as he'd forgotten during his career."
Much of the book focuses on the tight bond that the Hotshot crew had leading up to the tragedy, as well as the advice McDonough regularly received from Superintendent Eric Marsh and the other crew members.
While noting that some bosses "never care to look into your life," McDonough said, "Eric did that. Numerous times, I had conversations with Eric about things I was struggling with."
The book is 'who I am'
After making a book pitch to publishing companies, McDonough said he received a number of positive responses from publishers.
Ultimately, he worked with New York Times best-selling author Stephan Talty, who had recently co-authored "A Captain's Duty," the basis for the film "Captain Phillips."
The two collaborated, and the result was a book that McDonough says reflects his voice and his views.
"That's what's so cool about this book," McDonough said. "That is me; that is who I am. Every page – I read that book 15 times in two days. And during the process, I read every chapter, many times."
Along with the book signing in Prescott, McDonough has done a number of other events and interviews.
One of the main questions he has faced focuses on the fact that he did not testify for the litigation surrounding the Hotshot deaths, which was settled in 2015.
"The comment that comes up a lot is 'he didn't testify, and he now wrote a book.'" McDonough said. "Well, I was going to testify, but the state canceled."
McDonough, who lives in Prescott fulltime, says the support from the community has been invaluable in his healing process. "I can't express how much my community has helped me," he said. "It makes me feel good; we're a tight-knit community."
Peregrine Book Company is located at 219A N. Cortez St., Prescott.
More like this story
SUBMIT FEEDBACK
Click Below to:
This Week's Circulars
To view money-saving ads...