Phoenix Symphony performs final concert of season

Originally Published: May 12, 2016 8:59 p.m.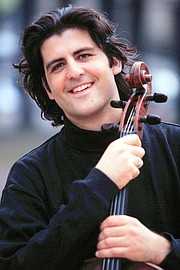 Essentials
Where: Yavapai College Performing Arts Center, 228 N. Alarcon St.
When: Sunday, May 15, at 3 p.m.
Tickets: $28 to $39 at the box office, College Students $10
Online: YavapaiSymphony.org
The final Phoenix Symphony concert in Prescott for season is on Sunday, May 15, at 3 p.m. at the Yavapai College Performing Arts Center. There is a pre-concert lecture at 2 p.m.
The concert will see guest conductor Teddy Abrams leading the orchestra in "Scherzo a la Russe" by Igor Stravinsky, "Scheherazade," by Rimsky-Korsakov and "Cello Concerto No. 1 in E Flat Major," by Shostakovich. Amit Peled will be performing the cello alongside the orchestra.
Abrams is widely acclaimed as a conductor as well as a pianist, clarinetist and composer, according to a news release from Sue Bray, member of the Yavapai Symphony Association Board of Directors.
"He is currently Music Director of the Louisville Symphony and also serves as a Resident Conductor of the MAV Symphony Orchestra in Budapest, which he first conducted in 2011," the release stated.
As for Peled, he was voted by Musical America as one of the most Influential Music Professionals of 2015 and is acclaimed as one of the most exciting instrumentalists on the concert stage. Once a basketball player, Peled surprises audiences with the way he breaks down barriers between the performers and the public, the release stated. It makes classical music more accessible to wider audiences through jokes and funny remarks.
Peled will perform alongside the orchestra for "Cello Concerto No. 1," one of Shostakovich's most popular compositions.
"Scheherazade," composed in 1888, is a symphonic suite based on The Arabian Nights and combines colorful orchestration with the influence of the East. It's considered Rimsky-Korsakov's most popular work.
As for "Scherzo a la russe," it was intended to be used as a film theme in 1944 and when it was aborted during production, Stravinsky rearranged it for symphony orchestra.
"Thanks to Prescott's classical music enthusiasts. We've had a most successful year," said Virginia Rayner, president of the Yavapai Symphony Association in the release. "This concert will be a great finale with some beautiful music."
Tickets, priced from $28 to $39 are available from the Yavapai Symphony Association office, 228 N. Alarcon St., from 9 a.m. to 2 p.m. Monday through Thursday and the Friday before each Sunday concert. Tickets may also be purchased by calling 928-776-4255. Full-time college students can purchase any available ticket for $10.
For more information, visit www.yavapaisymphony.org.
More like this story
SUBMIT FEEDBACK
Click Below to: