Kudos Kravings: Get a starter when eating out

Originally Published: May 12, 2016 8:01 p.m.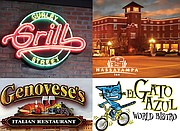 It may be the beginning of May, but that means it's the tail end of spring. Right after that is the summer season, meaning the weather gets just a little bit hotter. Sometimes, the heat means that it's time to get out of the kitchen and head to a restaurant for something to eat. However, don't just settle for a drink and an entrée, get an appetizer. After all, with all the restaurants in the Prescott area, there's bound to be some appetizers that sound … appetizing.
Here's a few of them:
If going out to eat means heading to some place special and fancy, then that means the Hassayampa Inn's Peacock Dining Room, 122 E. Gurley St., is on the list of places to go. They don't just have appetizers at dinnertime, though. Make it a special kind of lunch and start off with the Low Country Crab Dip, Atlantic blue crab dip served hot with grilled multi-grain baguette, $10.
Alternatively, if the desire is for something a little more cozy and intimate, get something to eat at El Gato Azul, 316 W. Goodwin St., They have an appetizer called Baked Brie "Nachos," Feta, Jezebel Sauce, Warm Brie, Pickled Onions and Balsamic Reduction, $8.
Then again, it could be the beginning of the Italian Summer, meaning that it's time to take a trip to Genovese's Italian Restaurant, 217 W. Gurley St. They've got the Caprese Salad, Buffalo mozzarella cheese, tomato and basil in a balsamic vinaigrette, $8.95.
Gurley St. Grill, 230 W. Gurley St., has some appetizers, too. One of them is the Steak Bites, hand breaded seasoned beef, fried to perfection and served with a creamy horseradish sauce, $9.99.
More like this story
SUBMIT FEEDBACK
Click Below to: