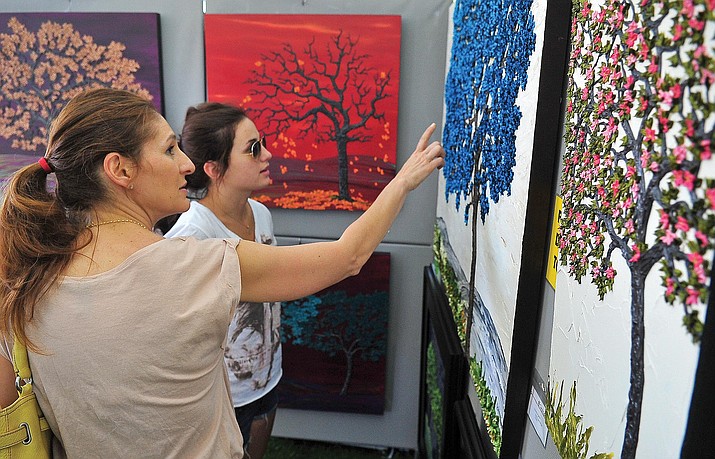 Originally Published: May 5, 2016 5:45 p.m.
It's not just going to be a musical Mother's Day weekend, but an artistic one as well with Mountain Artists Guild's 30th annual Prescott Fine Art & Wine Festival.
Sponsored by the guild, the festival will be on the courthouse plaza from 9 a.m. to 5 p.m. Saturday, May 7, and until 4 p.m. Sunday, May 8.
The festival is juried, with people looking at and judging the creativity and the content of the work the artists bring, Festival Coordinator Kelly Cassidy said, adding that Prescott is quite the artistic community and it's nice when artists show something brand new to the people coming out to the festival.
"The festivalgoers, they look forward to this annual event," Cassidy said. "They want to see something new and different and not the same old, same old every year."
While everybody has their own opinion of art and while she isn't an artistic person, Cassidy likes having pretty, artistic and creative things around her and it's really nice if it's also functional, she said. Cassidy spoke of a couple of guys in New Mexico who make cutting boards out of exotic hardwoods, putting them in different patterns, which makes each one totally unique. It's something that's very artistic, but is also a functional item that can be used in a kitchen.
The festival is a great place to get Mom a gift for Mother's Day, Cassidy said. Alternatively, bring Mom out and let her shop for herself, she added. It's all about the experience.
"When you see something you like and you happen to approach the artist, they'll start talking to you about it, you actually hear the inspiration behind this piece," Cassidy said. "That makes a connection for the person that's considering buying it and now you take that item home, and you've got the history and the story behind it.
"It just makes it very unique to have."
The Fine Art & Wine Festival and the guild's Arts & Crafts festival in August are important events as the guild is a 67-year-old organization supporting the artistic community around the Prescott area, Cassidy said.
"It keeps the lights on here," she said. "It's really critical to have a great festival for artists to want to come to, for festivalgoers to want to attend so that it's successful for everybody and keeps us operating another year."
More like this story