HUSD students selected for the Barrett Summer Scholars program
Quad-City Schools
Originally Published: May 2, 2016 6 a.m.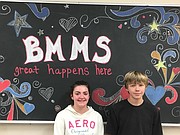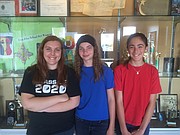 Several students from the Humboldt Unified School District will be spending part of their summer at Arizona State University. In fact, 22 HUSD students have been accepted into the Barrett Summer Scholars program.
The Barrett Summer Scholars (BSS) is a unique summer enrichment experience at Arizona State University for gifted, honors and academically motivated seventh-, eighth- and ninth-grade students.
The program aims to introduce students to the exciting opportunities they have through higher education and prepare them for enrollment and success at ASU and Barrett, the Honors College.
Barrett Summer Scholars provides students with a glimpse into the life of a college student and strives to give its participants a holistic experience that includes engaging in intellectually stimulating coursework, living in a residence hall, and participating in a community of peers who share in their interests and abilities.
All participants will be enrolled in a critical thinking course, in which they will learn fundamental skills that will enable them to enhance their critical thinking skills. This includes learning how to formulate arguments, identify fallacious reasoning and apply these lessons to everyday activities. Additionally, eighth- and ninth-grade participants will be enrolled in The Human Event. This is a critical analysis of the great ideas human cultures have had from the beginning of recorded history to the present. This course includes review of various classic and contemporary literature and active participation in class discussions. Students will also be enrolled in an elective of their choice. A number of elective courses are available, providing a broad introduction to academic programs that are available at Arizona State University with a focus on science and math.
The district has a partnership with Arizona State University through the Access ASU office. Access ASU strategically partners with educators to increase the number of students eligible for success at ASU.
"We have had the opportunity this year to send our AVID students and AP Academy students down to ASU for different symposiums and tours. This relationship is designed to expose more of our students to the potential for university attendance," Superintendent Dan Streeter said.
The Barrett Summer Scholars program applicant pool is highly competitive with limited slots available at each grade level.
"We are very proud of our Barrett Summer Scholar students and look forward to hearing about their experiences," Streeter said.
More like this story
SUBMIT FEEDBACK
Click Below to:
This Week's Circulars
To view money-saving ads...